Strategic Goal Examples for Use in Your Strategic Plan and Balanced Scorecard
By Anthony Taylor - June 17, 2016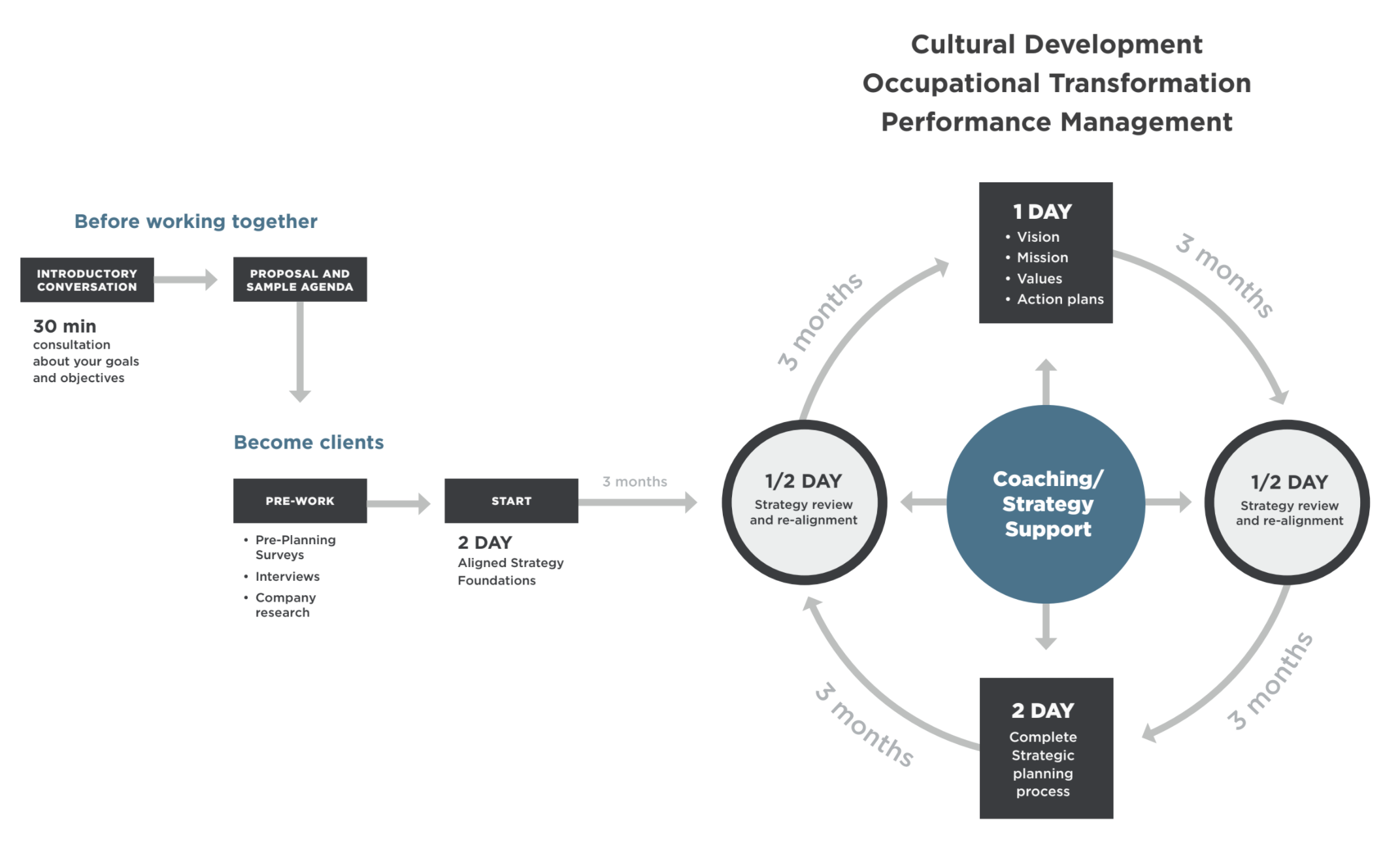 As it has been famously said by management guru Peter Drucker: "What gets measured gets managed";
How do you figure out what you need to measure and manage?
How do you decide which KPIs you want to track?
What you need to track largely depends on where you are trying to go, and that's why doing the strategic planning process in its entirety is so important.
Download our free Goal Setting Guide & fill-in-the-blank Worksheet here:
You can create endless examples of strategic goals, but if they don't align with where you're going or with your strategic priorities, then you're going to be a wasting your time, energy and resources. You need to be focusing on the goals that will move the needle on your mission or vision.
A non exhaustive list of strategic goal examples and KPI examples:
If you use the Balanced Score Card in your organization (you should), then below you'll find sample "objectives" or strategic priorities. For each objective or strategic goal, you must have an accompanying measurement.
A rule of thumb for measurement is going from X (current state) to Y (desired future state) by date - Set a deadline for achieving your specified strategic goal.
For example, if one of your strategic priorities is to "Enter new markets", then you can use these different sample strategic goals to measure your progress:
Enter X, Y, Z markets by date.
20 total regional markets by date.
20% market share in each new market by date.
They all technically fall under "Enter new markets", but they all have different measurements that will affect how you chose to implement your strategy.
Strategic Priorities:
You can sort the priorities themselves under which ever category makes sense to you. What matters is that you measure the progress and set targets.
Examples of strategic goals for finance:
Create and launch new product(s)
Increase customer conversion
Become market leader
Sales: Company's sales growth/Market sales Growth -> must be >1
Customer satisfaction
Gain market position
Explore new customer segments
Increase revenues
Attract investment
Return on Assets
Shareholders dividend
Diversified revenue streams
Number of products in portfolio (BCG matrix)

If you are having a strategy session soon, make sure you are asking the right questions. Here are 15 questions to ask your team first:
Examples of strategic goals for learning and growth:
Number of Online and in person team updates
Number of Reporting tools
Number of internal newsletters a week
Communication skills training programs
Surveying your teams (monthly survey?)
Build on momentum
Implement performance review and reward system
Build culture and align across organization
Open new locations
Number of locations per city/region/country
Going international
Percentage of sales abroad/local
Number of exported products
Create and implement training program
Decrease employee turnover
Improve employee satisfaction (Employee Engagement)
Employee Net Promoter Score : eNPS = (promoters-detractors)/total respondents
Balance employee utilization rate
Improve training programs
Examples of strategic goals for customers:
Improve customer satisfaction
Decrease the number of product returns
Increase net promoter score
% of defaults on products
Response time to complaints
Number of followers/like on social media
Number of returning customers
Improve our service approach for new and existing customers.
Strategic partnerships
Create impact measurement
Customer Delivery time
Increase in new customers
Examples of strategic goals for business processes:
Increase web traffic
Number of publications
Number of back links
Vendor performance
Restructure organization
Implement software project
Grow through acquisition
Increase value of projects and manage growth
Lower production costs
Build capacity for the future
Decrease defects
Improve supplier relationships
Increase team size
Find new volunteers
Launch and complete special projects
Per unit costs
Per unit yield
R&D development time
Improve resource allocation
Reduce financial waste
Measurements/KPIs:
Some examples of how to measure the progress in these strategic priorities:
Increase revenue per transaction: from X to Y by DATE
Increase total revenue per customer : from X to Y by DATE
Increase frequency of transactions: from X to Y by DATE
Improve daily production from X to Y by DATE
Enter X, Y, Z markets by Date
20 total regional markets by date.
20% market share in each new market.
Acquire 2 companies with at least 5 million dollars in revenue by date.
Reduce accounts receivable from 60 to 45 days within 6 months.
Reduce customer wait times from 10 minutes to 5 minutes within 12 months.
Increase the number of prospects in the pipeline from 100 to 200 in 6 weeks.
And so on...
Those are just a few strategic goal examples that you can use when outlining your strategic priorities and building your strategic plan.
If you want templates, workbooks and walk-throughs on how to map our your strategic priorities, and work through the entire strategic planning process, then make sure to check out our Strategic Planning Course: