Since 2011, we've been able to support thousands of SME's and non-profits in creating and executing on their strategic plans

.
We do that by leading strategy meetings for organizations in Canada and the US, by doing presentations on strategy and leadership, as well as by creating books, blogs, and podcasts on how to lead strategy within teams.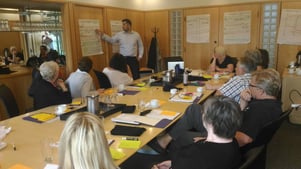 Why Strategy?
Every day, you and your team face choices: What to do, where to go, what you're going to focus on, and more.
Your decisions rarely affect only you; they affect: your organization, your employees, their families and their communities
.
Creating the strategy
Making a choice is only part of the process. The next step is getting people aligned and on the same page to execute and make the idea a reality.
"Our mission is to provide managers and leaders the tools, frameworks, and expertise to help them create and execute on their strategic plans successfully."
The one thing about creating a strategic plan
No matter where you start your next strategic plan from, you're always starting from scratch.
It's a new game. What's happened has happened and there's nothing you can do about it. All you can do is move forward.
You have a blank canvas to create the future that you want for yourself and your organization.
Our four step process:
Where are we now?
Where do we what to go?
What's going to get in our way?
What do we need to do in order to get to where we want to go?
Get your team on the same page at each step, and start moving forward.
A great way to get started is by having a focused strategic planning meeting.
Articles you might like.
For more best practices you can subscribe to our podcast: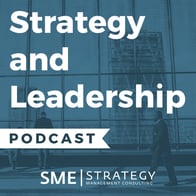 Get great tools to add to your strategic planning process.
Here are some free downloads to set you up for success as you begin your strategic planning process.

Some of our products
We realize that because of location or budget we aren't able to support everyone that we might benefit from what we have to share.
Here are a few of our products and what makes them worthwhile.
Remember:
Thank you!
I personally want to thank you for visiting SME Strategy. We have the amazing opportunity to share with readers like you from every country on the planet.
For us that means that there are organizations, communities, governments and groups that are taking shape because YOU took a step towards where you wanted to go.
Thank you for being a leader for your community and thanks for doing what you do.
To your success!
Sincerely,
Anthony C Taylor.
Managing Partner | SME Strategy Consulting