Since 2011
,
we've been able to support hundreds of companies and non-profits in creating and implementing their strategic plans

.
We do that by leading strategy meetings, supporting implementation, and training leadership teams both virtually and in-person for organizations around the world.
We share our process, knowledge and best practices on our YouTube channel, our Strategy & Leadership Podcast, on LinkedIn, and our blog.
Why Strategy?
As you know, strategy is about choices. It's about what to do, as well as what not to do. As a leader of a growing organization, it's critical that you have a framework in place for your teams to know the difference between the two.
Without strategic alignment, and without a strategic plan, you risk spending time, money and energy in the wrong places and moving in too many directions at once (we call this the Multiple Destination Trap).

Once your team has a clear and aligned Vision, Mission, Values, Goals and Actions (your One Destination), you'll notice a significant increase in productivity, efficacy and resource allocation. In other words, you'll accomplish your goals much faster.

Below are the next steps you can take as you move along your strategy journey.

Here's how we can help:
1. Tools to help you with strategic planning
A great way to get started with aligning your organization is by asking key questions and assessing your current alignment.
Below are free tools that can help shaping your strategic thinking whether you're brand new or experienced with strategic planning.

2. Learn about our approach to strategic planning & strategy implementation
In our experience, many companies get into trouble because their team is not aligned around one clear destination for the future. We call this the Multiple Destination Trap. When your people fall into this trap, your company loses time and money, and your people lose productivity and motivation, hindering your ability to meet strategic goals.
To combat this issue, our process and approach is focused on alignment. Alignment at the team level, department level, and organizational level. Alignment around the vision, mission, values, goals, actions, and complete strategic plan.
If your team is aligned on the same things, your company will be in a better position to achieve your goals and implement your strategic plan. This means you save time and money while increasing motivation and productivity for your people.
Here are some further videos and blogs that go deeper into our approach to strategic planning and implementation:
3. Partner with us: Service offerings
We can help you develop strategic direction, clarity, and alignment for your entire company.
It all starts with our main program - the Strategic Alignment Program. This program must be done before we can lead you through any program for implementation.
The Strategic Alignment Program will help align your company and get everyone moving forwards in the same direction towards your One Destination.
Together, we'll align your board or leadership team around a vision, mission, values, goals & actions. We'll use input from your leadership team to develop buy-in for the planning process. And we'll make sure everyone is clear on where you're going (and how you're going to get there).
---
Once you've completed the Strategic Alignment Program and you've got a strategic plan, it's time to implement. This is where we can help you make the biggest impact. We'll partner with you to make sure you have the capacity and ability to implement your plan.
Through a combination of group coaching, one-on-one training, strategy reviews, workshops, and check-ins, we'll help you reach your goals and implement your strategic plan.
Our strategy implementation packages come in 3 different shapes and sizes, so be sure to check out the options and decide what could work best for your organization.
Learn how to create an aligned strategic plan with your team and escape the multiple destination trap. In this online course, our Managing Partner will walk you through each step in creating your strategic plan, and teach you everything you need to know to facilitate your next strategic planning off site to help your team reach your One Destination. It's over 8 hours of videos, downloadable workbooks, and additional guides. Get instant access for only $495
---
Our mission is

to provide managers and leaders with the tools, frameworks, and expertise to help them create and implement their strategic plans successfully.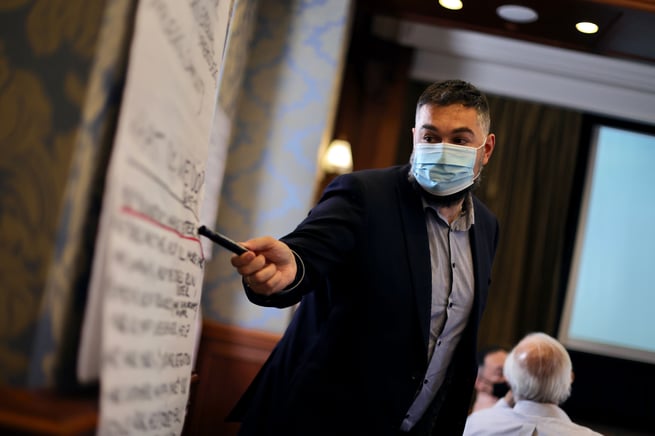 ---
More articles to help with your strategic planning
For more best practices, subscribe to our podcast

---
Thank you!
I personally want to thank you for visiting SME Strategy. We have the amazing opportunity to share with readers like you from every country on the planet.
For us that means that organizations, communities, governments and groups are taking shape because YOU took a step toward where you wanted to go.
Thank you for being a leader for your community and thanks for doing what you do.
To your success!
Sincerely,
Anthony C Taylor.
CEO | SME Strategy Consulting