The Cost of Developing a Strategic Plan (3 Tiers)
By Jason Heckl - November 13, 2020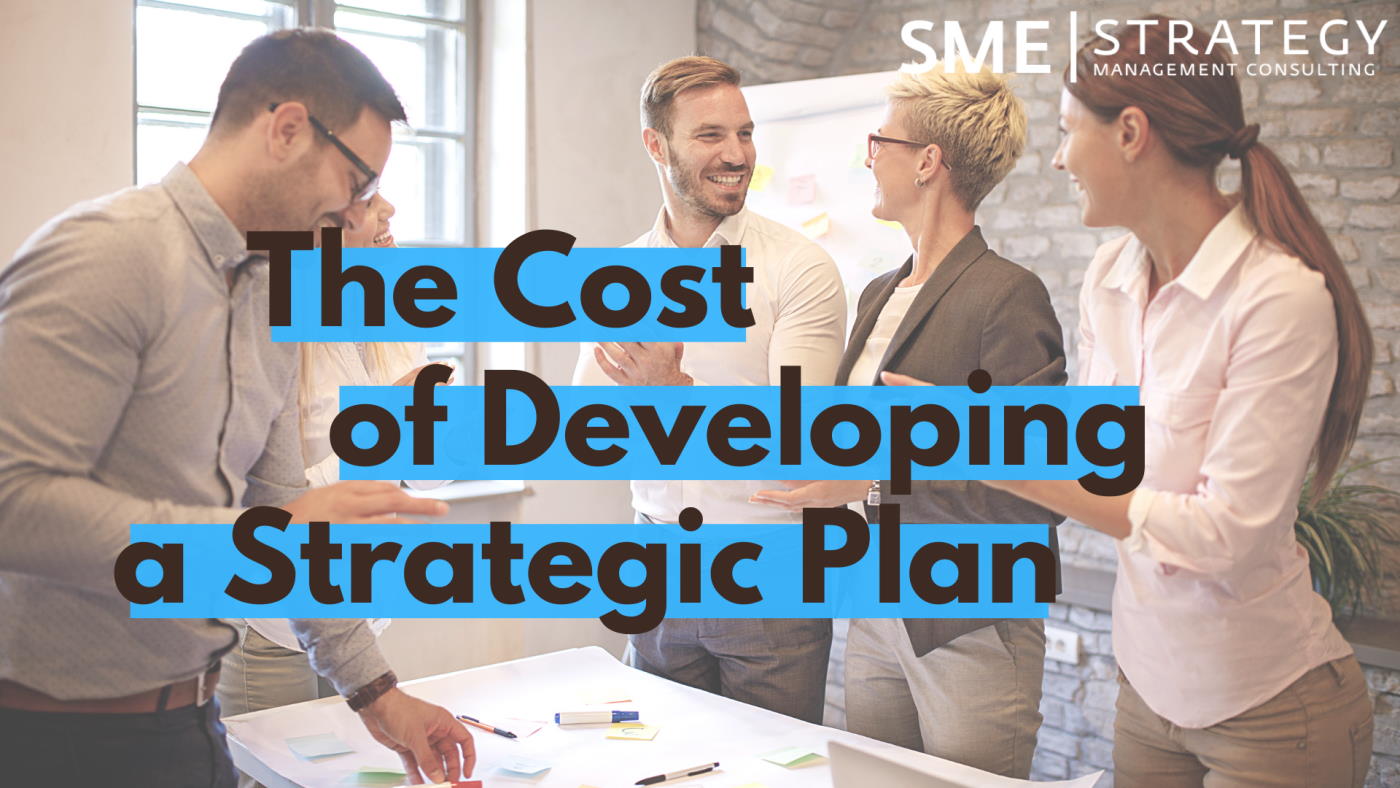 Digging up the cost of strategic planning services can be exhausting and in many cases impossible - especially when it comes to professional services. That's why we've decided to choose transparency over mystery. In hopes of providing you with some clarity and solace, we're laying out the average industry costs of a strategic planning facilitator, organized by three tiers of strategic planning costs.

Developing a strategic plan on a low budget
Developing a strategic plan on a medium budget
Strategic planning when you're busy
High budget strategic planning for large organizations

---

Low Budget Strategic Plan
This tier is strictly DIY (do it yourself)
For some organizations, the reality of spending money on a strategy consultant or strategic planning facilitator is out of reach. Let's get into the main benefits and drawback of developing a strategic plan yourself.
The main benefit of developing a strategic plan yourself is the lower cost.
However, if you are the business owner, and plan on developing your own strategic plan for the foreseeable future, it may be a good idea to learn the process. In this case, there are a myriad of courses, software and template available for purchase online.
if you're looking to create and implement a strategic plan yourself, we can help.
Our 'How to Create a Strategic Plan' course is thorough and reasonably priced. It's about 8 hours of video instruction, and includes all the strategic planning templates, guides & worksheets you'll need to complete the process. You'll learn how to align your team around a common vision and mission, develop goals your team can crush, create a specific action plan and so much more.
Check it out here: How to Create a Strategic Plan.
The downside of doing it yourself - you're doing it yourself.
You will not have a neutral voice to lead your strategy facilitation, your team may be hesitant to share what they're thinking, you won't have the same ability to ask the tough questions, and you won't be able to participate. On top of that, there will be nobody to guide you through to implementation.
Related Content:

What is the Strategic Planning Process?
Medium Budget Strategic Plan
This tier is what we call 'done with you'.
In this style of strategic planning (done with you), you'll work with a dedicated strategic planning facilitator who will help you create an actionable strategic plan and align your team - with you and your leadership team fully involved in the process.
You get the expertise of a strategy facilitator leading your strategy session(s), while you and your team play a major role in developing and implementing the strategic plan.

The facilitator will ask the tough questions, bring the best practices and allow everyone to participate.
The cost for this level strategic planning varies for three reasons:
1. First, most companies & consultants (including SME Strategy) offer a discount for non-profit organizations.
Strategic planning is as important, if not more important, for non-profits. Having laser-focused priorities as a non-profit means you'll have the opportunity to make a greater impact, whatever your cause may be. You have the choice of doing many things and making small progress, or doing one thing really well.
If you are looking for help creating and implementing your strategic plan, we offer a small fee reduction for large non-profit organizations and a heavily subsidized strategic planning for non-profits program for smaller organizations with reduced resources.
2. This range is based on a typical two-day or three-day strategy sessions, or the virtual equivalent of five or six 3-hour sessions.
In these times, strategic planning facilitation is happening 100% virtually, with the help of video calling technology.
Instead of doing two full days of strategy sessions, there is now an option to shorten your sessions and stretch them over the course of a week or multiple weeks.
> Watch below: How to do Strategic Planning When You're Busy
Ultimately, this means more flexibility for you and your organization.
Maybe you want to do one full day followed by a string of weekly one hour sessions. Or maybe you want to have a two hour session every day for a week. It's really up to you. On top of that, you won't have to worry about booking an offsite facility, booking flights if necessary, food, or anything else required for an in-person strategy session.
3. There are often different packages available within this Tier.
Strategic Plan Facilitation Only
In a basic level package within the medium budget tier of strategic planning, you'll receive all the help you'll need to develop your strategic plan.
A strategic planning consultant or coach will work with you from the very start of your strategic planning process. They'll start by doing all the necessary pre-work, which includes surveys and interviews, in order to get a feel for the organization and the level of alignment you currently have.
Then, they will facilitate the actual strategy meeting for you, asking all the tough questions and giving everyone a chance to speak.
Finally, you'll receive some kind of follow up package which usually includes a written strategic plan, outline, and post-session interviews.
Although the services included in a basic package will vary from firm to firm within the industry, this is what you can expect from SME Strategy's Basic Package:
Five 3-hour sessions (we'll work with you to develop a calendar that works for your team)
All communications related to the strategic planning process
Preparation materials ahead of time, including: survey, leadership team interviews, and document review
Strategic plan creation training (virtual sessions and homework)
A strategic plan outline
Pre- and post meeting calls and notes
Further Reading: Why Strategic Planning Facilitation Will Save You Money
---
Download our free Strategic Planning Workbook and get the help you need to structure your strategic planning process
---
Facilitation AND Strategic Plan Implementation Support
All too often, good strategic plans end up collecting dust on a shelf or on someone's desktop.
By choosing a strategic plan development and implementation package, you'll receive the benefit of guidance through to implementation. This type of package is for teams who want the plan done right the first time, accountability, and a plan for implementation.
Typically, the firm you choose to work with will help you set up a series of accountability check-ins, strategy reviews, coaching calls, and management training programs after your plan has been created. This will be the start of the strategy implementation phase.
While the services offered by each firm will vary, you can learn more about SME Strategy's Implementation Package options here.
---
High Budget Strategic Plan
That brings us to the high budget tier of strategic planning.
Depending the type & size of your organization, you'll have different strategic planning needs.
In some cases, organizations require extensive stakeholder engagement before, during and after strategic plan development. Other times, the leadership team will need their strategic plan cascaded across departments and business units in order to get that alignment and buy-in across the organization as a whole. In other scenarios, there is a need for substantial one-on-one and group coaching beyond the executive leadership team, alongside additional leadership education throughout various levels of the organization.
You get the picture - it really just depends on the specific needs of your organization.
Accountability, coaching, and guidance through to implementation.
These are the main reasons teams and organizations need the High Tier of strategic planning and implementation. This tier is for leaders who want their strategic plan created and implemented right the first time, along with the necessary coaching and training to get them and their leadership team to their ideal future.
A strategic planning facilitator will work closely with each member of your leadership team via a series of coaching calls and group calls in order to develop accountability throughout the organization. Everyone will be coached on goal setting and action planning, and the consultant make sure there's a system in place for tracking and monitoring.
---
A brief introduction of SME Strategy
We've been helping organizations across Canada, the United States and beyond create and implement their strategic plans for 10 years now. Although our specialty is small to medium sized enterprises, we've worked with an American State Education Department, the Federal Reserve Bank of an Island Country, a Top Canadian University, a Department in a EU capital city, and various nonprofits, among others.
What makes us different?
You can go almost anywhere to buy a strategic plan. You can spend a lot or a little, and you can have it designed beautifully for all to see. The problem is, it can easily collect dust on a shelf without being implemented. You won't reach your goals, achieve your vision, or align your team.
At SME Strategy, we guide teams through to implementation so they can crush their goals, achieve their vision and develop a culture of alignment and buy-in. We work closely with leadership teams to generate alignment from the top to bottom, create an action plan your team can follow through on, and provide coaching to ensure your plan actually gets implemented.
Summary
At the end of the day, when it comes to planning, developing and implementing a strategic plan, you can spend just about as much or as little as you want to spend.
We would encourage any organization or leadership team to first determine their needs, and choose a route that makes the most sense based on your needs, expectations, capacity, and budget.
For the sake of simplicity, there are 3 different routes you can take for developing and implementing a strategic plan:
Low Budget: The budget strategic planning process is done by yourself, without the need to hire a consultant. There are downsides in terms or quality of service, participation and results, but it is the least expensive. There are an endless supply of course to help you create a budget strategic plan, typically ranging within the $300-1,000 range.
Our How to Create a Strategic Plan course sells for $495, and packages up everything we do with our strategic planning clients into a series of video modules, complete with all the tools, templates, guides and strategic planning agendas you'll need.
Medium Tier: The medium tier strategic planning process is the most popular choice for the businesses, nonprofits, schools and government organizations we work with. In this process, a facilitator will guide you through your strategic planning session(s). They'll ask the tough questions, use their experience to start the necessary conversations, and allow everyone to participate and have their voice heard.
There are a couple packages to choose from in this cost range, but each comes with all necessary pre-work including surveys, leadership team interviews and document review, communications related to the strategic planning process, a strategic plan outline, pre and post meeting calls and notes. Learn more: Strategic Plan Creation.
High Tier: The high tier strategic planning process is meant for larger organizations or situations where multiple departments are involved. The high tier includes extensive coaching, depending on what's necessary for your team. Some organizations may require lots of research, stakeholder engagement, coaching throughout the organization, or extensive one-on-one training and consulting with the leadership team. Learn more: One Destination Program.
Interested in working specifically with SME Strategy? our Transformation Package is our most comprehensive implementation offering.
Not only will have your strategic plan created, but you'll have full implementation support plus customized training and one-on-one coaching. If this is something you're interested in, get in touch with us
Learn how to anticipate and prevent strategic issues independently through our strategic planning video course
Our readers' favourite posts