Staying Ahead of the Curve: How to Identify Skills Gaps
By Jacob Dayan - August 31, 2021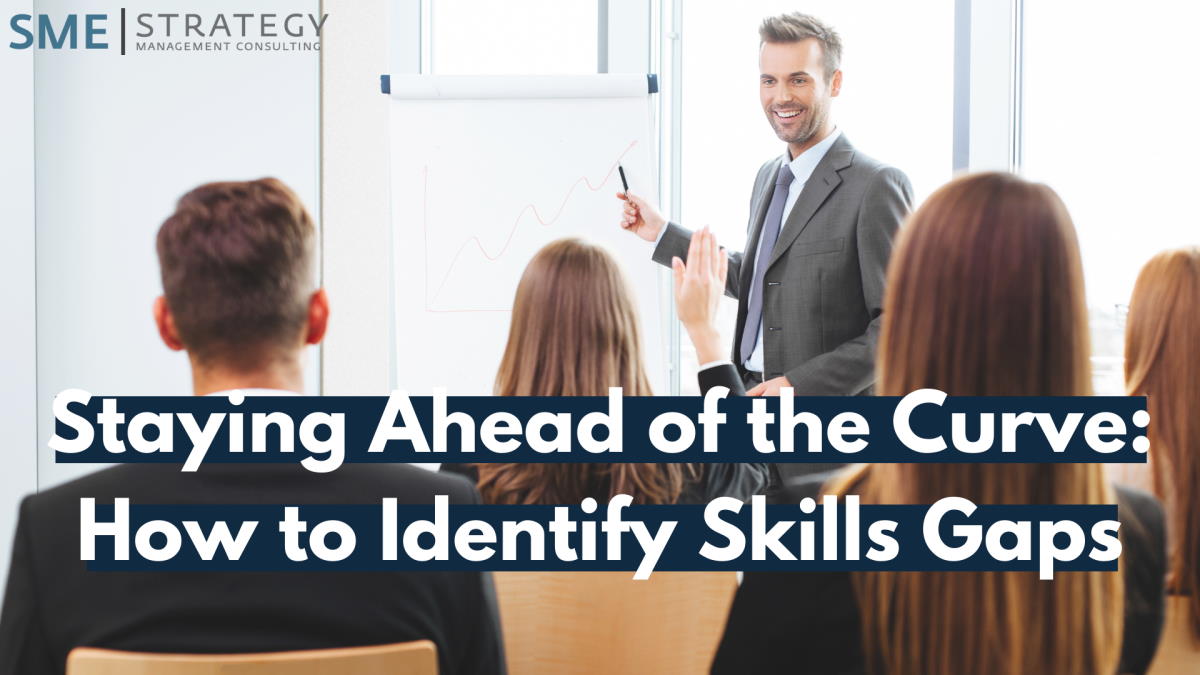 Skills gaps are gaps that exist between employees' current skills and the skills they are growing for a company to reach its goals. Not all of your employees have the same skills, while others have skills that overlap. Doing a skills gap analysis can help you identify skills gaps so you know what positions you need to hire for. Here's how you can perform a skills gaps analysis.
Step 1: Plan the Analysis
A skills gap analysis consists of two parts, an individual skills gap analysis, and a team level skills gap analysis. To plan the analysis, you'll need to establish who you need to talk to and if there is anything more you need to learn. These individuals can be:
C-suite
Managers
Staff-level employees
The first person you talk to should be the department head. These people know exactly what skills their departments are missing and may even help you find ways to fill those gaps. At the individual skills gap level, you'll need to find a way to talk to employees about their skills.
For example, if you're starting with the marketing department, you should talk to the marketing director first. They may say they lack a graphic designer, but when you talk to an individual staff member, you'll find a few of them have graphic design skills.
Step 2: Define Your Future Goals
Next, you'll need to look to the future and think about where you want your organization to be in a year, five years, or ten years. Ask yourself these questions to define your goals:
What's on the horizon for next year?
Can we reach our goals with our current workforce?
What skill sets do we require from our employees?
What area of the business is lacking expertise?
What jobs do we need to fill?
---
We can help you align your team around a clear vision, mission, values, goals and action plans,
so you can lead your organization more effectively and get better results.
---
Step 3: Consider the Future of Work Trends
Next, you'll need to catch up on the future of work trends. As technology continues to advance, more tasks are becoming automated, so it's important to consider which jobs you expect to be automated within the next few years.
Step 4: Determine the Skills Needed for Your Goals
Your company will need to constantly adopt new practices and technology to grow. However, it can be difficult for companies to find employees with specific skill sets to use these technologies.
Watch: Why Everyone on Your Leadership Team Needs Data Skills
Step 5: Measure Current Skills
Now, you'll need to measure your people's analytics. Make an inventory of your company's current skills. You can do this by:
Examining individual employee skills - so you understand how your current employees contribute to the business
Conducting skills assessments or surveys
Soliciting feedback - from those who come in contact with your employees to determine proper skill sets.
As someone in charge of human resources, you might not know which skills are required for certain jobs until you talk to department heads and the employees themselves. It will help to have a conversation with employees to learn about all of the different types of skills they possess. Someone who currently specializes in web design may have an extensive background in web development and coding.
Make sure you try to talk to everyone within the organization. If it has been a bit since you hired them you may not know any new skills they've learned along the way, or you may have forgotten what past jobs they've had before working at your company.
Step 6: Find the Gaps
Now you know what skills your company has, you can determine which skills your company needs. Organize skills by department so you can determine what each department is lacking one by one. Identify the challenges your company is facing as a whole in terms of skills.
For example, let's say you're a small business with a marketing department, but you also use outside agencies for certain strategies and implementation of those strategies, such as an SEO agency, to improve your ranking on Google. If one of your goals is to grow your marketing department so it's completely in-house within the next five years, you'll need to know if you should hire SEO professionals.
Step 7: Do Something About It
Once you've found your skills gaps, it's time to start planning how to fill them. You can fill skills gaps in two ways:
Training: Investing in your current workforce is a great way to improve your company culture and keep your total costs low. You can send employees to workshops for new skills if you believe they would be a good candidate to take on additional responsibilities.
Hiring: Hiring new employees is another good option for filling skills gaps, especially if all of your current employees have enough on their plates. Make sure when you're recruiting new employees for specialized skills you perform an identity check on them to ensure they're not lying about their employment history or skillsets.
You can do both of these things as well. For example, your marketing department might have a skilled writer that doesn't know much about SEO. You can hire an SEO manager to take care of the technical aspects of SEO and create content briefs for the writer. You could also pay for your writer to take basic SEO classes to learn how digital marketing strategies works and how writing for SEO differs from other types of writing.
Final Thoughts
A skills gaps analysis might sound time-consuming, but if you plan accordingly, the process should take a few days or weeks, depending on how you're planning to communicate with everyone in the company.
Identifying skills gaps can help take your business to the next level. Many companies make the mistake of not knowing if they should fill these gaps. Even successful companies can become more successful by identifying these gaps and finding ways to fill them.
Remember to talk to your employees to learn more about their skill sets and their desires to learn. You don't have to spend tens of thousands of dollars trying to find new employees if you have skilled workers right under your belt.
About the Author
Jacob Dayan graduated with a Bachelor's in Business Administration from the University of Michigan's Ross School of Business. He began his career as a financial analyst at Bear Stearns' industry-leading Financial Analytics and Structured Transactions group. In 2010, he co-founded Community Tax LLC, a tax company dedicated to helping customers nationwide with tax resolution, tax preparation, bookkeeping, and accounting services. As CEO of Community Tax, Jacob Dayan has assembled a strong team of attorney practitioners, CPAs, and enrolled agents to deliver superior customer service and expected results.
Our readers' favourite posts