Measure What Matters: Gain a Shared Perspective
By Anthony Taylor - March 11, 2022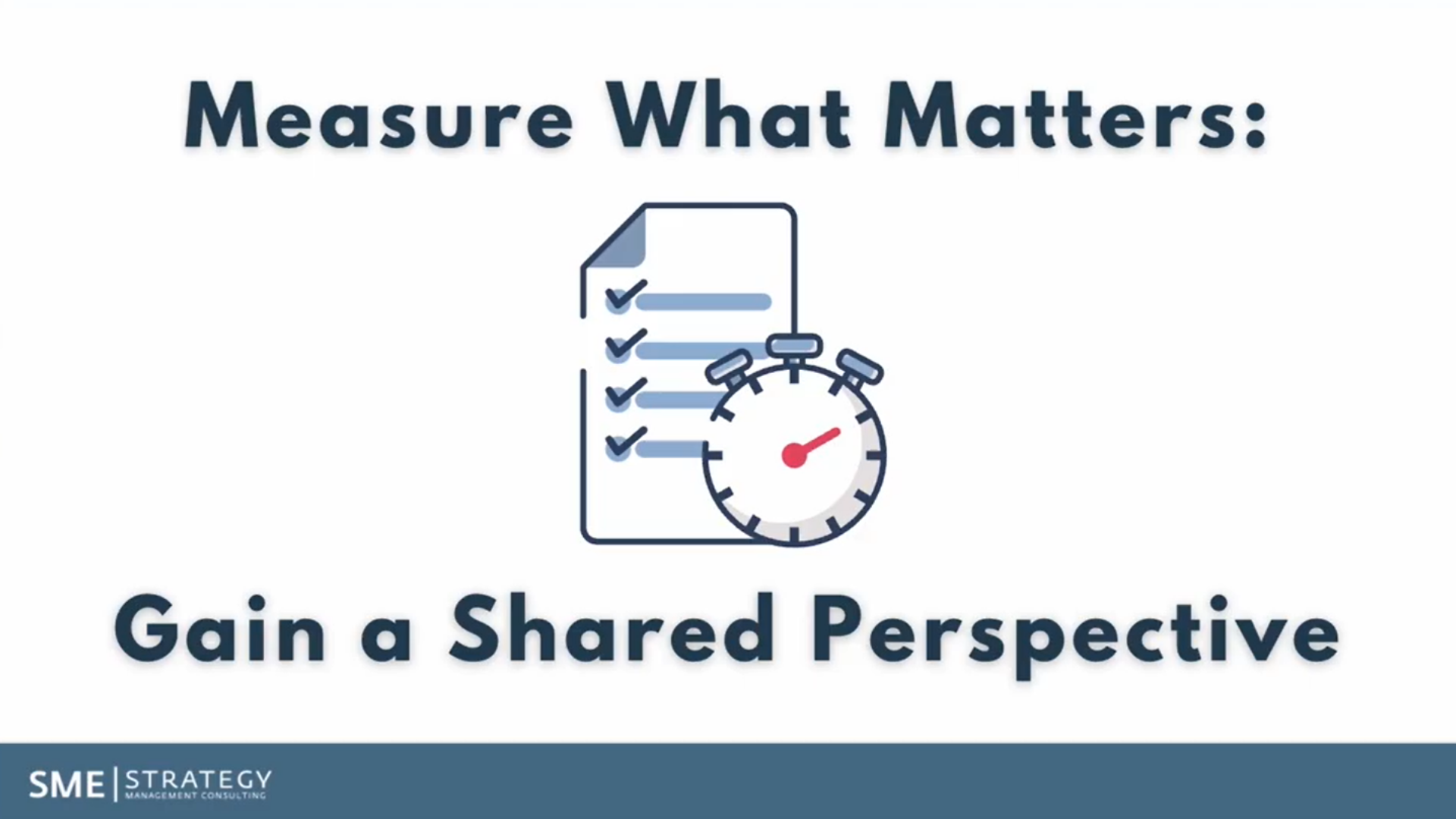 SME Strategy is a strategy consulting company that specializes in aligning teams around their vision, mission, values, goals and action plans. Learn more about how we can help you and your team generate team alignment with our strategic planning and implementation services.
One of the things we see a lot as strategic planning facilitators, is organizations that talk about cascading OKRs - they really want their teams to be involved in the goal setting process, but have trouble getting buy-in and getting their team engaged into the process. So today I want to talk to you about how to measure what matters, how to set up goal setting and engage your internal stakeholders in terms of setting their own goals and being bought in to the strategic planning process.
So if you haven't seen me before, my name is Anthony, I run SME Strategy - we facilitate strategic planning sessions. I've been an executive coach, and I've coached hundreds of organizations in their strategic planning process and their goal setting process. Today, I want to talk to you about a couple things that you can do to get better cascading OKRs, better cascading goals, and ultimately a better aligned strategic planning process.
So why goal setting? Why do you need goal setting? Why do you need objectives? Why do you need targets? If you think about it in sports, when you play a game for fun, it's just casual, but as soon as you start keeping score, that's when the intensity picks up. That's one of the reasons why having goals in your organization is so critical. Because people need to know if they're successful, and people need to know if they're winning. It brings an intensity out of people that just playing for fun doesn't. So you need to have goals.
As Peter Drucker, famous strategist, said, "what gets measured gets managed". When you have a specific goal that you're aiming at, you and your team are going to take actions that align with that goal. You're going to look at steps to improve the outcome of the goal. If you don't have those steps, if you don't have those goals, nothing's going to move forward.
Another big problem that I see with organizations that don't have goals set up is that nobody knows what success looks like. Everybody has a different idea. It's quantitative versus qualitative. And it makes it really hard for anybody to really care about what they're doing, because it's impossible to win. So having goals in place, having objectives or key results in place, is critical for your team have a sense of ownership, a sense of buy-in, and to know that they are part of this process.
We can help you align your team around a clear vision, mission, values, goals and action plans,
so you can lead your organization more effectively and get better results.
But really keep in mind that as a business owner, entrepreneur, senior leader or CEO, there's other people in your organization, and you're going to get better outcomes out of your plan by getting everybody else engaged. So how do you engage others in goal setting?
The first thing to think about is the earlier the better. The more work you can do on the front end, the easier you'll make it on the back end. Why? Because if you do it reactively, they're going to be apprehensive. They're going to feel like you're doing something to them, versus engaging them early, and including them part of the process. That way they see that it's more of a collaborative thing. They also will have a greater sense of control of it, thinking "it's me shaping this, not someone telling me what to do". Human beings naturally resist things when they're told to do it. So if you engage them early, ask "what do you see as the most important thing you can track?" You'll get greater buy-in, you'll get greater alignment, and ultimately greater ownership.
So as a CEO or director, you want to make sure that your individual line managers or front managers really have ownership with those goals. So allow them to create the goals that they want to see. That way they have ownership and accountability to their own success versus the thing that somebody told them to do. So make sure that you keep stakeholder engagement part of the goal setting process.
Now, something you might not consider is getting the benefit of different perspectives. So if you're a CEO or senior director, you are at the top of the organization, you have more strategic measures than you focus on. You have to have that big picture. Whereas someone in middle manager or frontline might have different measures of success, because their locus of control is very different. So understanding that as you cascade goals or cascade OKRs, you have an idea of what the drivers are and they have an idea of what the drivers are You have to make sure there's alignment between their goals, your goals and the organizational vision and strategy.
So if you engage in stakeholder engagement early, you're going to be able to understand where those gaps are. Then understanding the key drivers - leading and lagging, from their perspective, that is going to help you move this forward. So setting goals, really understanding who your stakeholders are, and that everybody has a different perspective. Being able to align those, manage those and make sure that everybody has the same perspective is going to be critical for moving it forward and implementing cascading goals or OKRs successfully.
So how do you align? You need to make sure that everybody is moving in the same direction. What does success look like? If you don't know what success looks like, how are they going to know what success looks like? So make sure that you cascade the plan, you go top down, bottom up. Make sure that everybody is working on the same things.
So, strategic priorities. If you have 10 strategic priorities, it's going to be impossible to set goals. So make sure that your strategic priorities are aligned, top down, bottom up. It's going to increase the likelihood of succeeding with your goals, and ultimately succeeding on the implementation of your plan.
Then making sure that from all the levels of the organization, highest level manager, middle manager, frontline, that you have cascaded goals. You'll have different levels of granularity, depending on where you're at in the organization. Keep in mind that different departments are going to measure success differently. So you need to make sure that the top line vision, mission, strategic priorities and goals are aligned with department level, frontline, and middle manager goals, and then there's cascading top down, bottom up.
So as a very quick summary of how to maximize the outcome and the output of goal setting within your organization. First thing I want you to think about is measure what matters. If you don't have something that's important, then it's going to be more of a pain to measure. So make sure that you find the most important drivers within your business, track them and make sure that they guide your actions.
Need help with your strategic planning process? A facilitator can help:
Second, get buy-in. Make sure you get buy-in throughout the organization, so people see the benefit for themselves in goal setting, and not that it's just something that we want to do - it's something that we need to do, and there's a very clear upside/benefit for it.
Keep in mind that everybody has different perspectives. If you can get a holistic view of your organization from different departments, segments, and areas, you're going to have a better goal setting process, and it's going to support you in getting better outcomes.
Finally, aligning and cascading the organization. Make sure that your strategy - top down bottom up, is clear, and that there's various cascading for goals throughout the organization. If everything is in alignment, you're going to see how one person's work contributes to another, and contributes to another. You're going to make better progress on your goals. It's going to feel like progress, which is going to support change management, and ultimately the long term buy-in within your plan.
So if you're interested in understanding how to align your team, we facilitate strategic planning processes. We go from where we are, to where we want to get to, and make sure that cascades from strategic priorities, goals, objectives, key results and actions. Then we also support with implementation plans to make sure that every thing goes from top down to bottom up, and help you get better organizational performance. It's going to help get better clarity, and it's going to give your team a better sense of clarity, direction and purpose.
So if you're interested in learning more about how we do that, be sure to reach out to us. We also do live strategy demos twice a month, where we walk through our aligned strategy development process.
No matter what you do, make sure that you set specific and measurable goals within your organization. It's the number one thing you can do to increase engagement and increase performance. Make sure you do it with buy-in from your people.
So I hope you enjoy today's video on goal setting and stakeholder engagement. If you haven't yet, check out the rest of the videos in this series and subscribe if you'd like to see more videos on strategy and leadership.
My name is Anthony Taylor, I'm the Managing Partner at SME Strategy. I appreciate you watching appreciate you subscribing, and I'll see you in our next video.
Take care!
Our readers' favourite posts