Goal Setting Tips that will Boost Your Strategy Implementation
By Jenna Sedmak - October 16, 2020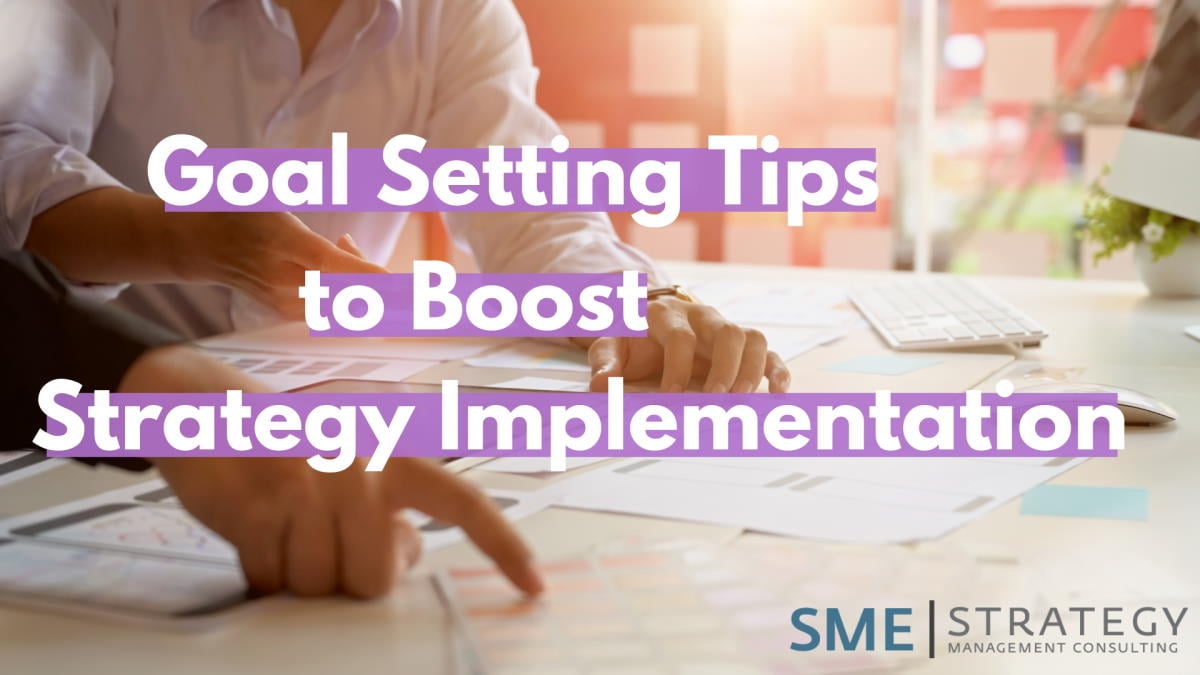 UPDATED MAY 2023
When it comes to strategic planning, many organizations develop their plan without ever successfully implementing it. For strategy execution to be successful, it's important to recognize that strategy is more than a document; it's a cyclical process that does not end with a document or presentation.
Even when organizational leaders understand this, many still fail to execute their strategy. This could be due to a multitude of issues, ranging from communication silos to never following up to track or monitor progress.
Alongside having a continuous focus on alignment and communication, we recommend organizations place an additional focus on two key areas for successful strategy implementation: Goal Setting & Action Planning.
Watch: Strategy Implementation Lessons Learned in 2022

Goal Setting for Strategy Implementation
Before jumping into setting specific goals, we stress the importance of alignment (among those participating in the strategic planning process) when deciding on three to five Strategic Priority areas to focus on. From there, your team should then develop three to five goals for EACH strategic priority.
These goals will be your compass throughout the implementation cycle so that you and your team can track and monitor your progress regularly. Furthermore, if your team is clear and aligned on what success looks like (though goal setting), it will be easier for individuals and their teams to make day-to-day decisions that will contribute to successful strategy execution.
Common errors that leadership teams make when setting goals are:
Goals are vague or non-measurable - if you haven't clearly defined what success looks like, how will you know when you've reached it? How will you know when you're falling behind?

Goals are unrealistic or unattainable - this may happen if senior leaders or CEOs set goals without including the input of the rest of their leadership team(s).
To mitigate these common goal setting issues, we recommend doing the following:
Generate agreement and alignment for your 3-5 strategic priority (focus areas)

Generate agreement among attendees of your strategy session for 3-5 success metrics to track for each of these priority areas

Focus on the WHAT, not the HOW (WHAT you want to achieve is your goal; HOW you will reach your goals is the next step – your action plan)

Set short, medium and long-term goals

Set some goals with leading indicators (that you can control in advance – ex: number of sales calls) and some with lagging indicators (that you don't control, and measure after the fact – ex: total revenue at year-end)

Follow the format for setting SMART goals so that you can effectively track and monitor your progress
---
Related Content:
---
How to set SMART goals:
Specific

Focus on specific indicators of what success look like for what you are trying to achieve. Ask yourself: What is the outcome we would like to achieve? How will we know if we've been successful?

Measurable

Set a metric that aligns with the outcome. This could be unit based, dollar based, or percent based. Keep in mind that success could be measured in terms of an increase (ex: Increase revenue by X amount per year) or a decrease (ex: decrease call volume by X percent per month).

Achievable

When setting your metric, ask yourself if it's likely that your team can achieve this. While most organizations want to grow and improve, an incremental approach to these metrics means you will achieve more of your goals. However, make sure not to set the bar too low!

Relevant/Realistic

While it's great to have some stretch goals that will push you and your team, it's also important to make sure they are realistic in terms of time and resources. Additionally, it's important to make sure that the goals you've chosen are relevant and align well with one of your strategic priority areas.

Time-Bound

Once you've defined what success looks like and how you will measure progress, it's important to set an end date for the goal completion.
Example:
Strategic Priority: "Organizational Growth"
Not SMART: Increase yearly revenue
SMART Goal: Increase revenue from $1 million to $3 million by DATE
---
(Download Now) Learn our best practices for strategic goal setting, and receive a worksheet to fill in your own goals


---
Action Planning for Strategy Implementation
Once your SMART goals are set, the next step is to decide on what needs to be done to achieve these goals. Developing an action plan is important as it will help leaders manage projects, plot out a timeline of deliverables, delegate tasks, and manage resources.
>> Watch: 6 Critical Capacities for Strategy Implementation
Common errors that leadership teams make when developing action plans are:
Actions are vague, not specific OR are too granular (several tasks or actions for one major deliverable are split at a micro-level between too many people)

Listing tasks without assigning a due date or person assigned – this does not foster accountability

Trying to do everything themselves/not delegating

Focusing too much on day-to-day operations, and not on tasks that align with the goals and priorities
To mitigate these common action planning issues, we recommend doing the following:
Define key milestones or actions that will need to be done in order to achieve each goal

Make sure these actions are specific and clear, and assign a due date and a person responsible for each deliverable

Track these tasks in a way that works for you and your team (Some options include: task management software, GANTT charts, or spreadsheets)
Example:
Goal: Increase revenue from $1 million to $3 million by DATE

Weak task examples:
Make more sales calls

Send staff to networking events

Create new product to sell
Strong examples:
Make 200 sales calls between DATE & DATE - BOB

Research and book 8 networking events for staff to attend by DATE - JANE

Spend 30 hours on market research & stakeholder engagement to shortlist 3 new product ideas to present to the board by DATE - MARY
While there are several components involved with strategy execution, strong goal setting and action planning are critical steps that can set your team up for success. However, it's important to remember that the process doesn't end there. It's important to continue to monitor and check in on your progress on a regular basis. In addition to helping your team keep focused on your strategy, having a regular meeting cadence will continue to foster strategic thinking and accountability, while allowing your team to be flexible and to pivot when need be.

---
Learn how a strategic planning facilitator can help align your team and simplify your strategy implementation

Want more guidance for leading your next strategy meeting?
Our course will guide you through each step of the strategic planning process:


Our readers' favourite posts