Improve Strategy Implementation with our 7 Best Practices for Action Planning
By Jenna Sedmak - January 07, 2021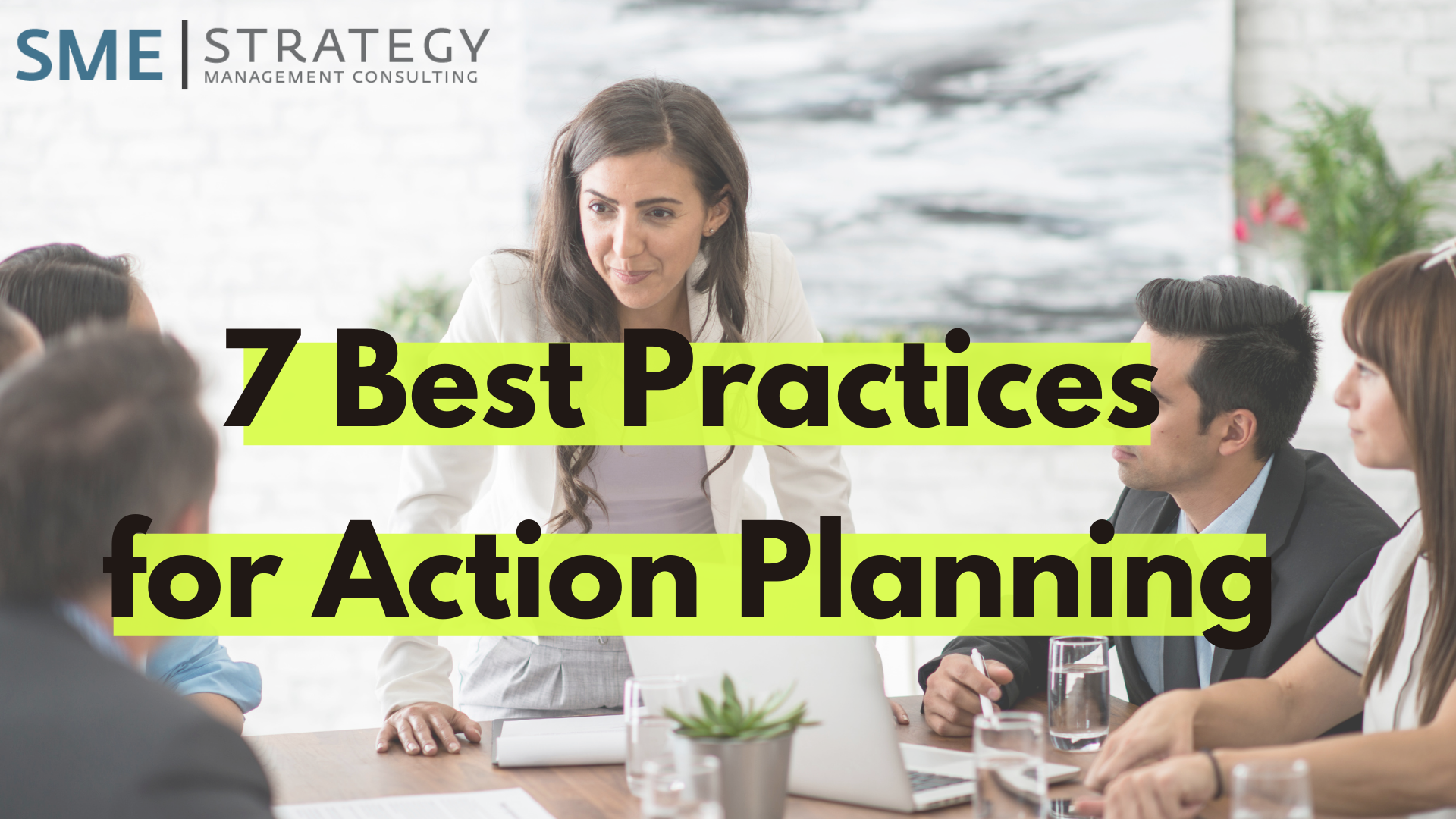 One you've moved through the stages of strategic planning, from discussing your company vision through to goal setting, developing a detailed action plan is the next step towards implementing your strategy.
While many organizations are familiar with action planning and task management as a part of their daily operations, this action plan should be aligned with your organizational goals. At this point in time, your team has already engaged in defining why you exist and where you want to go. Now it's time to identify the key milestones that will help you achieve your desired future state.
Is your organization getting ready for it's strategy session? Make sure you ask your team these 15 questions first:

From the initial stages of strategic planning, through action planning, and throughout the implementation cycle, alignment and buy-in should be fostered. By involving your key leaders (and potentially their teams) in this process, they will understand how their tasks and responsibilities contribute to the organizational strategy. This will allow them to understand the 'WHY' behind what they are doing, and empower them to make decisions that align with the organization's strategic direction.
Best practices for Action Planning
Align your actions with your goals:

Assess each goal and break them down into key actions or milestones that will need to be completed in order to reach your targets (or KPIs). There are other tasks and daily operations that your organization will still carry out, but those do not need to be included in your strategic action plan. Watch: How to Set SMART Goals

Prioritize these actions in based on importance and time sensitivity

Focus on actions that need to be completed first, or in succession, or actions that are critical to the goal success. You may have some "nice to haves", but those won't be your priority.

Be specific rather than general

Your action plan should be made up of specific steps that need to be carried out in order to achieve your goals. For example, "Have necessary stakeholder meetings" is too general, whereas "Have a 40 person volunteer stakeholder kick off meeting on July 12th" is specific.

Set deadlines & Assign Owners

Setting deadlines and making sure someone is responsible for completing each task will help ensure greater accountability for task completion, and ultimately strategy implementation. If dates and owners are missing, people won't know who is responsible, or when the task needs to be completed. Read: How to Improve Accountability When Implementing Your Strategic Plan
Ask for volunteers or delegate each task to someone

It's important that each person is bought in and understands the actions that they are committed to completing. You can have key personnel volunteer tasks, or you may wish to have senior leaders or managers delegate relevant tasks to their teams. Regardless of how this is done, make sure that everyone is clear on what they are responsible for, and agrees to the deadline they are assigned.
Develop an action plan for implementation

Once you have a list of specific, prioritized actions with dates and accountable personnel, it's time to plot these into an action plan. This can be done with a simple spreadsheet, advanced GANTT chart, or project/task management software.

Track and monitor your progress
Once you've completed your action plan and start your strategy implementation cycle, it's important to track and monitor your progress on an ongoing basis. We recommend a minimum of quarterly strategy updates to discuss progress on your priorities, goals and associated actions. However, depending on the size of your organization or the scope of your plan, you may need to do this more often, perhaps monthly. Read: Use This Strategy Software to Track Your Strategic Plan.
We recommend pre-booking these strategy updates to make sure your people are prepared with their metrics prior to attending.
Examples:
Simple Action Plan Template (Can use doc or spreadsheet software)
| | | | |
| --- | --- | --- | --- |
| Milestone/Action | Responsibility | Start By | Complete By |
| | | | |
| | | | |
| | | | |
| | | | |
| | | | |
Simple GANTT Chart (*recommend using spreadsheet software)
Task Management or Project Management Software
There are several great task management and project management software options available, depending on your organization's needs and budget. Some popular options include: Basecamp, Asana, and Monday (to name a few).

Note: We recommend using a software in addition to one of the above action plan templates to help you stay organized and on track.
Whichever task management system you choose, it's important that everyone is using the same system, and tracking their progress on a regular basis.
Want to create and lead your own strategic planning session? Learn how with our course: