Use this Strategy Software to Track Your Strategic Plan
By Jason Heckl - May 27, 2020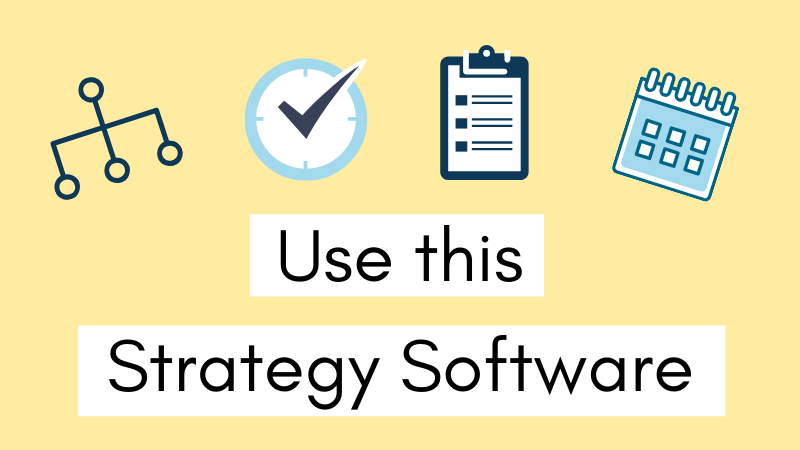 SME Strategy is a strategy consulting company that specializes in aligning teams around their vision, mission, values, goals, and action plans. Learn more about how a strategic planning facilitator can help you and your team create and track a strategic plan with our strategic planning services.
---
The Problem
Many organizations have worked hard to develop their strategic plan, and yet a year or two down the line, they notice that they've not made enough progress towards their goals, or that their teams and departments have diverged down different paths, on projects or activities that don't align with their strategic objectives.
Most organizations put a lot of thought into the early stages of the strategic planning process and are successful in creating a clear, viable, and carefully thought-out strategic plan. Where problems start to take form after the strategy session ends and when enthusiasm reaches its peak. This is when many strategic plans begin on their path to failure.
Too often, the strategic plan finds a home in someone's office, an archived PDF file, or on a shelf for all to see (or walk past). As time passes, the strategic planning session that everyone was a part of turns to memory, and slowly slips away from the consciousness of leaders as they return to pressing operational duties and business as usual. In other cases, organizations may have quarterly reviews and strategy meetings, but lack unified tracking and monitoring systems to track progress throughout the organization.
Have an upcoming strategy session? Here are 15 questions to ask your team before:
The Solution
The solution is to have a thorough, easy-to-use and understandable strategy software where your high-level strategic priorities and goals can be tracked. It doesn't have to be too complex and confusing, and should rather be organized, easily updatable, and accessible to everyone.
*It's important to keep in mind that tracking progress in strategy software requires time and attention placed on developing SMART goals. Without specific metrics and targets, plans can be difficult or near impossible to accurately track. For more about goal setting and making your goals SMART: Goal Setting.
A simple form of tracking can be done via a more simple strategy software - a spreadsheet. Ultimately, this is fine if your organization determines that this is the best and most efficient way for your team to consistently track and monitor progress against your strategic plan.
However, relying on spreadsheets is not always optimal. Firstly, spreadsheets don't embrace collaboration and teamwork. It's easy to accidentally erase or replace other people's inputs, and the software isn't structured to have a whole team of people working at once. Secondly, spreadsheets don't support visualization of the strategic plan, don't use user-friendly dashboards, and sit very flat on the page. Simply doing data entry to report progress on the strategic plan can be boring and uninspiring.
---
We can help you align your team around a clear vision, mission, values, goals and action plans,
so you can lead your organization more effectively and get better results.
---
Our Recommendation
High-Level Strategic Plan Tracking:

When it comes to monitoring and tracking strategic plans, Cascade Strategy is our go-to strategy software for us and for our clients. Cascade has helped our team to stay on track and accountable while executing our strategy. Our team is eager to track our goals on an ongoing basis.
We knew our clients were also keen to track their strategic plans in a clear, centralized, and engaging way as well, so we started recommending Cascade to them. We soon began to hear success stories about Cascade's strategy software being integrated into various teams, as well as some of the benefits, including:
Visualization: Cascade's strategy software uses clear, attractive dashboards, GANTT charts, and webs that allow users to easily identify progress and track the performance of their department and the entire organization.


Reporting: Cascade offers several reporting options for users to export their complete strategic plans into PDF and CSV formats.


Centralization: All strategic priorities, goals, and actions are displayed in such a way that it's clear to see who is responsible for what, along with a full tracking history.


Ease of use: Cascade offers an enjoyable user experience. The software employs a clean page design that is easy to read and follow and offers various layout options that are visually appealing rather than stress inducing.


Alignment with the big picture: Ultimately, it will be your staff using Cascade on a daily basis to track and monitor their goals and progress. Not only does this serve as an accountability check, but the users (your staff) will be able to view their progress and how they fit into the bigger picture. As an example, if someone is behind on a task, resources, and advice can easily be directed to that person.
To learn more about using Cascade to help track and monitor your organization's strategic plan: Cascade Strategy.
Day-to-Day Task Management:

The second part of our recommendation for monitoring and tracking a strategic plan is to use strategy software to track the day-to-day actions and more operational activities. It's important to separate these activities from your big-picture strategy and longer-term goals. Day-to-day action items have the tendency to change regularly and require frequent updating, and often need different people on your team to pitch in, take over or delegate certain tasks.
The strategy software we use and recommend to our clients for day-to-day activity and task tracking is Basecamp. We've found Basecamp's ease of use to be the most important aspect, which allows us to use the software throughout the day to keep ourselves accountable to daily tasks, keep up with ongoing projects, and let our team members know what we're up to. To-do lists assigned to teams or individuals, all projects on a single page, and the ability to transfer large files easily are some of the most important features of Basecamp.
When it comes down to monitoring, tracking, and executing a strategic plan, each organization is different in its ways, tendencies, and culture. Finding what works best for your organization and sticking to that will ultimately be the best way forward. The strategy software recommendations we've put forward are simply what we've found to work best within our organization, along with some of the clients we work with.
Our readers' favourite posts