Best Practices For Strategy and Leadership in 2023
By Anthony Taylor - January 15, 2023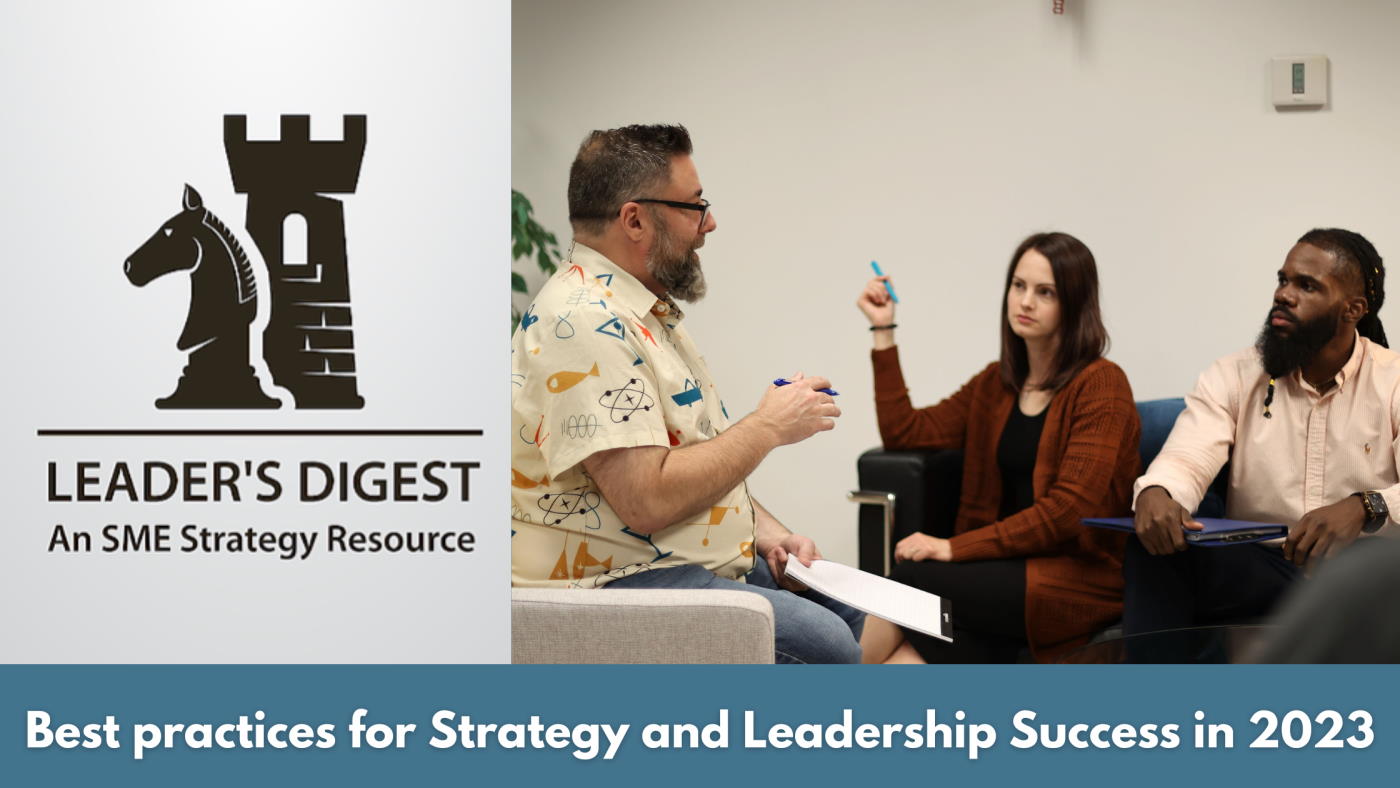 As the business world faces new challenges and opportunities in 2023, staying on top of the latest trends in strategy and leadership success is essential.
As a CEO, you may be looking for guidance on how to move your organization forward. Strategic planning is a great place to start, but oftentimes it's not enough. You need to execute, and it's not only about having the right strategy in place, you need the leadership and operational capacity, the right tools to support them, and get the job done.
If you're worried about the successful implementation of your strategy, and the capacity of your leadership team to cascade it to all levels of your organization — don't worry, you're not alone!
If you're looking for a strategic planning facilitator that can align your team and help implement your plan, take a look at our service options:
Read on and discover useful insight and tangible steps you can take to ensure a successful 2023 for your organization.


ANTHONY'S PERSPECTIVE

Hi, it's Anthony here. I'm the CEO of SME Strategy. In this section of Leader's Digest, I typically give you my perspective on the topic at hand.
In over 12 years of leading strategic planning, we've seen our share of organizations saying they have a plan but have yet to make it a reality.

❌ It might be because the destination was unclear...
❌ It might be because they never looked at the plan again after they made it...
❌ Maybe because they didn't put enough time working ON the business versus in the business
❌ Or maybe it's because the processes with the business weren't in place for the teams to take that next leap.
There's a list of possible things that might get in your way of successful strategy implementation.

Literally, we made one.

And in this webinar, we'll be going over 25 different ingredients you need to have so you can successfully lead your strategy.

If you're on the senior leadership team of a business that:

✅ Has Multiple teams/groups/hats within it
✅ Is experiencing lots of change/complexity
✅ Is misaligned or has different perspectives on success
✅ Or is undergoing Merger/acquisition activity.

if you're looking for practical advice to set your organization up for success and create the right environment for successful strategy execution, join us for the webinar. We will help you understand the practical steps needed to ensure your organization is set up for success in the future. Don't miss out – sign up today!"

Click here to sign up
FURTHER INSIGHT
We recommend reviewing these pertinent articles to gain a well-rounded perspective on the best practices for strategy and leadership success in 2023.
The Working Future: More Human, Not Less

As the world of work continues to evolve, As a CEO you may have to think differently about how to lead and manage your employees. This article provides insightful analysis of how to best navigate the impact of the new normal on your employees.


What matters most? Six priorities for CEOs in turbulent times

The business world has changed drastically since the start of the pandemic, and 2023 is looking to be no different. In this article, you'll find out what strategies CEOs are using to go on the offensive and take market share from their competitors, even though most leaders are taking a defensive approach.


CEOs Turn a Sharp Eye to Workforce Issues and Sustainability in 2022-23

In this article, Gartner asked more than 400 senior business leaders about their plans for 2022–2023 and their thoughts on technology. Here are the biggest concerns of the C-suite for the year 2023.
LIGHTS, CAMERA, ACTION!
Here are some of our actionable tips that you can use now to begin the process of executing your organization's leadership and strategic plan in 2023.

As CEOs in 2023, you may need a new plan to address the issues your organizations face because of how uncertain the economy is. No matter what your strategy is, it has to be linked to your operations so that your organization can keep running even if your strategy changes. In this post, we talk about how to make this link.
This article highlights four ways leading CEOs are adjusting their strategy in today's unpredictable environment to create new companies for their front-line employees and customers.
The Great Resignation was a worldwide event that affected the ability of many CEOs to reach their strategic goals. In 2023, here are 15 practical techniques to increase employee job satisfaction and help you retain your top employees.
WEIGH IN
You're invited to become a part of the conversation.
Participate in this poll question:

As a CEO, What area is your biggest strategic priority in 2023
Financial Issues (Cash flow )
Talent issues (Retention)
Tech issues (Remote work)
Click here to provide your answer and view the collective results.
Something Fun
Source: SME Strategy Consulting
SME STRATEGY NEWS
There's always a lot going on at SME Strategy. Here's a snapshot of recent and upcoming articles, events, and news.
THE ALIGNED STRATEGY COURSE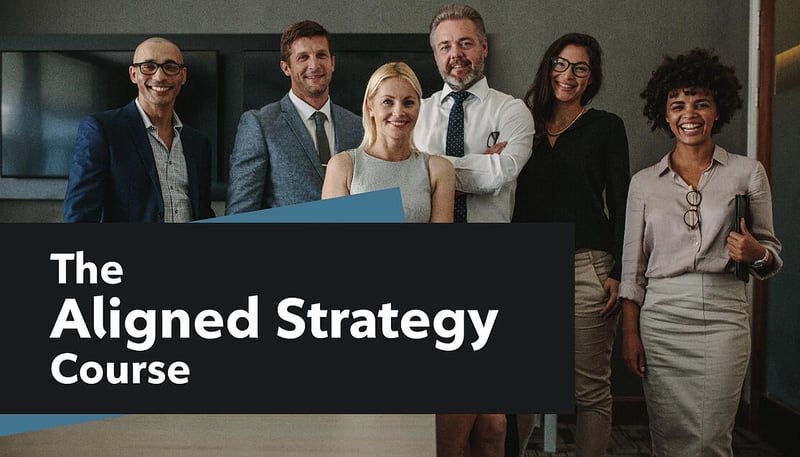 Are you a senior leader, a solo strategist, or an organization in its early stages that wants to learn more about strategic planning?

In the SME Strategy Aligned Strategy course, you'll learn how to lead the strategic planning process with your team, as well as:

✅: How to create a clear vision, mission, and values that your team will buy into.
✅: How to get your team aligned and clear on your most important priorities.
✅: How to get your teams to set clear and measurable goals that help everyone get aligned on what "good" looks like.
Click here to learn more about this online, self-paced course that delivers results.
OUR TOP STRATEGIC INSIGHTS OF 2022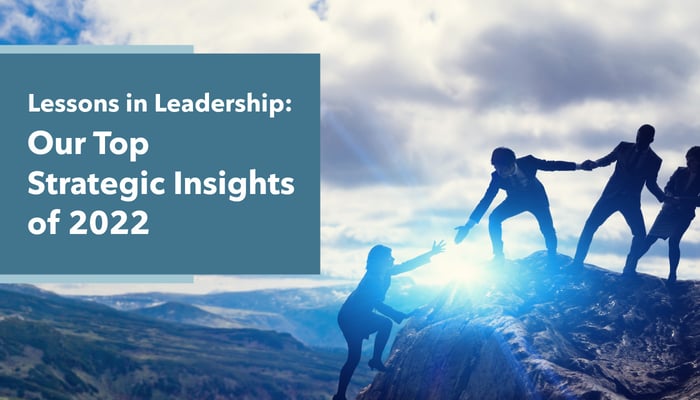 Throughout 2022, we produced content geared toward helping leaders develop and implement strategic plans and improve their leadership skills and workplace culture. We are excited to present a shortlist of our top strategic insights of 2022 in video, podcast, and blog formats below.

Click here to read our top strategic insights of 2022.




ABOUT SME STRATEGY
SME Strategy facilitates strategic planning and helps teams implement their plans through regular check-ins, executive coaching, and team development. We've successfully crafted hundreds of strategic plans for organizations active in more than 35 industries.

Our readers' favourite posts