Our Top Strategic Insights of 2022
By Anthony Taylor - December 22, 2022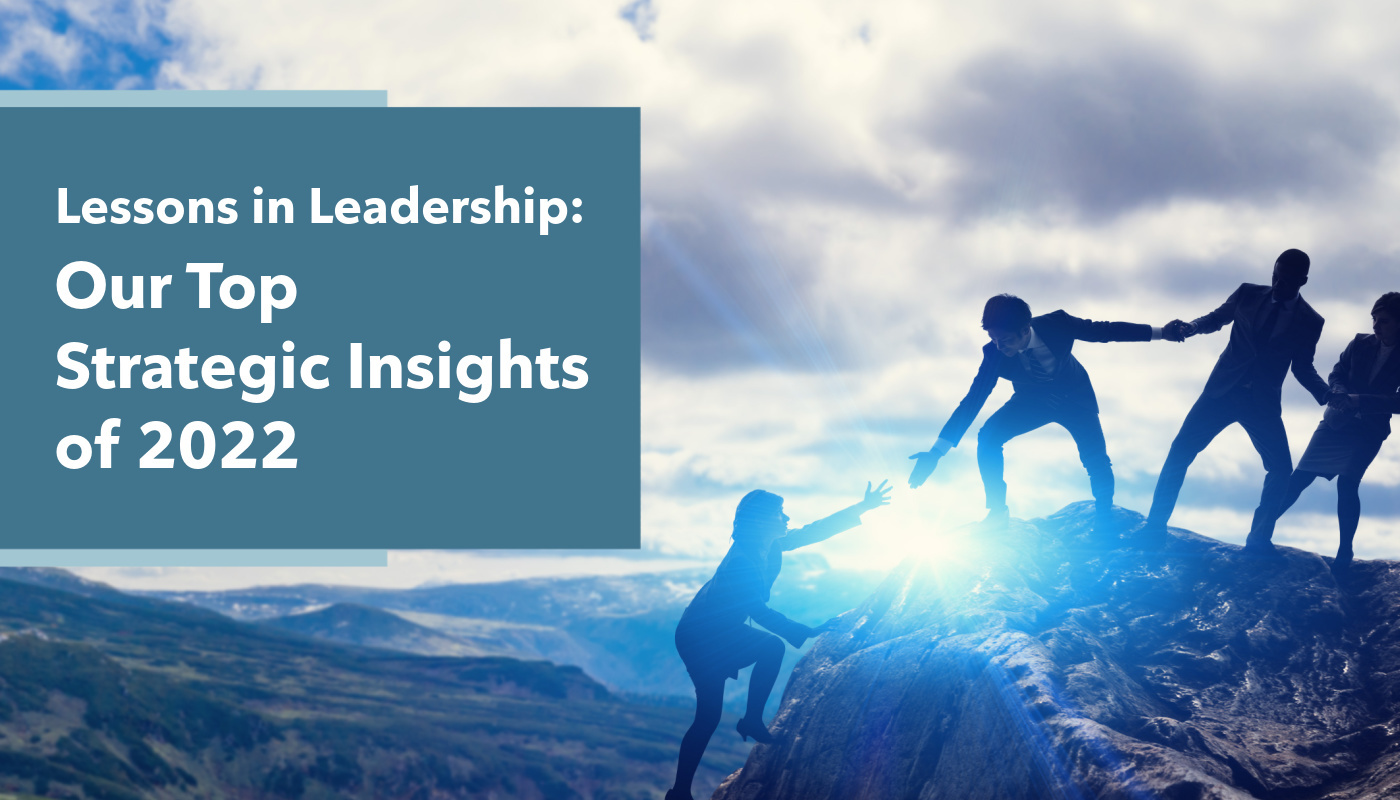 As we approach the end of 2022, it's a good time to reflect on the year that has passed. If you're taking a break over the holidays, this could be the ideal time to reflect on your year's highs and lows.
Keeping in mind both your organization's goals and personal goals, what were some of the highlights and lowlights? Looking back and identifying these events can help you to learn and effectively guide your 2023 planning.

At SME Strategy, we're reflecting on 2022 — a year that has taught us a lot. We had the privilege of working with some incredible organizations, both large and small, and we are grateful for the opportunity to assist them in planning for the future. We've also grown as a company, and we're excited to provide even more value for our clients going forward.
Throughout 2022, we produced content geared towards helping leaders develop and implement strategic plans and help them improve their leadership skills and workplace culture. We are excited to present a shortlist of our top strategic insights of 2022 in video, podcast, and blog formats below.

Top Videos
How to Execute a Strategy Plan
When it comes to the success of a strategic plan, most organizations fail at strategy execution, not because of the plan itself. What is the difference between a strategic planning document and a strategic plan that is developed and implemented?

In this video, we present three critical criteria that must be clearly established in order to help your organization achieve successful execution.
How to Make a 5-Year Strategic Plan (& Why You Shouldn't)
Does your organization really need a 5-year plan? When deciding on what strategic planning timeline to use, we believe that for most businesses that 3-year strategy plans are more effective than 5-year plans. In this video, we break down the differences between a 3-year vs. 5-year strategic plan, and why we think that most SMEs shouldn't make a 5-year strategic plan.
2-Day Strategic Planning Agenda Sample (A Walkthrough)
Although every strategic planning session is different depending on the needs of each organization, most strategic planning agendas have a similar structure. In this video, we break down a 2-day sample strategic planning agenda that you can use and customize to your needs. We recommend including your team in the planning process as early as possible to increase company-wide buy-in and implementation after the session.
Why You Need to Tie Resource Allocation to Strategy Implementation
You have fixed costs in your business — such as your daily expenses, salaries, your time, and so on. However, all of the components of your strategic plan will cost you "resources" in the form of time, energy, and attention. To successfully implement your strategic plan, you must provide sufficient resources to cover all costs. In this video we show you how to ensure your budgeting and resource allocation processes are linked to your strategic aims and vision.
Top Podcasts
Kison Patel is the Founder & CEO of M&A Science, the world's first community resource for M&A tips, techniques, and strategic insights. He's also the Founder & CEO of DealRoom, an M&A lifecycle management platform. On this episode, Kison joins us to discuss everything mergers and acquisitions, including what leaders need to know, aligning two different cultures, common M&A mistakes, post merger integration tips, & more.
Leadership Lessons from the CEO of $12.4 Billion Company Henry Schein w/Stanley Bergman (Ep. 184)
On this episode, Stanley Bergman joins us to share the strategic insights and leadership lessons he's learned while heading a 12.6 billion dollar company. He also speaks to the misconceptions of innovation and offers his advice for young leaders.
Stanley Bergman is the Chairman of the Board and CEO at Henry Schein, a large medical equipment manufacturing company. Having spent 42 years at Henry Schein, Stanley was the first VP, Finance & Administration and CFO before becoming CEO.
Lessons Learned Leading DEI for over 460,000 Employees w/Dr. Rohini Anand (Ep. 167)
Dr. Rohini Anand is a strategic diversity, equity, and inclusion (DEI) advisor, board member, and author of Leading Global Diversity, Equity, and Inclusion. Previously, she spent 17 years leading corporate responsibility and DEI as SVP at Sodexo. On this episode of the Strategy & Leadership Podcast, Dr. Rohini Anand joins us to provide strategic insights on leading DEI in different countries, leveraging local change agents, 5 key principles for leading DEI, and much more.
Top Blogs
According to a Columbia Business School survey of over 1,000 CEOs from across North America, 92% of all CEOs agree that improving an organization's corporate culture will increase firm value.
In this blog article, we break down what organizational culture is, identify some best practices for driving and shaping your organizational culture, and issue some practical examples of what organizational culture looks like in action.
Without ground rules, meetings may become less effective and potentially more frustrating if your team is not aligned around a set of expectations.
While there is no one correct set of ground rules for the application of meetings in every setting, SME Strategy has developed a foundation to guide our facilitators and clients through the strategic planning process, stakeholder engagement sessions, and corporate workshops. Read this engaging article to learn more.

To successfully implement your strategy, you must achieve the various outcomes in your strategic plan, choose the right initiatives to drive those goals and objectives forward, and (most crucially) build your team's capacity to identify requirements and collaborate to meet them.

In this blog post, we highlight the key ingredients for a successful strategy implementation that you as a CEO or senior manager must have.
Are you leading the strategic planning process for your organization?
Find out why working with a facilitator can help you maximize the value of your upcoming strategy meeting.
Our readers' favourite posts