8 Reasons to Invest In Your Strategy Execution
By Anthony Taylor - November 24, 2022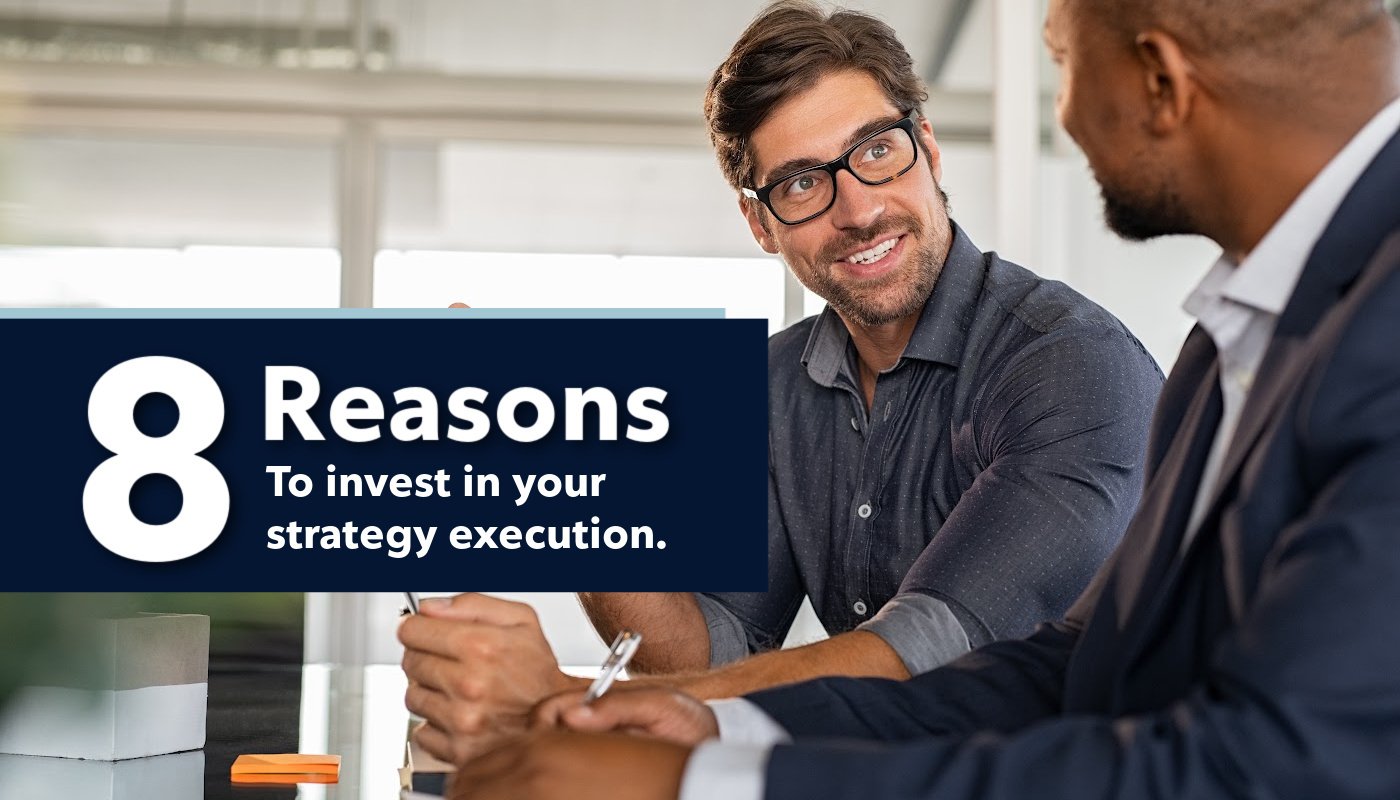 Your organization's success depends on its ability to execute on your strategic plan.
Implemeting your strategic plan on your own can be difficult.
Why?
Because you are busy working in the business that it's hard to make time to work on the business.
Because you've never done this before and strategic work is more complicated and unknown compared to operational work that is familiar.
Finally, because there are people involved and most of them don't like change. Even if the change is good for them.
But, if you can overcome all the above, your organization will be in a much better place operationally, you'll have a more focused team and you should achieve your most important goals.
Here are 8 additional benefits to partnering with someone to support your strategy execution.
So, You've done it! Your organization has developed a strategic plan that will guide your organization towards its most important goals over the next several years. Now comes the next step: Implementing your strategic plan.
Before you do anything else.
Ask yourself: "How much is the plan worth to me/us?"

"What's the opportunity cost of not accomplishing our plan?"


Then ask yourself: Do you want to leave that number to chance? Is it worth increasing the likelyhood of success by engaging some professional support.


Here are 8 ways we can help you realize the benefits of your strategic plan.
More capacity to drive change forward

Every strategic plan has elements of change within them. New processes, new systems, new work product, new communication. Driving those changes forward takes people power. By having a team behind you to support that change it helps it happen faster without having to add a new FTE.


Provide a neutral perspective

Biases creep in when using internal resources to accomplish a strategic plan. An external facilitator can support objectivity and can help bring a neutral perspective to challenging conversations. This will help support productive conflict and ultimatly drive greater progress.


Keep focus on strategic priorities

Your team is busy; and the day to day work can easily consume the focus of your team. By having a resrouce dedicated to balancing the strategic and operational your team will be able to work ON the business not just IN the business. And those are the things that truly move your business forward.


Support Accountability

There's a reason there are things called "Shelf plans". It's because teams forget to follow up on the work that came out of that "Great retreat".
If it's not top of mind your team will forget about it, so part of the accountability builds that strategic muscle to focus both on the strategic tasks, but also to track, monitor and report on the progress of the goals within the plan.
Continued Alignment

When a facilitator works with a leadership team to facilitate strategy implementation, there is constant outside support to guide dispute resolution, provide clarity about strategic procedures and objectives, and aid the leaders in steering the metaphorical ship in the same direction.


Skill Development

To implement a strategic plan, leadership teams require alignment, accountability, communication, values and culture, KPI monitoring, and change management.

Most leaders excel in some areas more than others. A facilitator with expertise in these areas can help your leadership team develop the internal capacity to achieve your vision, mission, goals, and objectives.

We'll aslo help your team create a common language and understanding of all the important strategy and team building tools.
We can help you align your team around a clear vision, mission, values, goals and action plans,
so you can lead your organization more effectively and get better results.
Executive Coaching & Sounding Board

Leaders struggle with balancing strategy and operations. A leadership coach assists with tactics, processes, and educational materials throughout strategic plan implementation. By asking insightful questions, identifying problem sources, and assessing leadership strengths and weaknesses, executive coaches can help leaders overcome operational and strategic challenges (such as cultural clashes, lack of accountability, resistance to change, etc.).
Pose challenging questions in a safe environment

Let's face it, no one likes to be challeneged or questioned. Even if it's valid, the natural response is to become defensive, and when you're in a room wiht a bunch of defensive people it's impossible to improve on existing systems.

Our job is to challenge, to question, to probe and nudge people so that your organiztion can elevate how it does things. Since everyone knows that's our role, it's more welcomed and appreciated because we don't have any other vested interest other than elevating your team's performace.
If accomplishing your strategic plan is important and valuable to you and your organization, you need to put sufficent resrouces behind it to make it happen.

Many leaders don't know that resoruces like SME Strategy exist.
By having us coach, train and keep your team accountable. We can help increse speed, success and ease of your strategic plan implementation. So that 50-100k investment in us, will create millions of dollars of greater outcomes from your team.
If you think the investment in strategy execution is expensive, what's the cost of not accomplishing your plan?
Contact us today to learn more about getting your team aligned around your strategic plan, and about putting the right resrouces around your team to make it a reality.

Why gamble on something so important?
Our readers' favourite posts