Strategy Execution: Balancing between Operations and Strategy
By Anthony Taylor - December 04, 2022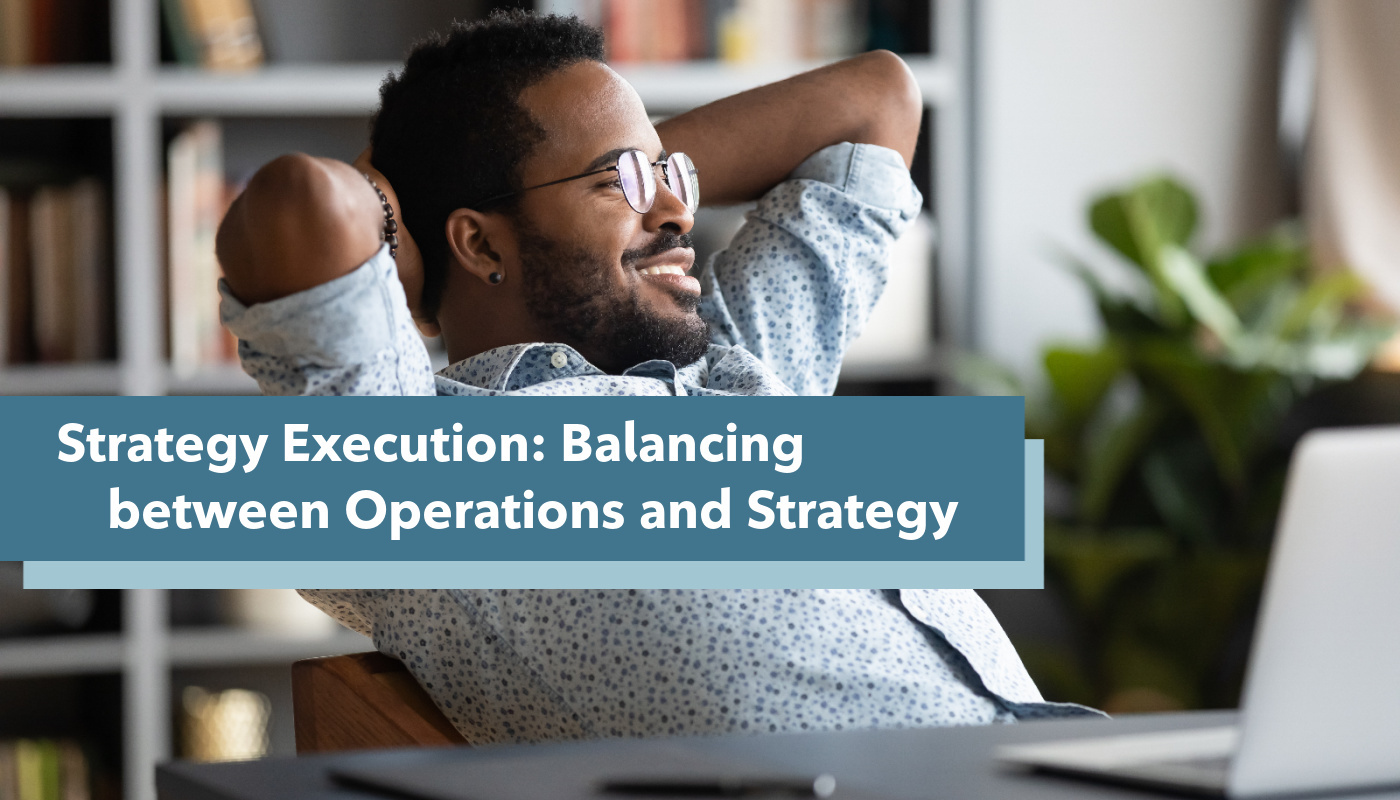 As a leader finding a balance between strategic planning and execution can be hard to achieve. You can have the best strategic plan in the world, complete with the strongest vision, mission, objectives, and goals, but unless you figure out how to cascade the plan to the right activities and people, you will not progress.
If you're looking for a strategic planning facilitator to help align your team, operations and strategy, take a look at our services and contact us for a consultation:
In this blog, we'll be examining how to establish an optimal balance between planning (strategic development) and doing (operational execution). This may seem straightforward, but organizations struggle greatly with determining how much time and effort to dedicate to each.

The fact is that organizational tasks are typically categorized as strategic planning or operational. Good managers never rest on their laurels and are always determining how to best allocate their team's time between the two spheres.
Anthony's Perspective
Hi, it's Anthony here. I'm the CEO of SME Strategy. In this section of Leader's Digest, I'll give you my perspective on the topic at hand. I encourage you to watch my included video, which will go into more detail.
As a CEO, you may find it difficult to strike a balance between your organization's strategy and operations, especially if you're busy fulfilling other commitments.
At SME Strategy, we conduct a significant amount of off-site strategic planning. This involves leading teams through a strategic planning process, which entails aligning your organization's vision, mission, values, goals, and activities.
Conventional wisdom tends to view the strategy pyramid (vision, mission, values, goals, and actions) from a top-down perspective. However, when it comes to implementing your organization's strategic plan, it is important to visualize the flow of the strategy pyramid as a horizontal one.
What do I mean by that?
Consider the execution of your organization's objectives as a linear path with two points: where you are now and where you want to be. As leaders, we can become fixated on the view from the top. So, instead of being 30,000 feet up, look at the landscape of your company from left to right—a more natural way of tracking progression and success.
Now, how do you make sure that all your strategic planning fits into your operations and gets done?
Make your vision your destination.
Think of the linear path mentioned above. Using this model, it follows that your organization's destination should be its vision, not its actions.
Too many times, after a strategic plan gets created, it doesn't account for inevitable future changes in operational tasks. Focusing too much on tasks and projects without thinking of how they lead your organization to its vision typically results in missed milestones and failed strategy implementation.
Final Takeaway
Your strategy does not need to be a work of art; it simply needs to get your operations moving in the right direction—with the emphasis being moving.
Remember that every strategy or plan you implement is a living thing, not just a static document: it evolves with the economy and as your organization changes. However, your vision is consistent and unwavering—make it your guide.
Interested in digging into this in more detail? Watch Anthony's Perspective.
FURTHER INSIGHT
To gain a well-rounded perspective on how to best balance your organization's planning activities with operational execution, we recommend these pertinent articles.
Balancing of both Strategic and Operations Management is Indispensable
Insights from: Ashvin Raj
Understanding the tension that exists between these two business functions will help managers recognize ways to reconcile those differences.
Winning Operating Models that Convert Strategy to Results
Insights from: Bain & Company
Read how some of the world's best-performing companies set up their operating models so organizational structure, accountabilities, governance, and employee behaviors work together to support their strategic priorities.
The Five Pillars of Strategy Execution
Insights from: Gartner
How should firms prepare for a recession, and what should they do when one hits?
CONTRARIAN CORNER
In this segment of Leader's Digest, we highlight a new approach to dealing with the topic of discussion. This will identify alternative modern solutions for your consideration.
Take a look at the following article, which sheds a different perspective on how to strike an effective balance between planning and doing.
Operational Effectiveness vs. Strategy
Insight from: Harvard Business Review
Simply improving operational effectiveness doesn't always translate to a robust competitive advantage because "best practice" advantages are rarely sustainable.
LIGHTS, CAMERA, ACTION!
Here are some of our actionable tips that you can put into motion now to begin to effectively establish a balance between strategic planning and operational management.
How New CEOs Can Balance Strategy & Execution
Insight from: Harvard Business Review
In the second edition of Leader's Digest, we talked about ways to newly appointed leaders can effectively make the transition to their new roles. This article builds on this insight by detailing how new CEOs can effectively determine the right strategic and operational balance.
10 Strategic Ways to Automate Your Internal Business Workflows
Insight from: Forbes
It's critical to have a strategy in place when deciding how to best automate processes and workflows. This article describes how leaders from around the world automate their operations to free up their employees so they may concentrate on more crucial strategic tasks.
Strategic Plan Implementation: How to Connect your Strategy to your Operations
Insight from: SME Strategy
Before integrating organizational strategy into your operations, as a senior leader, you must have a plan for implementing your strategic plan and developing the abilities of your key leaders, middle managers, and staff. This article explains how to do so.
WEIGH IN
You're invited to become a part of the conversation. Participate in this poll question:
Has your organization ever made a strategic plan that was never implemented?
Yes, it is still on the shelf
No, it's fully operational
We don't have a strategic plan
Other
Click here to provide your answer and view the collective results.
SME STRATEGY NEWS
There's always a lot going on at SME Strategy. Here's a snapshot of recent and upcoming articles, events, and news.
THINKING ABOUT A STRATEGIC FACILITATION? BOOK NOW!
Demand for Strategy Facilitation Sessions are heating up and SME Strategy is now booking into November of this year. If you'd like to find out more about our professional strategic facilitation services and determine if they are for you — don't wait — schedule a complimentary discovery meeting with one of our experts.
SME STRATEGY VIDEO REACHES MORE THAN ONE MILLION VIEWS!
Our "Strategic Planning Process in under 15 Minutes" video has now eclipsed 1,000,000 views! This informative, easy-to-understand outline walks viewers through each step of developing a strategic plan. It breaks down SME Strategy's process for aligning teams around a common vision, mission, values, goals, and actions. View it here

ABOUT SME STRATEGY

SME Strategy facilitates strategic planning and helps teams implement their plans through regular check-ins, executive coaching, and team development. We've successfully crafted hundreds of strategic plans for organizations active in more than 35 industries.
Our readers' favourite posts