What is a Mission & Why is it Important?
By Anthony Taylor - June 14, 2021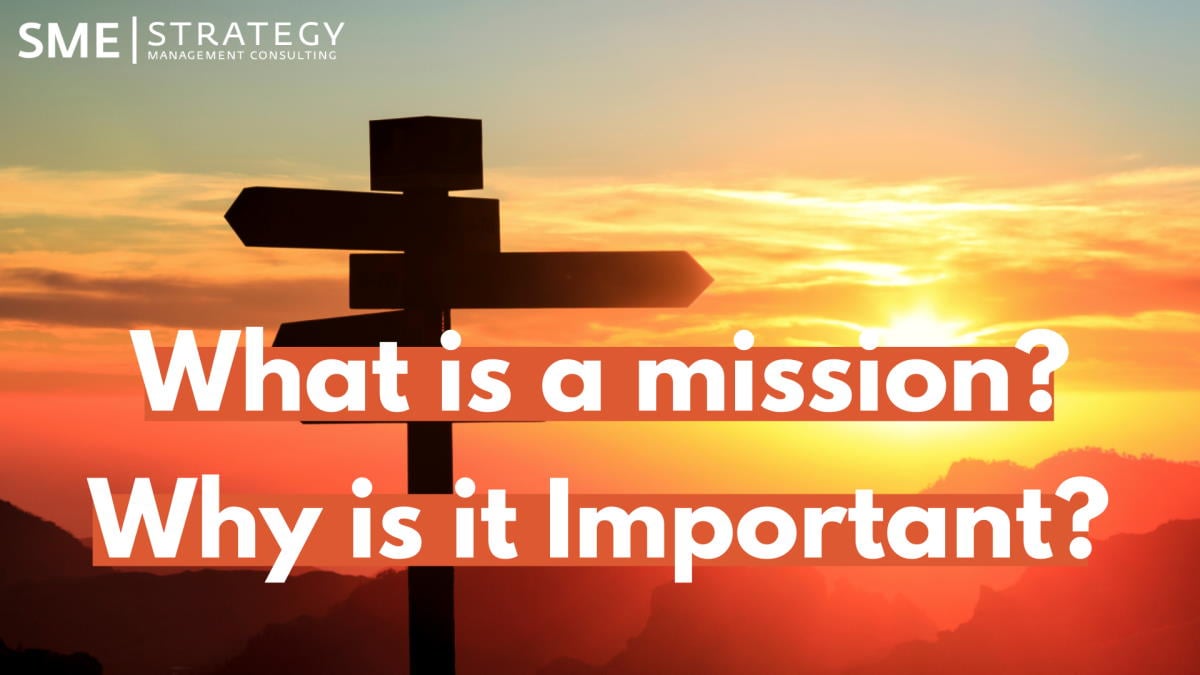 Have you ever wondered what a mission statement is and why it's important for your organization? A mission statement defines your company's purpose, guiding its decision-making and direction. Learn why having a mission statement is crucial for your organization's success.

My name is Anthony Taylor, I'm the managing partner at SME Strategy. Today I'm going to share with you what the mission is and why it's important, as it relates to your organization and your strategic planning process. As strategic planning consultants, We help organizations create and implement their strategic plans, build high performing teams and at the heart of that, is a mission or a mission statement, and I'm going to explain what it is and why it's important in this article.
---
So, what is a mission?
A mission or mission statement very simply is who you are. It explains what you do and who you do it for, and that's it. A mission statement explains who you are, what you do, and what you do it for. One thing you want to watch out for when creating your mission is to use words that are not open to interpretation. So when we create a mission statement, typically during an organization's 3 day offsite facilitation, we really make sure that we focus on avoiding buzzwords and getting to the core outcomes of what your organization provides, versus using buzzwords or things that look like features. So as you look at your mission, is it similar to every other organization, could it be interpreted as any other organization's or does your mission have a word that not everybody agrees on the definition? If you don't agree on the definition of keywords in your mission, people are going to be working on different things to different degrees, and I'll get into that shortly.


---

Related Content:
Strategic Planning Process (What is it?)
The Cost of Developing a Strategic Plan (3 Tiers)


---
Why is it important?
Your mission or mission statement aligns with your people and aligns your organization, and it is what will help you accomplish your vision. Your mission statement, along with other components of your strategic plan, plays a crucial role in fostering team alignment. It helps your team understand what they need to work on and what they can let go of, as the strategy involves making choices. Without alignment around the mission, your team may struggle to achieve the vision in the most efficient manner.
Having a clear mission or purpose is essential for any organization. It helps to prioritize tasks, focus energy, and maximize impact on target customers. This is especially critical for nonprofit or mission-based organizations where the mission defines the organization's values and objectives.
However, having a clear mission statement is not enough. Ensuring that everyone in the organization understands and embodies the mission is equally important. This is where stakeholder engagement comes into play. Engaging with stakeholders, such as employees, volunteers, donors, and community members, is crucial to ensure that everyone is on the same page and working towards the same goals.
In for-profit organizations, a clear mission or purpose is also important as it helps to determine where to focus energy and value creation. Without a clear mission, it can be difficult to drive the most amount of value for the customer and achieve the organization's vision.
Within your strategic plan, your mission statement is critical to everything you do as an organization. So your mission, or mission statement, is why you exist, written on paper. Use your mission to guide your people, to guide your strategy, and to guide your decision-making.

Ultimately, your mission statement helps you focus on where you need to deliver maximum value and maximum impact. So you might be in a place where you totally know your mission, you know what to do, and you know how to do it - which is great. If you do have any questions about how to create a mission statement or any other part of your strategic plan.
Get a free consultation to discuss your mission planning & strategic planning needs:
If you're interested in doing your own mission planning as part of your strategic planning process through our video course


So I hope this helped you better understand why you need a mission, what a mission is, and how you can use it. Be sure to subscribe to our YouTube channel if you'd like to follow more information on strategic planning facilitation and how to move it forward successfully.
Our readers' favourite posts