Using the Full Function of Zoom to Work Remotely
By Jason Heckl - March 23, 2020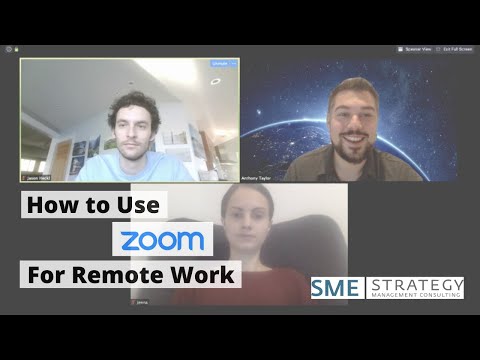 The COVID-19 virus has slowed and even halted the day-to-day operations of many organizations around the world. While some countries and industries have been impacted more than others, self isolation and quarantine still allow many to work remotely. It's important to remember that many people don't have the ability to work at all right now, so the ones that can work remotely are the lucky ones.
The idea of working remotely may sound nice, but there are challenges - especially when forced to be at home with family members, roommates and other distractions. In fact, working remotely can be highly productive, peaceful and fulfilling with the right approach. For some best practices on working remotely: Remote Working, Crisis Management & Business Continuity During COVID-19.
One of the most important aspects of remote work is maintaining quality communication with your team members and customers. For SME Strategy and many others, Zoom is a communication tool we rely on daily.
In this video, we walk through each functionality of Zoom, so that you and your teams can get the most out of the software and your communication. Some of the functionalities we explain include:
Hiding or muting/un-muting certain attendees or yourself
Using the 'Participants' tab to

indicate if the host is talking too fast or too slow
indicate if you want a coffee break
indicate if you agree or disagree with a question

Create and send people to breakout rooms (smaller meeting rooms within the meeting)
Using chat to talk to individuals, groups, or everybody at once
Share screen


so everyone can see what you're looking at and collaborate

Engaging your team with polls
If you have any questions or concerns you'd like to share with us regarding Zoom, working remotely, and navigating your strategic planning process in a time of uncertainty, we'll be more than happy to help.
For a limited time, we're also offering online meeting facilitation and crisis management facilitation to re-focus your teams. To learn more and get in touch with us: Online Facilitation.