Remote Working, Crisis Management & Business Continuity During COVID-19
By Jenna Sedmak - March 19, 2020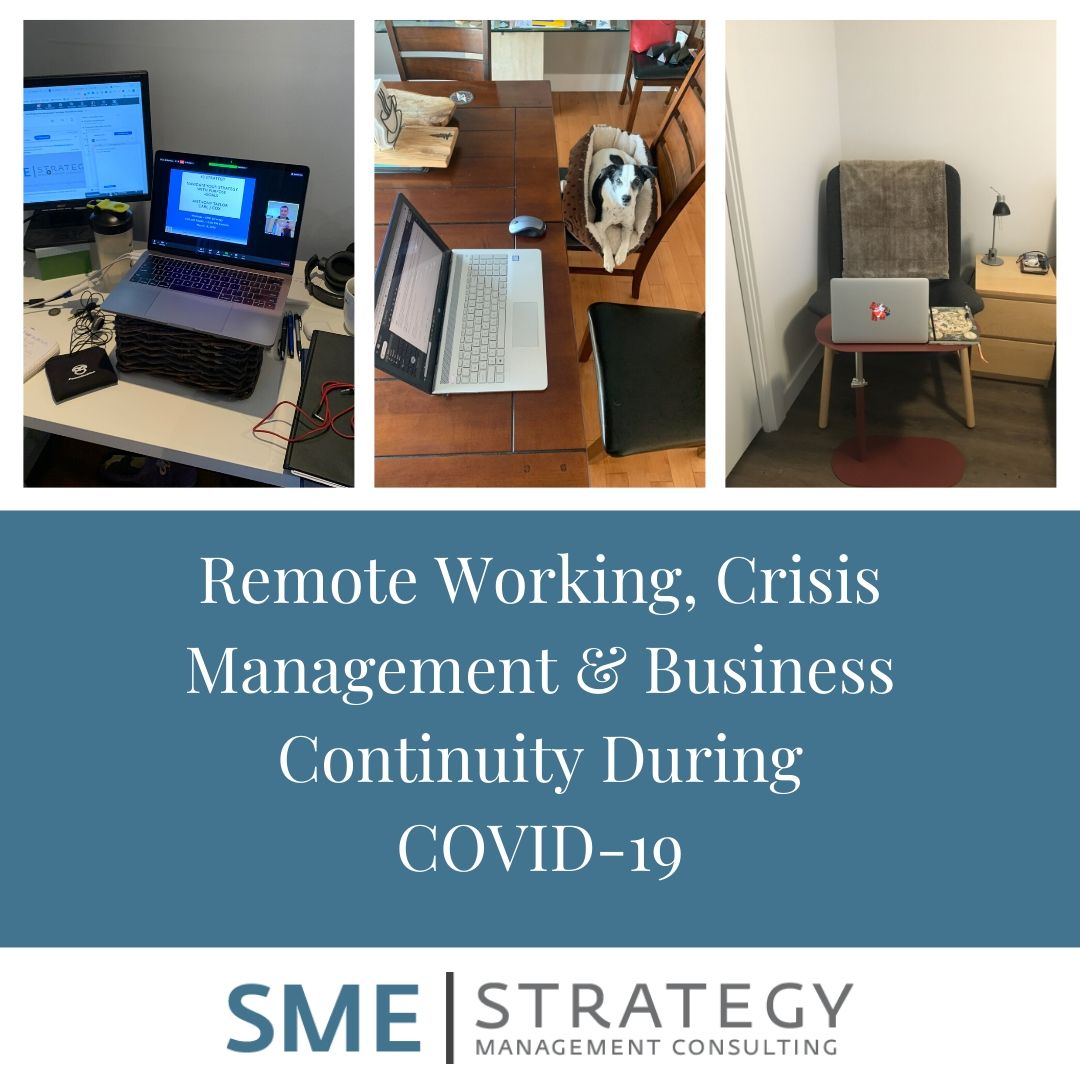 Although some professionals, like Bill Gates, have stated that we need to be prepared for the next global pandemic, the swift spread of COVID-19 and cascading global impacts were unexpected. After an abundance of COVID-19 related deaths in China, medical systems collapsing in Italy, and expert recommendations to flatten the curve, many businesses have shifted to remote work, are operating in a limited capacity, or have had to close their doors.
We recognize that not all organizations or individuals have the ability or privilege to work from home, and that other service providers such as cashiers, janitors, and health care workers are still working in public to provide essential services for their communities.
Our organization (like most others around the world) has been massively impacted by this global health crisis. We have had to act swiftly, both internally and with our clients, to help bridge the gap and make the transition from onsite teams to remote teams. Because we have two office locations (Vancouver & Victoria), as well as clients throughout Canada, USA and abroad, we are lucky in that we already have systems and processes in place to support our small team to connect remotely.

We'd like to share some of our best practices to support your team during this period of uncertainty and change. Below are some key areas to focus on for remote work transition, business continuity, and crisis management:
First things first, make sure that you've opened up lines of communication for your team to reach out to their leaders and their colleagues. Check in to make sure that everyone has the necessary tools they need, and identify staff who may need extra assistance adapting to technology.
Some great team communication tools that help us and our clients include (but are not limited to):
Slack: This tool is great for instant messaging. It helps us to keep a continuous line of communication open, without causing too much of a distraction. There are options to communicate as a group or one-on-one. There are additional capabilities available, such as file sharing, voice chatting, and more.
Zoom: This is our favourite tool for web conferencing and video chatting. This tool is ideal for one-on-one meetings, appointments, and coaching, as well as for team meetings, board meetings, or group work sessions. This software allows for screen sharing, notation, in-app messaging and more! (Google Hangouts is another great alternative that has similar functionalities).
Here is a short video tutorial we made to help others learn about some of the tools and functionalities that Zoom offers:
Email & Phone: Though the above tools are relatively simple to install and use, emails and phone calls are additional ways to keep in touch that most people are comfortable with.
Tips: We recommend exploring options and finding out which methods work best for your team to keep in touch. Make sure everyone is aligned and on the same page regarding expectations for team communication while working as a remote team.
If possible, try to have a dedicated space to work from. This can be more difficult for some than others, as each home situation is unique. Some people will be working at home, alongside spouses or house mates, and others will have children home from school. If possible, find a space in your home or a spot in a room that you can call your "office" for this period of time.
While these spaces might not be as ideal as your regular workplace, try your best, and remember that this transition will not be perfect. For some inspiration, our team has photographed our working from home set ups:
Jason and "Sadie" have set up shop at the kitchen table at their family home in Victoria, BC: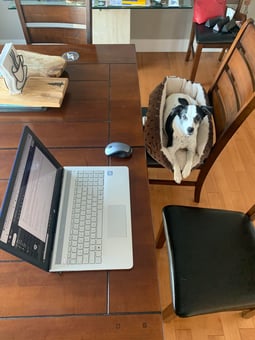 Jenna has a dedicated "mini-office" in the bedroom, while her husband works from the guest room office in their Victoria, BC apartment: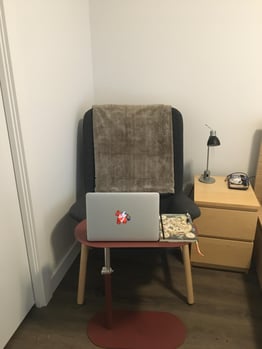 Anthony and his wife have each set up their own dedicated work spaces in their Vancouver, BC apartment: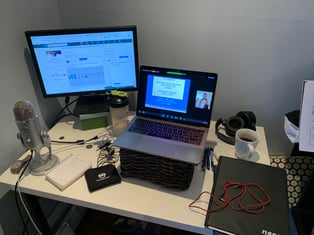 Tips: If possible, try to set boundaries between home and work life. This will look different to everybody. For our team, it means setting work hours, and respecting our personal/home time outside of those hours. For others, it may mean taking turns occupying young children while the other parent works. For some, it may mean understanding that boundaries need to be flexible and changing on a day-to-day basis. Find out what works with your team, those you live with, and yourself.


> Watch below to learn about re-gaining a competitive advantage when returning to the office post-COVID
Crisis Management & Business Continuity
Once you've established communication guidelines, made sure everybody has what they need and has set up their (hopefully temporary) home offices, it's time to get to work. Before trying to return to "business as usual" or your long-term strategy execution, make sure to address the immediate situation and crisis at hand.
Here are some questions that leaders may need to ask themselves and their people:
->What are some of the new risks and roadblocks that we need to address immediately? (Here's how to build a risk register)
->Do we need to shift focus and adjust our priorities? (Here's how to set strategic priorities)
->Do we need to adjust, change, or add any goals or targets?
->What programs or services are impacted, and how can we adjust them for our service delivery team and our stakeholders?
There are a multitude of different questions to ask and issues to address depending on your organization's products, services, location, and other factors. For some companies, it may be helpful to schedule a 4-hour virtual strategy session with a dedicated facilitator to help refocus and align their team during this time.
Once your team has addressed the immediate and urgent issues, it's time to start working towards business continuity. This may mean getting back to delivering your usual products or services, or starting to streamline your newly adapted products and services. With communication, work stations, and the crisis addressed, this will be smoother to implement.
Tips: Agility may be crucial when getting back to service delivery. Stakeholders' needs may change, job descriptions may need to be adjusted, and service capacity may increase or decrease. We recommend holding, at a minimum, a weekly team meeting to address these ongoing changes and adaptations.
Morale, Health & Wellness
There is an abundance of online content being created about the mental health implications of isolation, the importance of morale in productivity, keeping up with physical health, and building community. While we are in uncharted waters with this global health crisis, it's important to remember our humanity. There are an abundance of activities and practices that can help us to stay healthy and productive, including:

Supporting Community & Connection: Volunteer activities and community events may be postponed, but there are ways we can still be of service to others: send an e-transfer donation to a local food bank, assist a neighbour who is unable to shop for their own groceries, or check in on loved ones who may be at increased risk of mental health issues from isolation.

Community building goes beyond service to others. As human beings, we are social creatures who crave connection. With in-person extracurriculars and work events on hold, there are still ways we can stay connected: start an online book club with your coworkers or friends, host online team lunch & learns, have a virtual dinner party with friends and family, or imitate Italian communities and have a (safe distance) neighbourhood sing-a-long.

Tips: It can be difficult, but if possible, try to practice gratitude, especially with your work team. See if you can integrate one element of positivity into each team meeting. Today, our team was inspired by this social media post: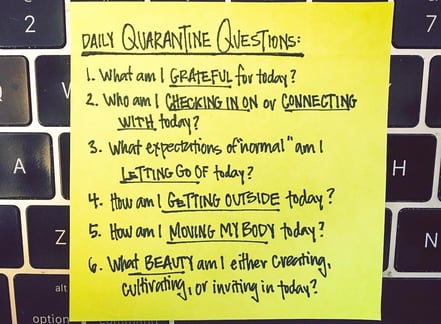 Keep Moving: For those who have been traveling or recently ill, it's important to stay indoors (or within your own outdoor private space) for 14 days. If you are in an apartment and don't have access to a yard, there are multiple options for indoor movement activities, such as: taking an online yoga class, cleaning your house, body weight exercises, aerobic workout videos, or challenging yourself to reach a certain number of steps while walking around the house.
If you're healthy and able to go outside, remember to practice safe social distancing. Take a walk or go for a hike in an uncrowded area, go for a bike ride, or start a garden.
Tips: Start a workplace fitness challenge or virtual group activity. There are various health and fitness apps and trackers that can assist with these types of challenges.

If you're struggling through uncertainty, financial distress, or personal stress, we understand and we're here to help. Get in touch with us on social media, send us an email, or give us a call. We're happy to chat, and we're here to help.
Looking for more resources to help with this transition? Someone in our network sent us a fantastic workplace guide for COVID-19 that we've found helpful, and Zapier also has a great guide for working remotely.
For a detailed report on how businesses like Spotify, Google, VaynerMedia, and others are handling COVID-19 and remote work, check out this new study on the remote work revolution.

Stay safe out there, wash your hands, and keep a safe social distance!
Download our strategic planning questionnaire before your strategy meeting:
Our readers' favourite posts