Strategic Planning Timelines: 3 Year vs 5 year strategic plans
By Anthony Taylor - October 28, 2022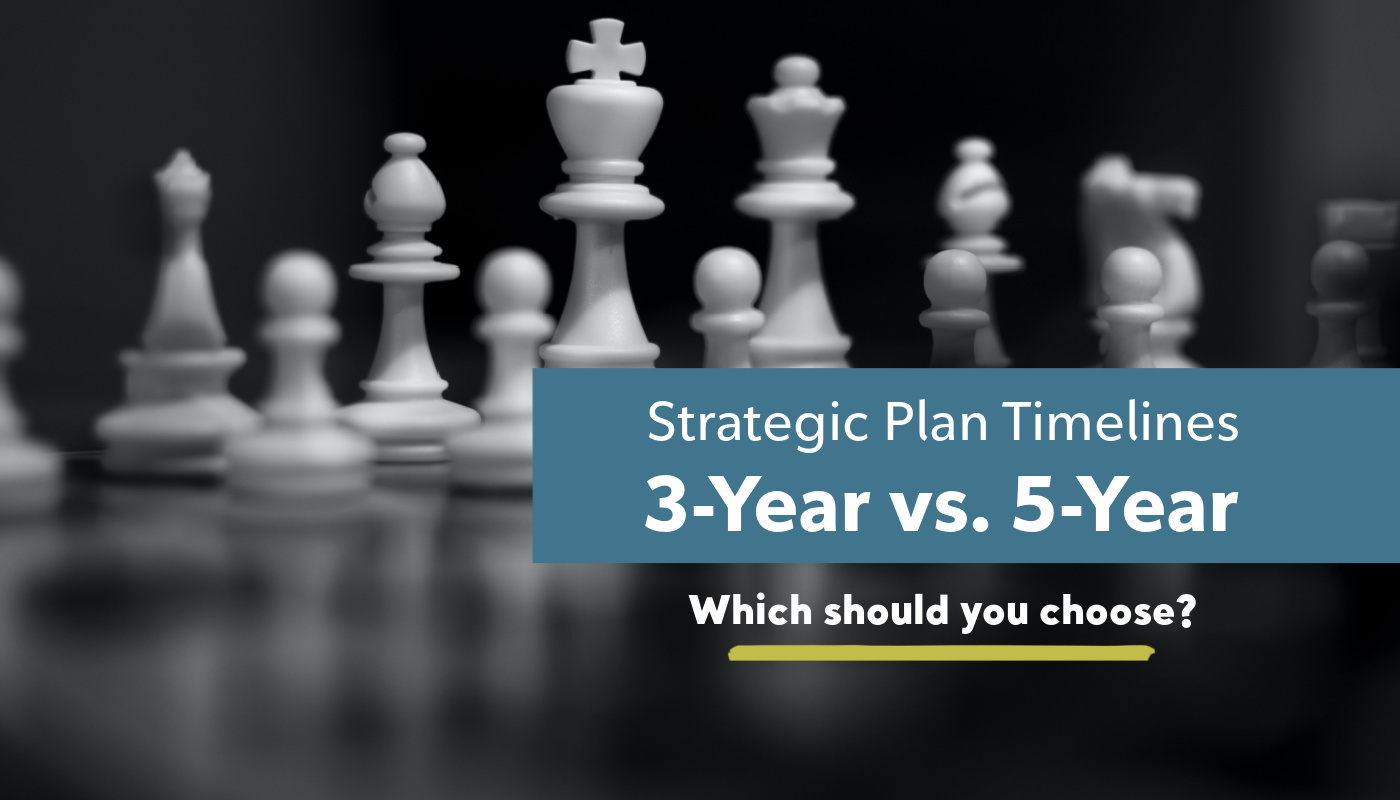 In today's rapidly changing business landscape, strategic planning has become more crucial than ever before. One of the most important decisions you'll make during the strategic planning process is determining the timeline for your plan. In this article, we'll explore the differences between a three year strategic planning timeline and a 5 year strategic planning timeline, and help you decide which one is right for your organization.

What is a Strategic Planning Timeline?
Can strategic Plan Timelines be less than 3 Years?
What is the most common Strategic Planning timeline?

Why Should You Create a Three Year Strategic Plan ?


But before we get into if your organization should go with a 5 year strategic plan over a three year strategic plan, If you've never created a strategic plan or are creating a new one, it's critical to assess your vision, mission, and values before going into your strategy, goals, and tactics.


Related Content:


What is the Strategic Planning Process?
Sample strategic planning agenda 2023
What is a Strategic Planning Timeline?
A strategic planning timeline is the time span over which your organization plans its actions to increase alignment by building a shared understanding of what has been done in the past and what is planned for the future to support your organization's mission.
Timelines for strategic planning should be focused on the medium to long-term future. Consider your strategic plan to be a living, breathing entity with a finite lifespan. Most strategic plans are designed to last three to five years, though there are exceptions; some can endure much longer, as we'll see later in the article.
Can strategic Plan Timelines be less than 3 Years?
Some organizations create plans that are one year, five years, or even up to twenty years in the future.
However, strategic plan timelines are different from operational timelines, strategic plans usually start at the organizational level, While operational plans focus on specific departments and teams and might concentrate on the day-to-day requirements of running your organization. Operational plans are the set of tactics made to work alongside your strategic plan. They focus on short-term actions that drive your strategic plan forward and typically contain more items than strategic plans, ranging from a single to-do to ongoing short, mid, and long-term projects, while strategic priorities are concentrated on a small number of objectives that need to be reviewed on a regular basis.

However, for you to successfully move your organization and strategic plan forward, you need to ensure that there is a balance between your strategic and operational plans.


Download our free Strategic Planning Template and start your strategic planning process today
What is the most common Strategic Planning timeline?
At SME Strategy prioritize creating 3-year strategic plans over 5 year strategic plans for most of the organizations we work with. We believe three year strategic plans balance long-range thinking as well as short-term execution better than a 5 year plan.
If your organization is in the process of selecting what strategic planning timeline to prepare for, there are a few things to think about. In a previous post, we talked about what is the strategic planning process, why it's important and the steps your organization needs to follow before you start your strategic planning process.
Why Should You Create a Three Year Strategic Plan ?
Because of the rapid pace at which technology, society, and trends evolve, these numerous external factors make it counterintuitive to create a five-year plan over a three-year plan. Going for a three year strategic plan is a great way to keep your organization's vision close enough to where it is more attainable, but still giving enough allowance for greater flexibility when it comes to technological change.
Lack of Strategic Foresight
When choosing a strategic planning timeline for your organization, keep both the future and the present in mind. That is why we advocate three-year strategic plans for your organization because they balance the long and near term better than a 5-year strategic plan. It's long enough to cover the majority of the tasks required to move your mission forward, but it's also close enough that you can simply implement it over one, two, or three years.
Three to five year strategic plans work well for organizations in most industries. Why? Most organizations go through significant internal change because of the nature of work in 2022. This study reveals that resignation rates among managers have now almost doubled since last year, with the great resignation showing no signs of slowing. If you work in an industry that does not see a lot of change and has a lot of capital investment or traditionally low personnel turnover, such as education, city planning, or Large manufacturing companies, a 5 year strategic plan or longer is ideal.

In conclusion, it is unlikely that your organization requires a 5-year strategic plan. Focusing on three-year plans, making them more feasible, and ensuring that they are adaptable to the market will help you achieve greater success. However, with three-year strategic plans, we still recommend conducting annual comprehensive strategy reviews. This means that while you may have a three year vision and mission that your organization is working towards, you re-asses your priorities, goals and actions on an annual basis, which effectively results in a strategic plan update every year, and a full strategy overhaul every 3 years.



Learn more about how our strategic planning process can help you achieve clarity of mission, vision, and an aligned strategy with the best timeline for your organization.


---
SME Strategy is a strategy consulting company that specializes in aligning teams around their vision, mission, values, goals and action plans. Learn more about how we can help you and your team create a strategic plan with our strategic planning facilitation services.
Our readers' favourite posts