How to Attract Talent in 2022
By SME Strategy - August 18, 2022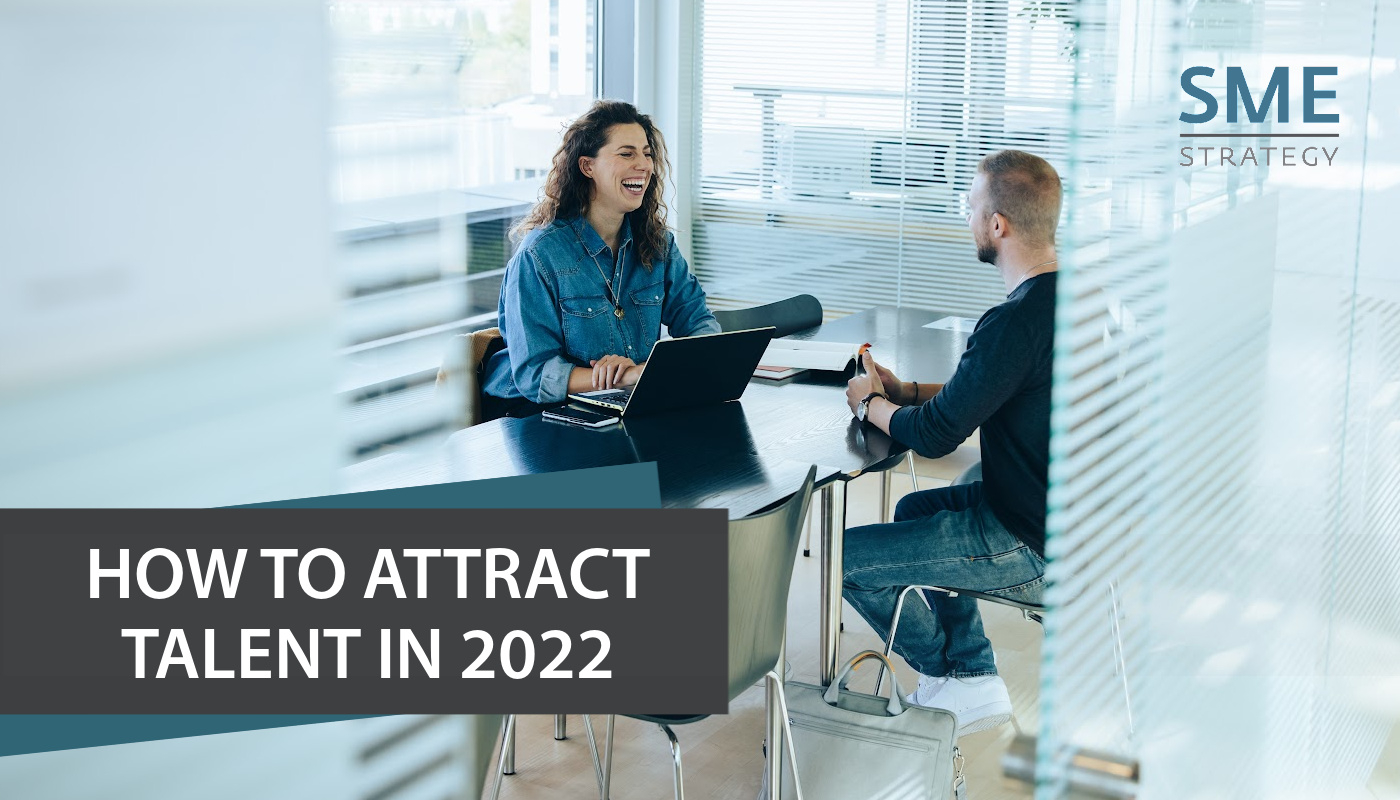 2021 set a record-setting precedent.
At every level, organizations struggled with attracting and retaining talent globally. The Great Resignation set an unprecedented rate of employees leaving their jobs for a number of reasons; whether that was better opportunities, personal choices, or just greater pay. As a result, organizations have seen increased importance placed on talent attraction, development, and retention so they may continue to compete in a tight job market.
Moreover, many companies are seeing new employees join the firm, only to leave in a few months, leading to stalled progress and a loss of time and resources.
The big question is: How can organizations better attract and retain talent?
In this article, we'll identify several components of the hiring process and examine how these can be improved to build a long-lasting team.
Is your hiring approach wrong?
The fact of the matter is that the root cause of hiring is drastically poor retention. In fact, according to HBR, 95 percent of hiring is currently done to fill existing positions, the vast majority of which are vacant due to voluntary turnover. Interestingly, less than 30 percent of job vacancies are filled through internal promotions.
What to do to increase talent retention?
• Track your positions. It's recommended that organizations begin to track the percentage of openings that are filled from within their firm. You manage what you measure, and most firms fail to track how their positions get filled.
• Post position openings internally. Research shows that when managers recruit someone they already know, the employee performs better than when an "outsider" accepts the role. Add to the fact that few enterprises are actually aware of the talent and capabilities they already have within.


Determine and establish extra incentives.

Struggling to find good talent? You're not alone.

Many professionals now want more flexible jobs. For this reason, your organization should question what it's doing to ensure that employees are secure and want to stay.
Before posting a position, ask yourself how your team can provide greater opportunities for professional development, how you can hire internally, and how the role can be more accessible to those currently looking for work. These are some of the factors that make it easier to build a better process to attract talent.

The fact is that it's currently an employee market and prospective employees are not only looking for higher wages and benefits, but also for positions that are best suited to their individual skills and provide significant flexibility and perks.

Move with speed and intention.
Be decisive and act quickly! Let's face it: the chances are that if you've identified your dream employee, someone else is likely courting them too!

The conventional hiring approach permitted leaders to select people based solely on what looked good on paper with little regard for cultural fit. We're in a new hiring era and it's increasingly crucial to identify a candidate with the same mission and vision as your firm. When you do, it will be easier to upskill and work with that individual as opposed to recruiting a highly skilled and talented applicant (assuming you can find one) who doesn't fit with the team and is more likely to leave later.
There are dozens of employers that are wanting to attract the same pool of talent, so if you can't match the benefits and perks, you can help increase the confidence of the candidate by moving quickly.

Designing the right hiring system.

When designing your hiring system, you need to think beyond getting talent into your organization. You will need a plan for them to grow and feel valued. Many leaders and organizations focus too much on the "attract" stage of the hiring process and forget about their development and retention.

• Quality over quantity. When designing your hiring process to attract the best talent, it's better to set it up such that you attract a small pool of applicants. As every applicant costs time and money, it's important to trim out unaligned candidates early in the process. Employers spend an enormous amount on hiring - an average of $4,129 per position in the U.S.

Be sure to clarify in your job posting what's hard and fun about the job so unqualified applicants don't apply. In addition, introduce a pre-employment test that permits applicants to see how much a fit the role is for them before they apply.
You'll attract better candidates and waste less time.
• Precise requirements. If you're working with an external hiring manager, ensure that you have an internal representative who can help to bridge the gap and provide input on what qualifications are needed for each position.

When trying to attract talent, remember technology does not completely remove the need for a human element during the early stages of the hiring process. HBR research demonstrates that when firms pile on job requirements into applicant-tracking software, almost no candidates satisfy the criteria.
You will always need some level of human interaction in your talent attraction program but you can always leverage technology to fill your biggest needs.
• Test for specific skills. Studies show that past performance is the best way to predict good hires - better than unstructured sequential interview findings or post-secondary grade point averages. When testing applicants, employers should prioritize standard skill testing over their own judgment. For example, recommended tests include those that measure a candidate's analytical and practical skills.

Leader's Digest: The must-have resource for leaders in 2022.
Implementing the right strategy to attract the best talent
In order to implement the right strategy for your hiring process, it's imperative that you use a strategic checklist. Take note, and make sure that you're addressing the following points.
• Retention and development. Your organization needs to ensure that the retention and development stages are an important aspect of your hiring strategy. Identify what your firm will do for each of these categories and allocate an appropriate level of resources for each.

• Identify and implement a distinct career path. Your applicants and new hires must understand how you intend to assist them in achieving success. This has the effect of formalizing your organization's beliefs, values, and responsibilities. However, it also demonstrates that the company possesses a desirable team dynamic and relationships with its employees, which encourages employees to remain.

• Track employee performance. All of the above is meaningless if you aren't tracking how these changes affect the quality of your new hires. This can be as simple as conducting performance appraisals and selecting success metrics for your hiring system.


Conclusions
• Reviewing your hiring process should be a significant priority for every organization. This is more the case than ever today, where the hiring landscape has switched dramatically to favor employees since the pandemic. This analysis can give you insights into where your company is falling short in its hiring flywheel and can highlight what needs to be changed to improve your employee retention rate and quality.
• If you want to attract talent in 2022, your organization's hiring process has to focus equally on attraction, development, and retention. This may seem daunting - especially if your organization has historically allocated resources for the attract talent segment only. However, if talent development and retention are a strategic priority for your organization, then you need to start by developing a strategic plan to address this issue and successfully move your firm forward. SME Strategy helps firms do just this; contact us here.

Our readers' favourite posts