How to Drive Change using Custom Communication - Interview with Keith Kitani
By Anthony Taylor - September 21, 2020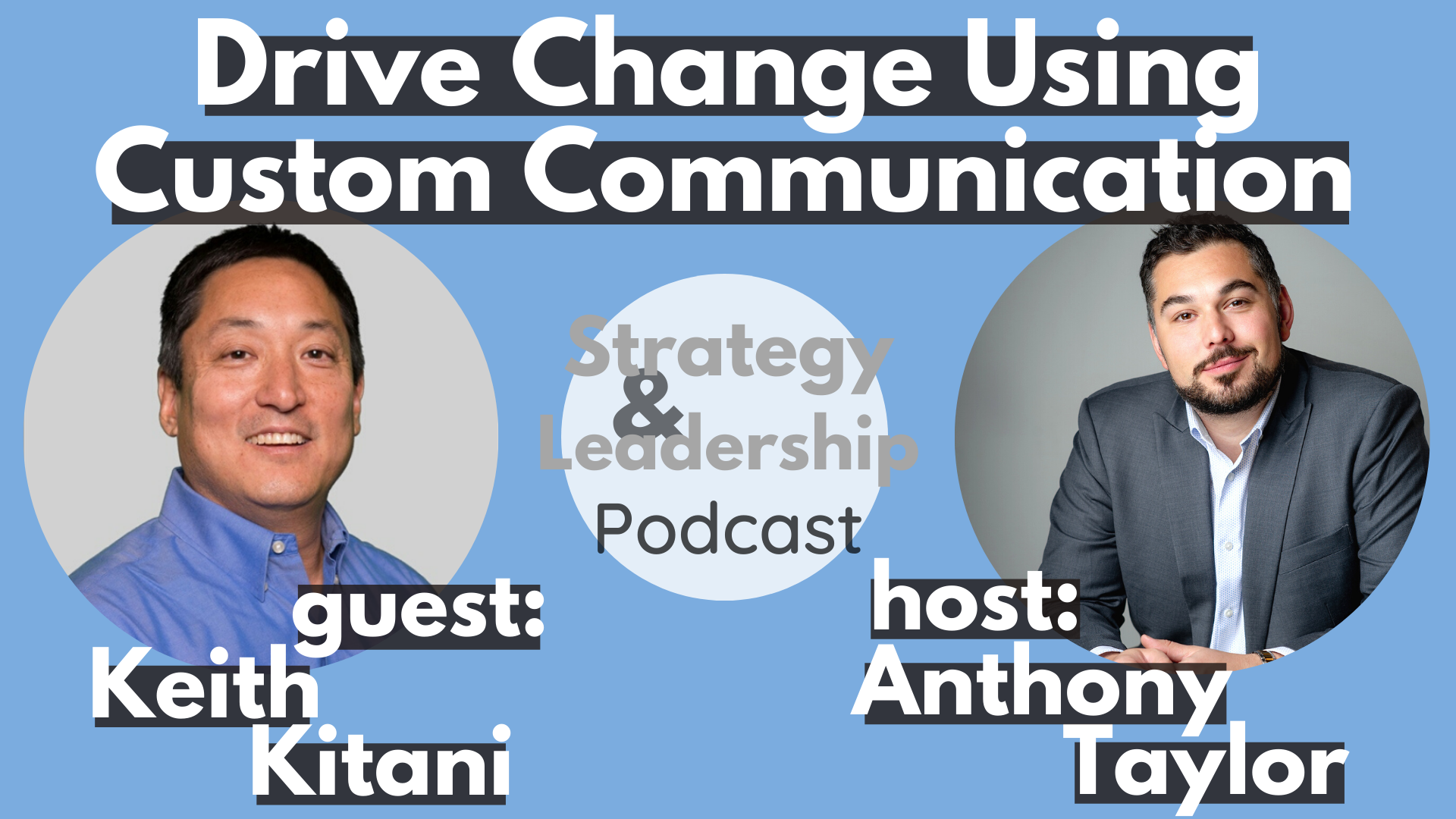 "The biggest risk in communication is the belief it's been communicated when it hasn't".
Keith Kitani is a two-time entrepreneur who built and sold his first business to Adobe. Now, he's the founder and CEO of GuideSpark, a leader in change communication that drives change and results by re-focusing the hearts of minds of employees.

Most business leaders are comfortable creating strategies, along with programs to carry out those strategies. However, it is the employees of an organization that make those strategies happen. Keith believes that communication is the way to drive change, bridge that last mile, and see your strategy implemented.
On this episode of the Strategy & Leadership Podcast, Keith shares his take on driving change by taking a marketing approach to internal communication, how to track the effectiveness of communication, his biggest challenge as a leader and more.
If you're having a strategic planning session soon, make sure you're asking the right questions:
Here's a breakdown of our conversation:
Using a marketing approach to internal communication
"Customizing experiences is how you're going to drive change quickly".
Keith knows that using a 'one size fits all' approach to communication in 2020 is not effective. Because everyone processes communication differently, they way to drive change is using customized communication. Like in marketing, you're communication with employees should be targeted based on what you know about them.
How to track effective communication (and how not to)
Keith believes data is critical when it comes to measuring the effectiveness of your communication. Unlike traditional media, we have the ability to measure engagement, actions and more, which need to be taken advantage of. Keith also advises leaders to measure communication effectiveness by segment, rather than looking at all the data together.
On fighting for attention
"Even as the CEO of a company, I know I have to fight for the attention of my employees".
Keith speaks on the high level of noise in our world today, which is constantly interfering with our work and personal lives. Because of smart phones, we're all constantly fighting for attention with each other. This means that even as the CEO, you can expect to compete for attention with someone's spouse, kids and so on.
His biggest challenge right now as a leader
Keith speaks on the rate of change both within his organization and the outside world. Going fully remote overnight with almost no time to plan has been a challenge we've all had to embrace. Keith says that in this ever-changing world, he's focused on trying to manage the change to come, and continually adapt his organization.
Want to create your own strategic plan from scratch, and align your team for a fraction of the cost?
About his company, GuideSpark
Keith talks about his software platform, GuideSpark, which is designed to help orchestrate communication experiences or journeys for organizations. Ultimately, GuideSpark is able to drive change for organizations by delivering that last mile of communication, which allows employees to successfully execute strategies.
To reach Keith, you can find him on LinkedIn or send him an email at kkitani@guidespark.com. To learn more about his company, GuideSpark, visit www.GuideSpark.com.
Our readers' favourite posts