Our Favorite Business Strategy Frameworks
By Anthony Taylor - April 21, 2016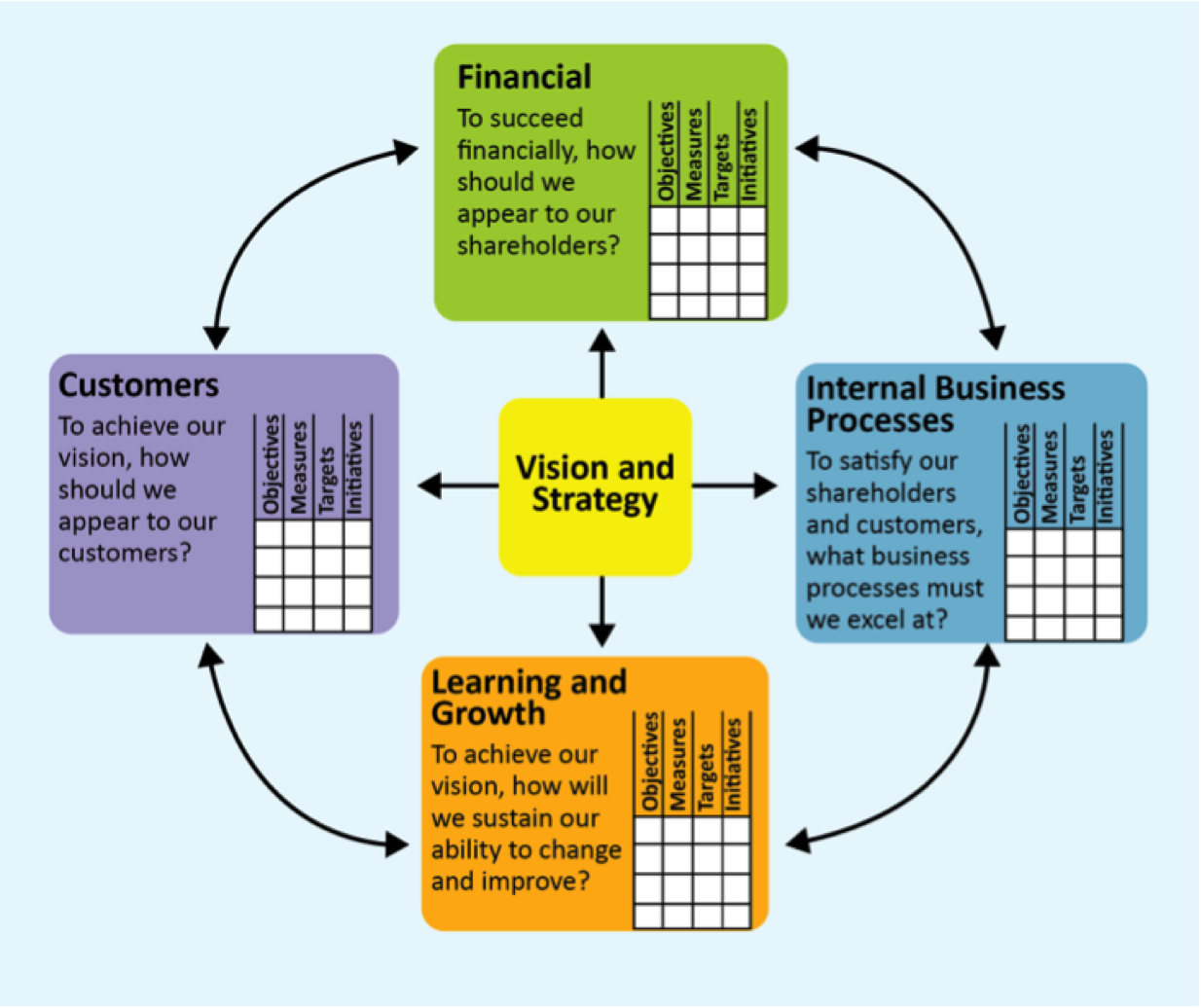 The study of management has evolved greatly over the past 70 years as organizations seek to run better, grow faster, and accomplish their organizational purposes (read: mission) in the most effective way.
Through that process, managers, researchers and academics have created a wide range of frameworks to guide you to structure your strategic thinking and business growth.
If you're looking for a strategic planning facilitator to help align your team and develop your organizational strategy, take a look at our service options and contact us for a quote:
Unfortunately, there are so many strategic frameworks that it has also become difficult to determine where to start for most new leaders, managers, CEOs or executive directors who are seeking to lead their teams.
As strategic planning consultants, we believe that every company creates their own unique strategy based on their strengths and preferences. Organizations like yours may benefit from all of the great strategic tools that exist that you can bring into your business to help meet your organizational goals.
We want you to have access to as many great tools as possible so that you can decide which ones are the best for you, your team and your strategy.
There are more strategic planning tools than the ones listed below. We have highlighted a few that we think will help the majority of managers and leaders through the planning process (If you need more specialized help, you can of course contact one of our strategy consultants for a consultation).
We've laid out these tools in two parts:
External analysis - What's going on outside your business:

Porter's Five Forces
Blue ocean Strategy

Internal analysis: What's going on with your business

Value Chain Analysis
Balanced Scorecard
VMOST
Resources Based View (VRIN Model)
Kotter Change Model
As you can see, there are far more tools to manage your internal strategy. This is largely because your business has infinite directions where it could go, whereas the external environment is largely speculative and paradoxically more fixed.
Once you assess the external environment, it's up to you to determine how your team will act and react in function of that environment. These strategic planning tools and frameworks are designed to help you do that.
Strategic Tools for External Analysis
Understanding what's going on outside of your organization is the first step in creating one's own strategy internally.
"How can you plan a day in the park if you don't know the weather" - Anthony Taylor
Before you and your team make plans for the future, you need to determine:
Who else is playing the game?
How hard is the game going to be?
What changes in the world might be coming or are already in place?
Can we predict the future in light of those changes and uncertainty?
Porter's Five Competitive Forces
Porter's Five Competitive Forces is one of the most powerful tools created to understand where power lies outside your organization and what might impact the future of your business.
Not just reserved for business school scenarios, this tool assumes that your profitability and organizational future is impacted by your competitive environment.
The more competitive the environment, the less likely you are to make money from it. Use this tool if you want to assess your market's profitability or if you want to find new opportunities of entering into profitable markets (by launching a new product or business for example).
This analysis assumes that there are five relevant forces that shape industry competition:
New Entrants: How big is the threat to see new players entering the market?
Suppliers: How strong is the bargaining power of your suppliers?
Buyers: How strong is the bargaining power of your customers?
Substitutes: How easy is it for competitors to substitute your product or service?
Rivalry among existing competitors: How competitive is your industry?
Evaluating every force on a scale from 0 to 10 will enable you to see who has the power in your industry and how profitable the market is. The stronger the forces are, the greater challenge to make profits.
Keeping this analysis in mind, you can you find new markets with few competitive forces so that you can maximize profits and opportunities.
Blue Ocean Strategy
Imagine you are the only fisherman in a large ocean full of fish.
How successful will you be with day of fishing?
Unequaled for sure…
Blue Ocean Strategy is as simple as that: sailing the large ocean in a competition-free market. Because of your unique competitive position, you can maximize profits until others see the opportunity and enter the market.
Getting into a blue ocean is easier said than done; change and innovation is required to do something new. If done well, your competitors will eventually copy you and the market will slowly progress into a Red Ocean.
A Red Ocean Strategy, on the other hand, deals with a very competitive market and aims to out-perform the competitors by making your company a market leader.
With the first option being more profitable, how can you move from a Red Ocean Strategy to a Blue Ocean Strategy?
Blue Ocean Strategy is based on a wide range of strategic frameworks allowing you to find how to create value through innovation. "Strategy Canvas" is one of the most important ones because this tool helps you differentiate a product from your competition.
Strategy Canvas identifies markets your competition is ignoring by assessing what is valuable for your customers and where the whole industry is investing.
To use the Strategy Canvas, you will have to define the main factors on which your industry competes and for each factor, rate the offering level of your competitors.
Comparing these two elements will allow you to find areas to diverge from the competition and create your own market.
PESTLE
PESTLE Analysis is a very simple and intuitive tool to understand the trends in your business environment.
PESTLE helps you analyze changes in the landscape that might affect your decision making for the future and to identify where advantages in the future might exist.
PESTLE is an acronym that stands for
Political
Economic
Socio-Cultural
Technological
Legal
Environmental
For example, an external factor for an import/export company would be the currency rates between the countries, which is an economic factor.
A non-profit organization looking at prospective changes in government to determine their funding in the future would be a political factor.
A retail company looking at changes in technology to determine how they can improve their point of sale system as well as changes in customer preferences to determine future stock would be a socio-cultural factor.
Use this framework to see the main trends in your business environment and unveil opportunities and threats for the future.
Being able to establish trends in the environment will help you create different "realities" in which your organization will operate in. Determining these different realities will help you make better plans and "scenarios for the future".
Scenario Planning
Scenario planning helps you "predict" what the future is going to look like by creating different "realities" in which your organization will operate in in the future.
While predicting the future is certainly guesswork, scenario planning allows you and your planning team to assess key factors that will impact your organization and create alternate "scenarios" based on those factors.
Instead of creating one single scenario that you base all your future strategic decisions on, you instead create 4 different scenarios based on the impacts (high and low) of your two most important uncertainties.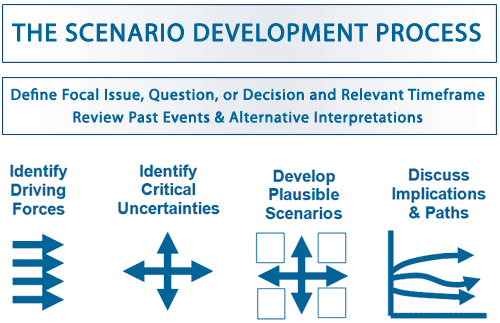 Instead of relying on one point of reference and risking more on that likelihood happening, you spread out your risk by looking at alternate paths and strategies.
Using scenario planning in your organization will add more robustness to your plan as well as reduce your organizational risk long term.
Need help with your strategic planning process? A facilitator can help:
Strategic Tools for Internal Analysis
Now that you know the environment that your organization operates in, it's time to look inward at your own abilities to see what's there, what's missing and what's next.
In this section we'll cover:
Understanding your strengths, weaknesses, opportunities and threats.
How to add more value for your customers
How to measure progress across all areas of your organization.
How to build a strategy on your strengths.
How to track and map out your strategic plan.
How to create and sustain change in your organization.
SWOT
SWOT analysis is nothing new nor innovative, but it helps you develop a strong strategy by understanding your strengths and weaknesses and by identifying both the opportunities and threats your organization may face.
Why is using a SWOT Analysis useful?
The SWOT analysis is the foundation for much of the strategic planning process.
Strengths: Building a capability driven strategy and recognizing what you do well comes from analyzing your strengths. Building on your strengths will be the foundation of innovation and growth. Do what you do well, and find opportunities that play to your strengths. Be aware that all organizations have their strengths and in a competitive market, avoid competing against the strengths of your competitors for risk of losing and spending more resources than necessary.
Weaknesses: Your weaknesses are useful to identify because you don't want to implement a strategy that falls under weak organizational areas. Moreover, you may have some weaknesses that are truly hurting the success of your organization long term. While many if not all weaknesses can be addressed, we believe the identifying your weaknesses, and addressing the critical ones is the best strategy. The resources you would spend in shoring up your weaknesses would be better served in building a strengths based strategy.
Opportunities: This is where you see possibilities for your organization to be successful. These opportunities can be internal or external. In this context, opportunities may lay the foundation for your strategy in regards to where you will play and where you think you can win.
Threats: These are forces (either internal or external) that are going to hold your organization back. There is an opportunity later in the strategic planning process to identify risks which are also known as uncertainties.
While risks/uncertainty can both be positive and uncertain, the threats are always negative: they should be viewed as roadblocks to be identified, and addressed.
If you don't identify the threats to your organization you risk having your plans go sideways, incurring extra costs, delays and challenges.
Value Chain Analysis
The Value Chain are all the things that happen in your organization that add value to your customer.
Whether you business is for profit or not for profit, it will have a value chain - a sum of activities that creates value.
There are four key areas to the Value Chain:
Operations
Production
Marketing
Sales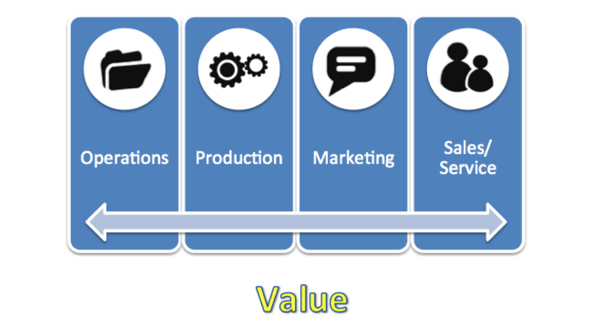 Operations are all the things that you do in the back office: Human resources, accounting, payroll, training and more
Production is what you do to produce whatever value you create for your customers.
Operations and production are known as upstream activities that contribute the creation of the value that you are offering. These activities are typically cost centers, as in they cost money to run and are typically at the beginning of your supply chain..
Marketing and Sales on the other hand can also produce value for your customer, but that value is received in addition once they receive the core value of doing business with you. Marketing and Sales are known as downstream activities and are typically revenue driven.
Marketing is how you tell people about the things that you do and the the things that you offer. Sales is how you actually deliver your products or services.
Each area has several sub activities that encompass all the things that you do in your organization. Depending on how your organization is structured, some activities may overlap all functional areas.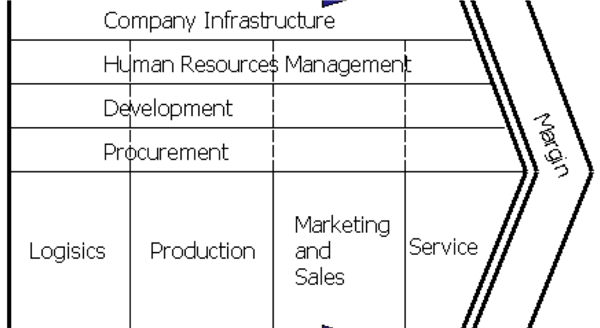 Once you detail all the different activities that encompass your organization you can identify what can be improved: Costs can be decreased or revenue can be increased.
You can also ask yourself: Does my business create enough value to stay competitive? Which processes are most valuable and which are not?
The sum of these activities is the total value that you deliver to your customers and can be used as a tool to create a competitive advantage.
The more you create value, the more profitable you are. By improving your value chain, you will increase profits and create more impact.
A useful tool to analyze your value chain is the business model canvas. It breaks down your value chain and business model into nine functional areas.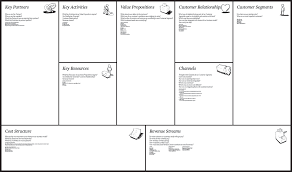 Balanced Scorecard
Balanced Scorecard is a very functional strategic planning and management system that allows you to set, follow-up and achieve your objectives and strategies.
This tool helps you set the strategy and vision for the future and translate it into actions and measurement. This is a fundamental tool in strategy execution.
The Balanced Scorecard was originally created because most companies had the bad habit to base their management objectives only on their financial performance.
However, financial measures only tell you part of the story, and aren't indicative of a comprehensive plan for execution.
The Balanced Scorecard suggests instead that we should form our business strategy and accompanying key performance indicators from four different perspectives:
Financials: Is your company financially healthy?
Customer: Do your customers like your products or services?
Internal Business Process: Can you efficiently deliver what your customers want?
Learning and Growth: Are you able to learn and create value inside your team?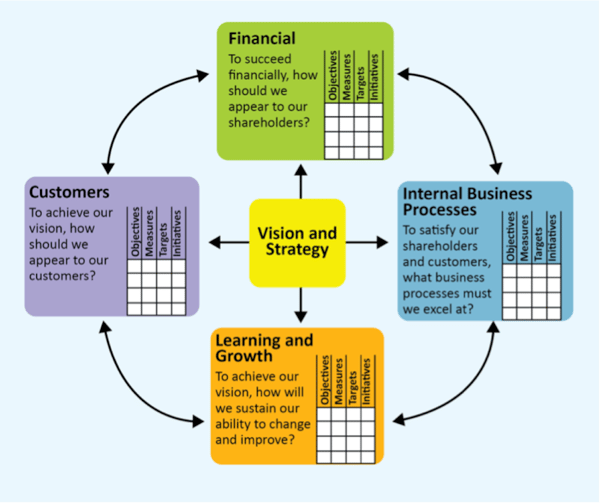 How to use it:
Within each area:
Define your objectives,
Define the accompanying measurements,
Define your targets
Define the steps and initiatives to reach those goals.
And then GO!
VMOST (Or as we've adapted it: the Strategy Pyramid)
This strategic planning framework underpins all the strategy work that we do at SME Strategy. We use this tool to ensure that all the activities in your organization are aligned with its vision and purpose.
Your organization could be really good at getting things done, executing perfectly, and hitting all your targets, but if those plans aren't aligned with the desired future of the organization you might be wasting resources and wasting time because you're not getting the right things done.
VMOST can help you get alignment with your strategy and help make everyone from the top down move in the right direction.
VMOST stands for
Vision: Where do you want your company to be?
Mission: How do you intend to achieve it?
Objectives: What are your targets?
Strategy: What are the actions to take?
Tactics: Who does what?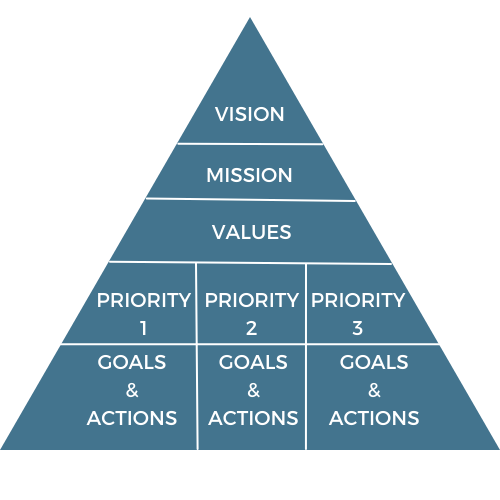 While creating the strategic planning process for your organization, you will want to have these 5 areas outlined and ensure that everyone from the top down understands your strategy.
Resource Based View – VRIN Model
As the name suggests, the Resource Based View is a tool focused on the company and its resources/strengths to understand what is your competitive advantage.
In other words: What are you doing better than your competitors and why is it valuable?
First you have to evaluate your strengths as an organization (which you should have done earlier in the SWOT)
Building on your strengths (what you're good at), you can determine what your competitive advantages are (What you're better at than everyone else).
Once you know what your strengths and competitive advantages are, you can run them through the VRIN model to see which ones might create a long term and sustainable advantage.
To evaluate whether your resources give you a competitive advantage or not, they have to be: Valuable, Rare, Inimitable and Non-substitutable (VRIN).
Valuable Strengths are table stakes, or an Ante. It's the most basic level of benefit. If it's only valuable, you have no competitive advantage.
Rare. A valuable and rare strength will give you a short term advantage. If it's rare, then people will come along and try to copy you. You'll have an advantage until they do.
Hard to imitate. If you offer something that's valuable, rare and hard to imitate you will have a long term competitive advantage in the marketplace. You can achieve this by either having a few key differentiators, or by creating several layers of differentiation within your value chain.

Every Time you add a differentiator it creates an additional layer that make it harder to imitate.
If you have 2 differentiators that have a .1 chance of duplicating. then The likelihood your advantage will be sustained is 0.9*0.9= .81
Add in several more layers of value and complexity as part of your value chain: 0.9*0.9*0.9*0.9*0.9*0.9=0.53 and so on.

Non Substitutable: Can someone circumvent your competitive advantage by substituting it with something else? If no, then you have a long term sustainable competitive advantage.
Not all organizations need to use the VRIN model and not all organizations operate in a competitive market place where they need to create a competitive advantage, but if you do, using this model in conjunction with the business model canvas and the value chain analysis will pay itself back in spades.
Kotter Change Model
Once you know about the external and internal environment of your organization, it's time to make changes happen and get the ball rolling on your strategic plan implementation.
Assuming that your plan is doing something done differently than the plans before it, you're going to need to create some change in your organization.
Some people don't like change, so it's important to be able to create change in a way that is measurable and that will stick for the long term.
The Kotter change model is the ideal tool to create change and get it to stick.
Disclaimer: Just because you use this model or any of the previous models) does not guarantee success or lasting change. These tools in the hands of the right leaders can create great results. Strategy, implementation, change and buy in require the whole organization to be aligned and that is certainly easier said than done.
The Kotter change Model had 8 steps and three distinct phases:
The phases are:
Creating a climate for change. (1-3)

Engaging and enabling the whole organization. (4-6)

Implementing and sustaining change (7&8)
Here are some guidelines to help you through this process with your team.
(This is an oversimplification, because getting change to stick can be quite challenging.)
1. Establish sense of urgency
Why do this now? Why do this at all?
If there's no incentive to change, there will be no significant change.
2. Create Guiding coalition
Who is leading this adventure?
You need to create a team of people who get things done who will be the anchors for the change.
3. Develop change vision (Vivid Vision)
Why is this change happening anyway? What's the result that we are working towards. Create a vision of the future that is going to motivate people to stick to the change management plan.
4. Communicate the Change vision for buy in (Stakeholder engagement, cascading goals)
How does the whole organization contribute to the vision? How does everyone on the team know what's going on?
5. Empowering broad based action and remove barriers.
As Part of the Strategic planning process (and in your SWOT) you would have identified risks and threats toward achieving your vision.
Start removing these roadblocks in order to create possibilities for your people to be successful and move forward on accomplishing the vision.
6. Generating short term wins (Balanced Scorecard)
If it takes a long time for progress to show then people will lose faith and the change plan will lose momentum. Creating small milestones early on will help you sustain buy in with the whole team.
7. Never letting up (reviewing strategic plan)
Build on those short term wins. Don't call it in early, and keep pushing to sustain the change. Review the plan frequently and celebrate successes. Look to see where improvements can be made continually, and build on them to create a world closer to your desired vision
8. Incorporating change into the culture
Celebrate the work that the guiding coalition has done and bring that work and their contribution into the culture of the organization. "This is the way we do things around here" and creating distinctions between :Yes/no behaviour makes it easy for people to understand how they should act.
Both existing and new people on the team show work within these constraints.
While constraints might seem harmful, by creating boundaries and norms in cultures, it empowers people to act and make decisions because it removes ambiguity.
It's important to note that change is continuous, and that once you get to the final step in this change effort, another one is looming around the corner; maybe a different strategy, a different team, or a different need that has arisen.
Regardless of the opportunity or risk at hand, these strategic planning tools can help you run through the gamut of exercises to: analyze the environmental, review your potential and desired actions, and take steps to create change and achieve success.

Co-Authored by Anthony Taylor and Jeremie Mariton
Our readers' favourite posts