Corporate Training: 5 Types Your Organization Needs
By Jason Heckl - June 19, 2020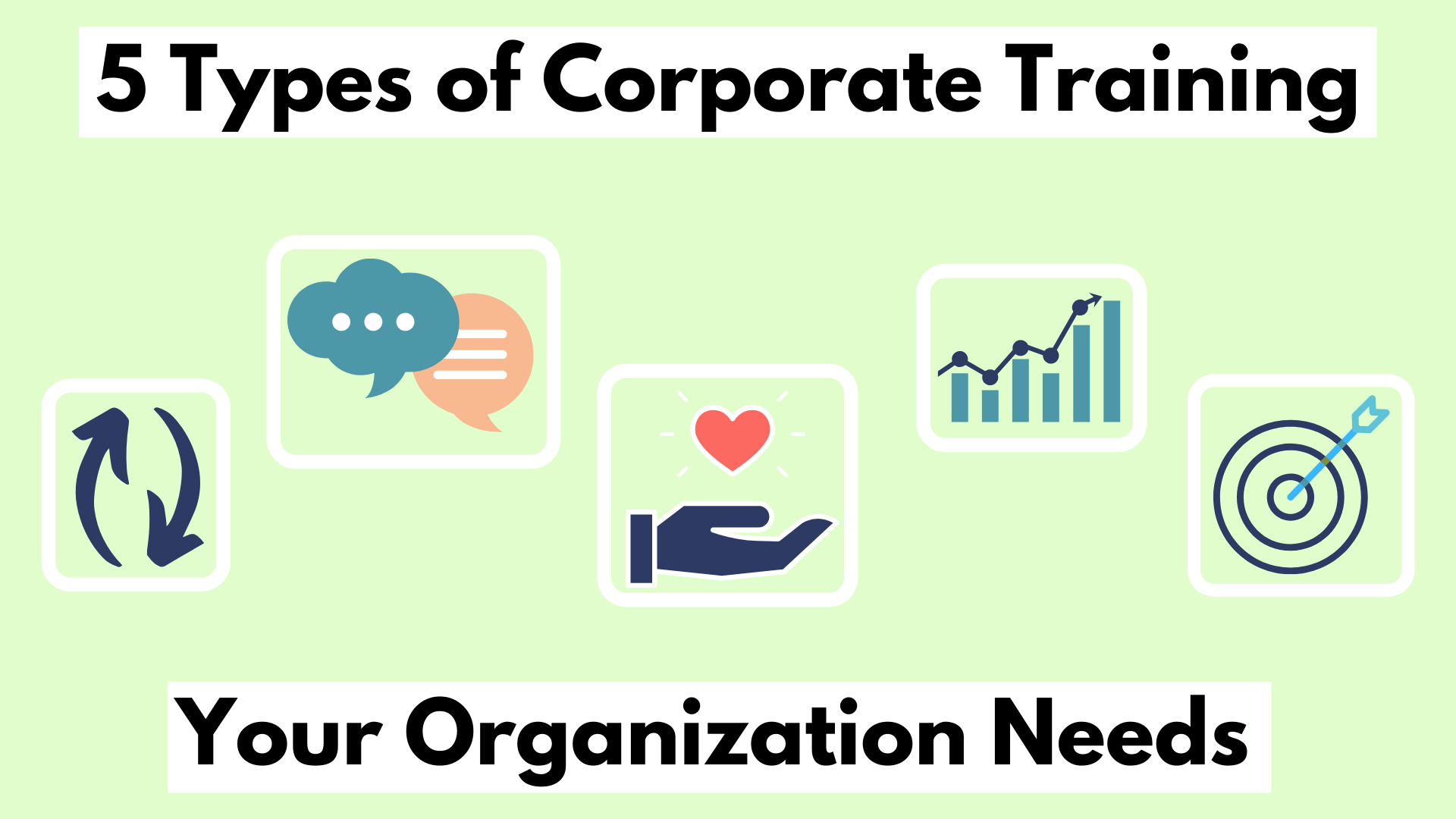 As the business world continues to change with relentless consistency thanks to new technology, economic conditions and political forces, many people and organizations are at risk of being left behind. As progress pushes us forward, it brings disruption and change along with it. In this modern workplace that is ever-changing, no one knows it all and everyone can benefit from learning.
Corporate training seeks to develop the skills of people and therefore the efficiency, longevity and value of the organization as a whole. In today's era of disruption, continuing development education and training is more important than ever.
Having a strategy session soon? Here are some questions to ask your team:
Implementing corporate training programs for leaders and their teams brings many benefits to the individuals as well the organization, including:
Retention
Aside from providing people with necessary development and up-to-date skills, corporate training is a great way to show people you care and believe in them. This kind of investment in your people could be a motivating factor for them to stay in their current job.
In a recent Gallup study, the U.S. Bureau of Labor Statistics reported a turnover rate of 26.3% in 2017. Of those people that left their job voluntarily, 52% said their manager or organization could have done something to prevent them from leaving their job.
Surely, nobody wants to stay at a job where they feel like they are stagnating or even deteriorating. By implementing regular corporate training into the lives of your people, you're empowering them to be the best they can be and prompting them to re-invest themselves into the mission and goals of the organization.
Values
Several studies on human resource management come to the conclusion that that training promotes an environment of learning, all while developing skills and without necessarily interrupting productivity.
By introducing an emphasis on corporate training and ongoing learning in the workplace, your organization will be simultaneously instilling these values in your people. By aligning the practice of corporate training with the value of continuous learning, you're telling your people "We care about your personal development".
The values you instill in your people will reflect directly on the overall workplace culture. A workplace culture of learning and development can have a positive impact on your people, keep them engaged, and encourage them to stay at their current job.
Output
Simply put, by providing necessary corporate training and development, you are giving your people the training they need to do their jobs better. But it isn't just that. When your people receive relevant training, they're empowered, and they feel good about their work and the impact they're making on the organization. A team with high morale that is motivated and feels valued within their organization is bound to be more productive.
Another way to look at it would be from a cost perspective. If your people are not motivated, valued and empowered through corporate training and development, it will reflect on their work. More money will be wasted on poor performance, fixing mistakes and even turnover than it would cost to implement regular corporate training for your people.
Prepare for your strategy session with our free template:
Through our experience working with leadership teams and training executives, we've compiled a list of our top 5 most important types of corporate training your organization can implement (in no order):
1. Change Management
Change management is a process an organization has to go through after some kind of transformational change occurs and interrupts their daily operations. These transformational changes are often planned, and include major events such as a merger, acquisition, change in leadership, adoption of new technology or a change in the way products and services are produced, sold and delivered.
But there are other transformational changes that cannot be planned for. COVID-19 is a perfect example. As we've watched the past few months unfold, we've seen some of the largest American consumer facing companies enter a never before seen mode of desperation.
The Harvard Business Review studied 62 corporate transformations, and came back with the conclusion that "their efforts have a negative effect on performance" if their "battles are not chosen wisely". Many organizations set out on cost-cutting and streamlining transformations, but often end up dampening morale, killing investments in innovation and handcuffing operations.
However, when done right, change management can improve individuals willingness to adapt to new changes without sacrificing productivity. This in turn improves the organization's ability to emerge stronger after an acquisition, implement a virtual strategy in the face of social distancing rules, and everything in between.
Here's an in-depth explanation of communicating strategic change during uncertainty.
2. Communication Skills
Often an overlooked method of corporate training, communication skills are vital to the health of your organization's morale, productivity and even revenue. Communication training is implemented at all levels of an organization, which helps individuals, teams and departments improve their ability to exchange ideas and information.
Now more than ever, during COVID-19, organizations are looking to develop communication skills and adapt new communication technology in order to continue operating with a remote team or limited foot traffic to their store or physical space.
To learn more about overcoming communication challenges by harnessing the power of technology, listen to our recent podcast with Matt Barnett, who has grown an international and remote team with his company Bonjoro: Overcoming Communication Challenges.
Within an organization, strong communication gives the power to improve operational effectiveness, reach strategic objectives, boost employee morale and more.
But the benefits don't stop at your organization's four walls. An organization with communication flowing from top to bottom, laterally, and diagonally across departments will be in a better position to serve their customers. In short, your customers will notice when your communication systems are solid.
3. Employee Retention
Turnover comes at a high cost, and includes benefit payouts, the cost of replacements, and the advertising and headhunting for new people. Aside from these direct costs, there are also indirect costs with potentially much longer implications such as a dampening of innovation and creativity, damaged morale, and a crippled corporate reputation.
Although not all turnover is bad, there's no question that high turnover is one of the major problems plaguing organizations across every industry or employment. The U.S. Bureau of Labor Statistics has found that the voluntary turnover rate is 26.3% annually, and it's generally accepted that turnover can cost around 1 to 5 times the salary of the employee who is leaving.
A successful employee retention program should be comprehensive and through, and include hiring great management (and training them), implementing an engaging onboarding program, establishing a culture of learning and support, and receiving regular feedback from employees.
A 2019 Harvard Business Publishing Corporate Learning study linked high quality employee learning to higher retention rates. This means that implementing an employee retention program could help you keep your best people and save your organization thousands or even millions of dollars.
For more on how your strategic plan and cultural development can impact your retention rates: How Strategy & Culture can Affect Employee Retention.
4. Project Management
Money and time is constantly wasted on projects no matter the industry or organization. All too often, projects fall behind schedule, soar over budget, confuse and transcend the original goal of the project, or get lost in the frustrating struggle of who is really in charge.
Ultimately, project management training will better equip your people by developing their competencies to complete projects within budget, scope and time. Project management training will teach your people and teams the importance of time management, goal setting and prioritization, and going forward, your people will be in a better position to complete projects on time, set and allocate budget more precisely, keep projects within scope and make the most out of the resources available.
It's important not to confuse project management with program management. To learn more about the differences and similarities: The Difference Between Program Management and Project Management: How to Use Strategy to Align Them.
5. Strategic Planning
We've saved our favourite type of corporate training for last: Strategic Planning training. This kind of training is designed for executives, senior leaders or middle management - essentially anyone in charge of leading and executing strategy for an organization.
To learn about the strategic planning process including all of its components: What is the Strategic Planning Process?
At the most high level, strategic planning will help your organization focus on one destination, avoid the Multiple Destination Trap, and develop goals and actions that ensure your entire organization is moving in the same direction to reach that destination.
But when it comes to specific strategic planning training, it is often made up of various pieces including strategic alignment, visioning, goal setting and prioritizing, risk assessment, trend analysis, action planning and strategic plan execution.
Time and time again, we've seen organizations implement strategic planning training and completely transform. Instead of moving in many different directions, trying to do too much and only making a little bit of progress, we've seen them develop alignment around a common vision, goals, values and actions. This is how organization's take themselves to the next level and smash their goals.
Are you looking to develop your own strategic plan from scratch?
Our video course can help:
Our readers' favourite posts