Why Your Nonprofit is Struggling with Fundraising - Interview with Sarah Olivieri
By Anthony Taylor - December 14, 2020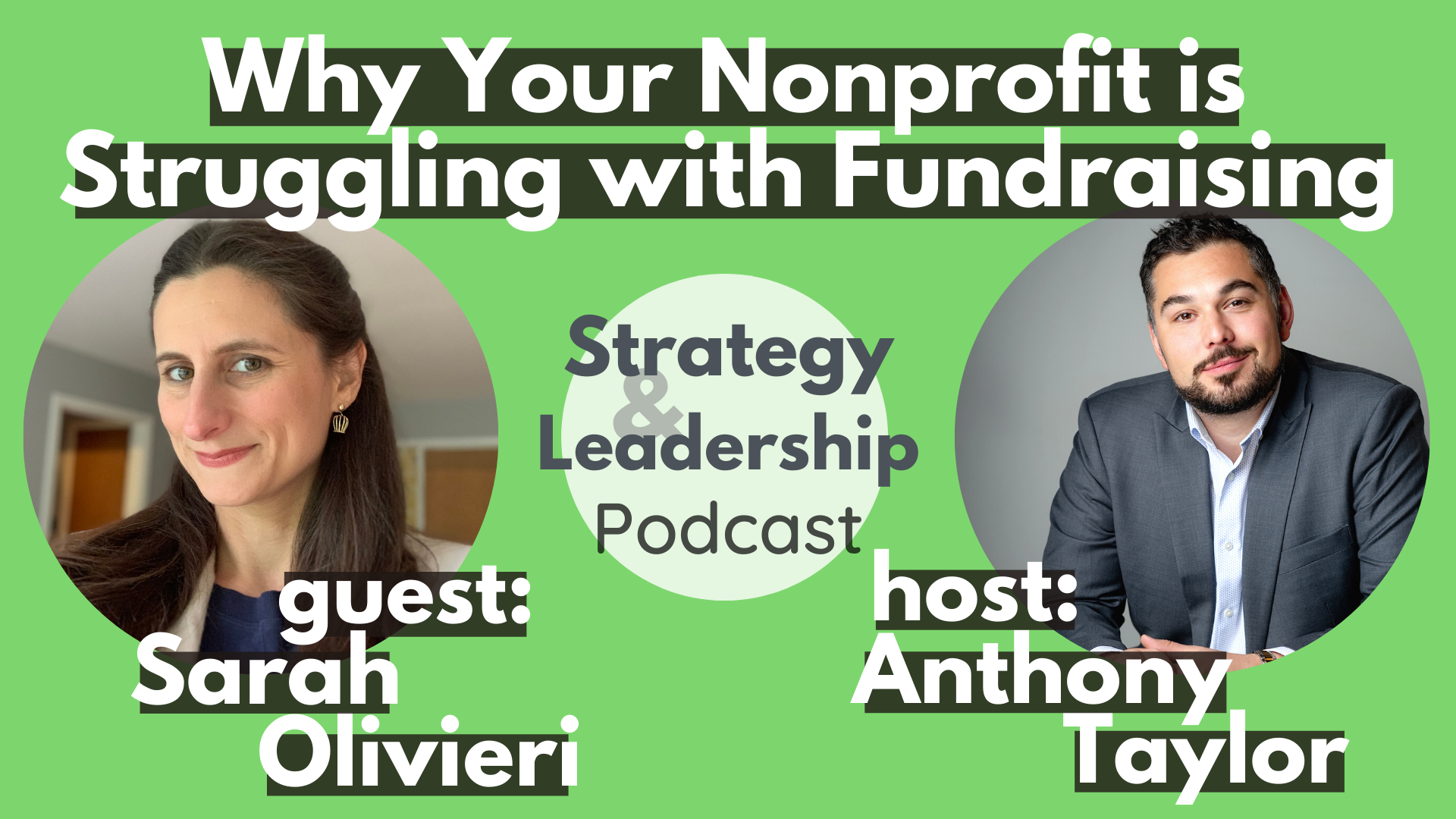 Sarah Olivieri is a nonprofit expert and author, having held several positions as Executive Director, Program Manager and Board member for various nonprofit organizations. She's also had success in the for-profit world, having started her own marketing agency.
Sarah created PivotGround in 2014 to teach other nonprofits how to run their businesses better. She created a framework that helps nonprofits become more organized, build effective teams, and make a bigger impact.
We're excited to have Sarah join us on this episode of the Strategy & Leadership Podcast to talk fundraising, advice for Executive Directors, and much more.
Are you having a strategy meeting soon? Make sure you ask these questions first:
Here's a breakdown of the episode:
How fundraising adds complexity
"The big mistake nonprofits make is ignoring the fundraising.. they start growing their programs without the management capacity or money to sustain those programs".
Sarah discusses the many similarities between the for-profit and nonprofit worlds, yet how fundraising makes nonprofits a little more complex. For-profit companies are able to get very accurate feedback from their customers - if the product is no good, nobody will buy and they will run out of money. In the nonprofit sector which relies on donors, the money comes from people who believe in the perceived impact of your organization.
The fight for power between fundraising and programs
Sarah notices a power struggle in many organization between the fundraising and service delivery departments - especially in large nonprofits, where siloed departments become a huge problem. She shares stories of organizations she's worked with that are completely unaligned internally, as if each department was talking to different people and operating with their own website. Ultimately, these organizations need integration, not segregation.
Her process for addressing nonprofit challenges
Sarah takes us through her process she uses to help nonprofits, which is centered around three areas of focus: Process for Improvement (finding issues, being vulnerable and proactive), Actionable Strategy (connecting your big goals with actions), and M.O. (culture alignment, mission alignment, and how you organize your people).
Advice for Executive Directors
"Don't worry about the Board too much if you feel like you've got this under control... focus on what you need to do to run the organization".
Sarah advice is to not worry too much about the board as long as you're on top of things. She also explains the fundamental, systemic problem with the way boards are setup. For the most part, boards of nonprofits are volunteers. They hold all the liability for your nonprofit, and often lack the necessary skills or experience. "This is a recipe for disaster".
The best place to go for fundraising
"If you're worried about money, you need to be focused on your donor engagement plan".
Sarah breaks down the three places you can get money from as a nonprofit: individual donors, corporations, and foundations. She discusses the downsides of relying on grants and dealing with corporations, and focuses on why individual donors will be your most sustainable source of funding.


Learn more about how a facilitator can you not only create your plan, but implement it:
To learn more about Sarah and her work, visit her website and sign up for her free, 15 minute micro trainings. To get in touch with her, head over to her LinkedIn.
Our readers' favourite posts