Why You Must Integrate Marketing with Your Overall Strategy
By Anthony Taylor - November 16, 2020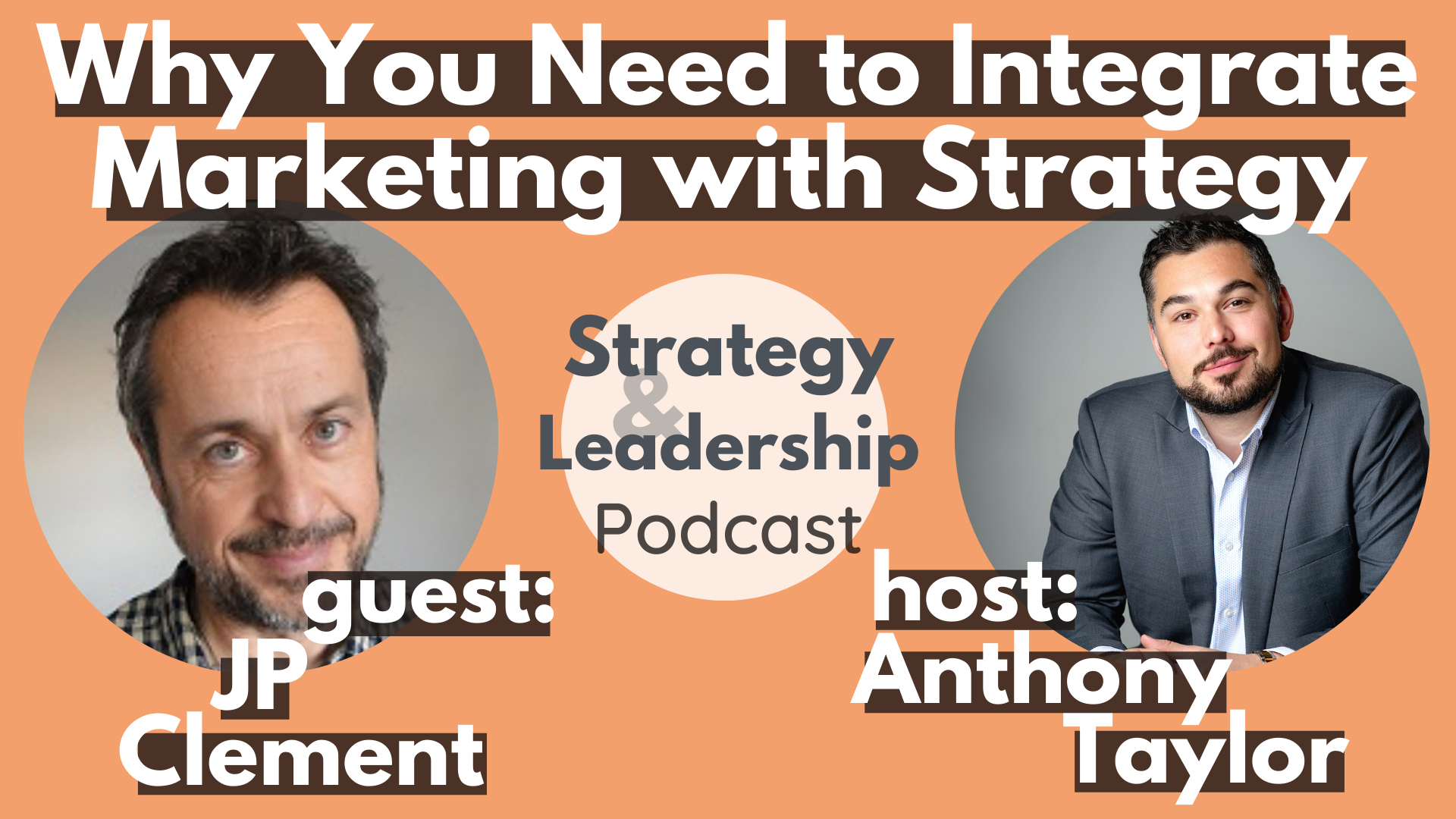 "At some point marketing stops being pure marketing and starts becoming part of the business model and overall business strategy".
JP Clement is the CEO of boomtime, a word of mouth marketing agency that believes great marketing is all about data. JP was born in France and went to grad school on the American east coast before starting his journey in marketing. Along the way, he's gained experience in every area of marketing, having started in packed goods before moving to direct marketing, and eventually digital, where he's stayed ever since.

On this episode of the Strategy & Leadership Podcast, JP brings his vast range of marketing experience with him to discuss the importance of integration, the consequences of silos, advice for marketers trying to elevate their game, and what he's excited about in the marketing world.
Here's a break down of the episode:
On integrating marketing into every function of your business
"Marketing is an integral part of your strategy, whether you like it or not".
JP explains how modern digital marketing can be a real revenue generating function, even in the B2B space where marketing carries an outdated perception of being a cost center. Not just marketing, but every function of your business needs to be able to work closely together. This means complete synergy between marketing, product, manufacturing and other corporate functions.
The consequences of siloed business functions
"There are a lot of synergies that can happen, but more importantly there are a lot of things that could fall through the cracks if you don't integrate".
JP confesses that in every experience he's had where marketing is siloed off from other functions of the organization, things fall apart pretty quickly. And this concept is relevant not just across business functions, but within the marketing function as well. Ultimately, silos block the organic blurring or marketing with every other function of the company.
Having a strategy session soon? Make sure you're asking the right questions:
Importance of the vision & mission
JP refers to Apple and Nike when he talks about how some of the most successful companies from a marketing perspective tell you why they do things, rather what they do or how they do it. The vision, mission and values need to be disseminated throughout the organization so everyone can get on board, and a culture can be developed.
What he's looking forward to
In his new role as CEO of boomtime, JP is most excited about his challenge of quadrupling the business in the next 4 years. As an analytics aficionado, he's fascinated with the world of big data and the Internet of Things, which brings new possibilities of integration to his work.
Advice for marketers trying to elevate their game
"If we can't measure it, we can't manage it".

His biggest piece of advice for marketers is to really follow the data, focus on the facts and truly understand what it all means. Second, in order for your function of marketing to game changing for your business, you have to understand how marketing integrates with the rest of your business. And last, JP advises marketers to keep an eye out for what's happening in the very fast paced marketing world around them.

Looking to create your own strategic plan from - scratch without hiring anyone?


To get a hold of JP, go to boomtime.com, or find him on LinkedIn.
Our readers' favourite posts