Why Culture is the Key to Organizational Growth - with Jason Richmond
By Anthony Taylor - November 30, 2020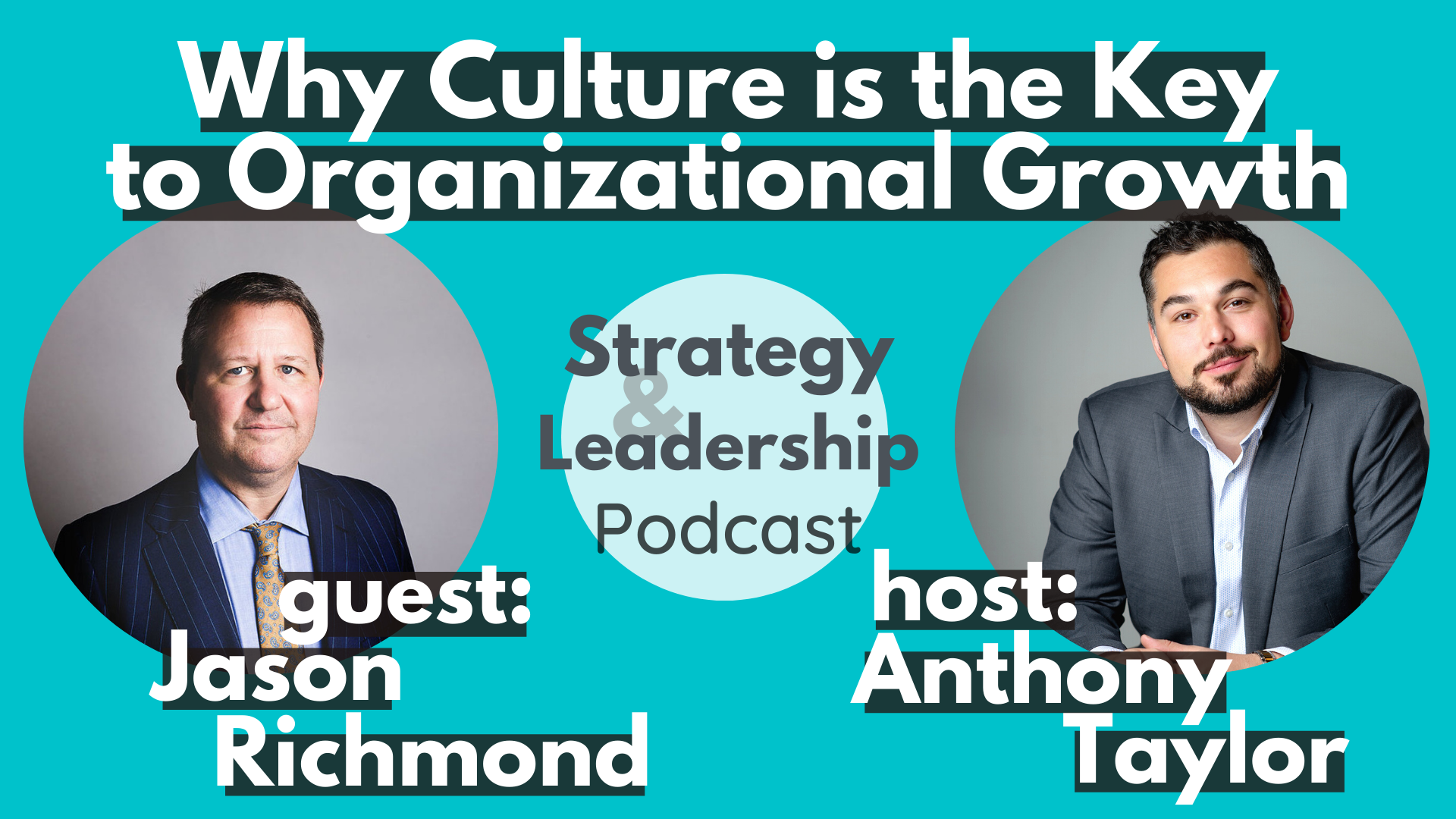 Jason Richmond is the founder of Ideal Outcomes and the author of Culture Spark: 5 Steps to Ignite and Sustain Organizational Growth. He's dedicated the last 20+ years to helping organizations of all sizes with developing both individual skills and culture, earning himself a membership with the Forbes Business Council.
His book, Culture Spark, emerged from his years of experience plus his love for travel and experiencing different cultures firsthand. After interviewing executives and leaders from different industries around the world, the book is full of resources to help solve any business problem with a culture flare.
Want to learn how aligned your team and culture is? Ask your team these 15 questions:
On this episode of the Strategy & Leadership Podcast, Jason joins us to discuss:
The beginning of his process vs. the end
Jason shares what it's like within an organization he's hired to work with compared to what it's like when he's ready to leave. As you would expect, within any organization there are clashing opinions and perspectives. On top of that, the leadership team may be aligned on what business metrics they need to hit and what leadership competencies they need to develop, but they've rarely taken the time to define their culture.
Watch: Workplace Culture that Supports Strategic Planning
The defining moment of his professional career
Jason tells the story of the defining moment of his career, when he was a young sales manager. The sales numbers were plateauing, and he couldn't figure out why. He decided to bring someone in to survey the sales team and get a feel for their attitude and over the course of a few days. After is was reported to Jason that "nobody liked him", his approach to leadership changed. He realized that individual leadership performance could only take them so far. He knew he needed to lead and empower his entire team, instead of pulling them along.
Supporting individual performance management
Jason talks about the shift in the approach to performance reviews, which is a big part supporting individual performance. Performance reviews have traditionally been compliance-type, box ticking exercises tied to pay raises. Now, he says, the process happens on a continuous basis, whether it be weekly, monthly or quarterly. The annual review is being ditched for an ongoing coaching and development mentality.
What he sees for the future
Jason sees the level of employee empowerment growing. Leadership teams are focusing much more on keeping their quality people and attracting the best people they possibly can. With huge amounts of people working from home, the talent pool will grow, but retention will become more difficult. He says that it will come down to organizations turning themselves into a great place to work, and creating a level of engagement and importance that people want.
His advice for young leaders
"The interest you take in your people is what will drive engagement and commitment".
Jason's biggest piece of advice for young leaders is to not make assumptions. Don't make assumptions about where your team is at or how individuals feel about the work they're doing. Don't make the mistake of thinking 'everything's fine'. Take the extra effort to stay connected with someone or have a conversation about something unrelated to work.
Create your own strategic plan without the need to hire anyone:
To learn more about Jason and get in touch with him, find him on LinkedIn and at www.IdealOutcomesInc.com.
To learn more about his book: Culture Spark: 5 Steps to Sustain and Ignite Organizational Growth.
Our readers' favourite posts