As a business person you might be more focused on hard numbers than the "soft" things such as values and culture.
However, some of the largest businesses in the world have become so successful because of their understanding of culture as part of their organizational strategy.
Why are values important for strategic planning?
When we talk about creating a strategy, the first part of the process is determining where your organization is going, and how it's going to get there: your vision and mission.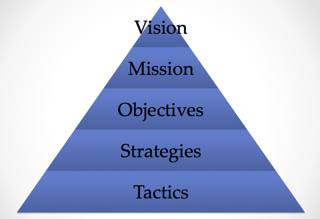 Once you have defined your vision and mission, (the where and the why) then you can start the action stuff that moves the strategy forward and helps you achieve your goals. Your organizational values are the glue that keeps it all together.
Once you know where your organization is going, why you do what you do, and you have established a strategic plan, you then need your people on board to move everything forward. It's easy to forget that there are people behind the charts and the numbers, and those people are driven by their own desires and purpose: your staff have their own personal vision and mission.
Values alignment comes in two separate, but equally critical parts for high achievement:
The values of the organization as an entity are aligned, understood, and respected across departments and teams.
The values of the people within the organization are also aligned, understood, and respected.
You can iterate your values as part of your strategic plan and as part of your organization as a whole, but if they're just words on a wall instead of the DNA of the people that roam the halls, your organization may struggle.
You might also have a culture, however if values are misaligned, it might not be the culture that you are going after.
Fostering culture across your organization through supporting aligned values is key.
If your organization and your people share the same values, you will:
Follow the same rules
Establish the same norms
Develop mutual respect
Have similar tolerances
Share appreciations (from a purpose and destination standpoint)
Values are important for strategic planning because if everyone has the same values, passion and purpose when they come to work, then they are going to be working toward the same goal, regardless of what the strategic plan is.
The hardest part of strategic planning is not figuring out what to do, it's aligning your team and then doing what needs to get done to achieve your goals. If you have values alignment early, your strategic plan will be implemented much easier.
If you ignore values alignment, you might still get your plan done, but it will likely cost more money, take more time, and cause more friction (Which means you'll lose good people, or wont be able to get them in the first place).
Get alignment with your values as part of your strategic planning process, and work towards creating a
culture that is in line with accomplishing your
mission and your vision.
Want to learn about our process for creating alignment with your strategic plan?
Learn about our complete Strategic Planning Starter Kit:
or contact us to learn more about how we can work with your team