What Microaggression at Work Can Teach Us About Leadership
By Nisaa Hawa - July 29, 2021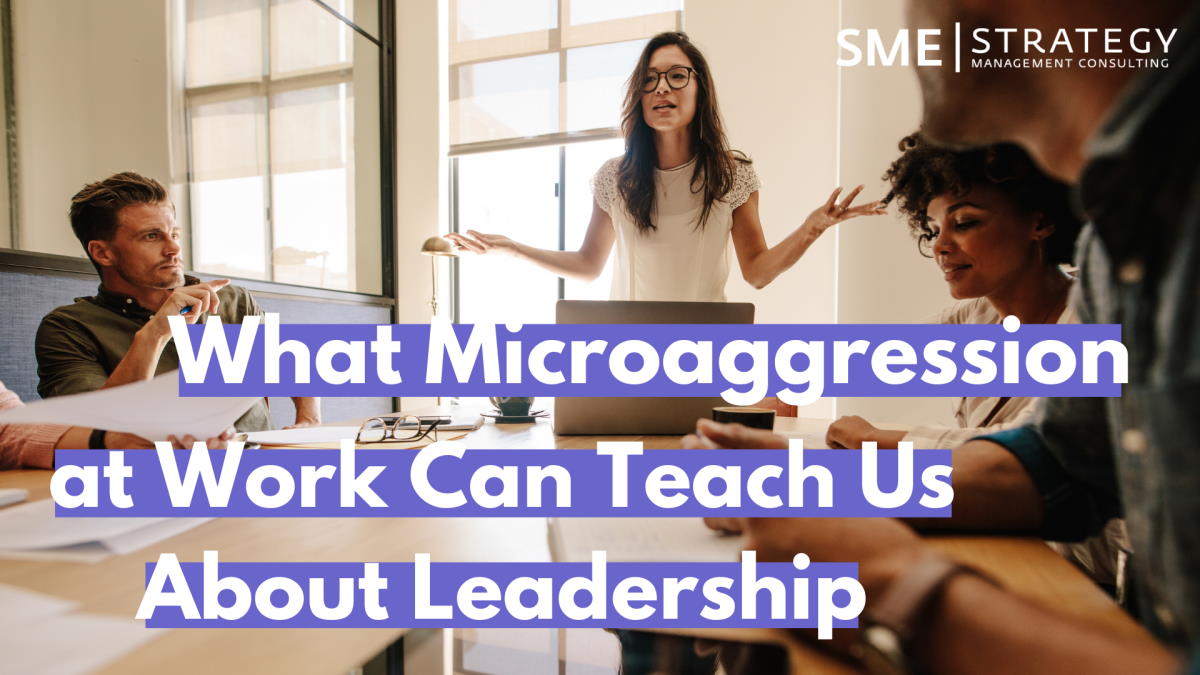 Microaggressions have formed a string of disturbances in workplace behaviours. Usually, microaggressions are formed from preconceived biases of people of different culture, gender and ages. Author of 'Microaggressions in Everyday Life' and psychologist Derald Wing Sue describes the behaviour as "put-downs and affronts through interactions towards marginalized groups including those of colour and LGBT groups". When these take form at work, they create a hostile and toxic workplace culture. At the very worst, these will form negative mental attitudes among employees.
Are you having a strategic planning session soon? Make sure you ask your team these 15 questions first:
Over the last five years, a third of organizations have successfully implemented a plan to eradicate microaggressive behaviours at work. These are excellent measures which teach employees how to treat and communicate respectfully with others at work. Such has been the case with successful microaggression awareness training, which has helped tackle the preconceived biases in the minds of employees and leaders. Alongside this, diversity and inclusion programs have set high standards for cultural acceptance in some workplaces.
However, most of these measures which were showing improvement towards reducing microaggression are now on hold due to the COVID-19 pandemic. Organizations have placed importance in recovering from losses or shifting to remote work, rather than maintaining an ethical workplace culture. Additionally, teams are focusing on working faster as opposed to working smarter. Not to mention the unfortunate high rise of deep-rooted biases around vaccines and COVID, which generates more misunderstandings among people. Although the fact remains the same, if a team or organization tolerates microaggressions, the reputation of the workplace degrade, and employees may leave for better opportunities. As a leader, here is what you can do to tackle the current challenge of microaggressions at work:
Make the Most of Cultural Inclusion
While many companies and leaders report high levels of diversity, there's a different story when it comes to inclusion. Inclusivity is a manner of work culture which encourages all employee participation with fair and equal correspondence. Indeed, a lack of value towards people affects morale and confidence negatively. As many organizations and leaders are entirely focused on recovering from the pandemic or shifting towards remote work, inclusivity is left behind. It's important you develop a plan to foster an incorporative cultural climate.
Observe Furloughs More Accurately
As it stands, the pandemic has brought on an unfortunate series of cultural biases. This arises from a segregation and displacement among several groups of people. One way this microaggression has manifested is through the rise in furloughs. People belonging to a minority ethnic group were on average more exposed to job losses or furloughs due to the pandemic. Observe with care who receives furloughs and how these can be diminished, or work out a fairer alternative.
Domino Effect of Micro Aggressive Behaviour
In the workplace, workers who are frustrated by micro aggressive behaviours among leaders and employees are more likely to pass this on to their peers. This takes place commonly in workplaces with fast-paced manual working systems - warehouses as an example. The socially contagious behaviours harbour a domino-effect on employees. The workers will be emotionally affected and transfer unnatural behaviours in forms of dispute or similar microaggression behaviours among peers, especially towards newer peers, following a never-ending chain-and-loop continuum.
In this case, healthy acceptance planning at work cultivates mental belonging. A recent report on employee wellbeing showed that the feeling of belonging is the second most important factor for workplace culture; jumping from fourth over the last few years. Leaders should firstly address systemic biases and invisible barriers.
Work Towards Psychological Safety
Naturally, employees will work better and engage better in communication with accepting leaders. This is known through the terms of psychological safety, mimicking the effects of home and happiness. In this case, leaders can use microaggression as learning lessons to enhance their leadership style.
This could start by discussing explanations about micro aggressive situations at your workplace to help individuals learn to prevent them in the future. Take your time to understand your employees' experiences individually, and cater to them in unique ways.
Employees Release Mental Stress Externally
Essentially, employees who do not receive safety from leaders are highly likely to express their views on other platforms. Without doubt, when an employee cannot rely on a leader for mental support, they accumulate pressure points which require a release. The impact of unhealthy behavioural treatment can form a repeat pattern of fear in the minds of your people.
This means, the expansion of employee-safe review sites like Glassdoor allows an employee, who otherwise feels unsafe, to express their concerns. As a long-term impact, this will affect the cultural environment and reputation of any organization. This is a warning sign to take notice and handle situations better. Rather than stick to guidelines, attempt to be a secure enough leader, and allow individuals to approach without fear. Ideally, employees should feel free to express their views. Unfortunately, where a microaggressive environment exists, many employees are unwilling to call out peers or the organization in fear of the aftermath of their actions.
Unlock Trust
Trust will be hard to achieve if employees feel even the slightest lack of confidence in leaders. A leader's awareness of acceptance and courage will create space for contribution among other individuals. Make room in your schedule to dig deeper and understand the sentiment of company culture. Then take extra steps to go behind the scenes and break down fears employees may have.
Your workplace culture will also benefit by you embodying positive behavioural norms at work. Research done on the best values for a workplace shows you can certainly confront microaggression by embodying values of curiosity, compassion, and humbleness. By doing so, you harbour confidence in yourself and employees feel secure with you, influencing others to follow the same.
Demonstrate Strong Values in Action
Take serious precautions to notice how your workplace system operates. When leaders are allowed to operate under a pretext of domination and disrespect, microaggression will follow through easily. The awareness trainings in meetings and discussions of what is and isn't acceptable won't matter. At the end of the day, people from their own preconceptions, and don't follow what they can't see put in action.
The repercussions of COVID should not stop your organization from implementing microaggressive-safe workplace measures. Employees need to feel a sense of psychological safety and security, which is your responsibility. Your employees are more important now than ever, and leaders are required to use microaggression as lessons to foster better leadership.
Learn how a strategic planning facilitator can help you develop alignment & a common vision of success:
Or learn how to create your own strategic plan from scratch with our video course:

Nisaa Hawa is a political correspondent for the Immigration Advice Service, an organization of immigration solicitors. She highlights leadership as a core part of raising a platform for better humanity. Her principles follow embodying fairness and acceptance, and implements guidance to individuals through awareness and subtle evaluation. Aside from her work at immigration, Nisaa loves to get lost in writing about almost anything, every time, all the time.

Our readers' favourite posts