What is Strategic Planning Facilitation? (and why it will save you money)
By Anthony Taylor - April 19, 2017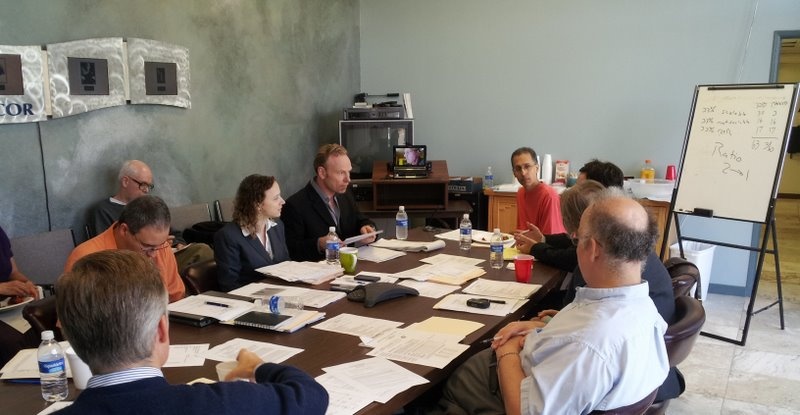 Strategic planning facilitation is when an outside facilitator is hired to work with an organization and the strategic planning meeting (and to possibly assist with implementation coaching).
If you don't have a facilitator, you are the facilitator.
You can certainly run the process yourself, and we train people on the best practices for leading strategy.
Though you can run the process yourself, a facilitator can bring extra value, especially if:
You're new to the process and may benefit from a seasoned expert guiding you and your team

You want to participate in the planning process alongside your team members

Your leadership team is lacking the expertise or experience to effectively manage a large conversation with many sub conversations and themes

Your team isn't trained on how to recognize body language and non verbal clues

You don't know the right questions to ask to get to the information you want

Your team may hold back information because they are worried about what might happen after

You know what you want from your strategy, and you want to open it up to other people in the team in the most effective way possible (but you don't know how)

You want to get everyone on the same page and don't know how to do it
These are all scenarios where using a strategic planning facilitator will provide you with much more value than leading the process internally.
Here are some of the quotes we've gotten after working with clients on their strategic planning sessions:
"I can't believe that we tried to do this ourselves"
"I'm happy you did this and not me"
"This has been our best meeting so far"
"I can't believe we did so much in such a condensed amount of time"
We facilitated the meeting so that the team could focus on getting what they wanted out of their planning session.
So, what is strategic planning facilitation?:
Facilitation is making the process of creating your strategic planning easier.
Why will it save you money in the long run?
Because your strategic plan dictates all the actions of ALL your employees. Your strategic plan needs to create focus, alignment and buy-in so that your entire time works together to implement it successfully.
For a limited time, we're working with select nonprofits at a heavily subsidized rate.
Learn how a strategic planning consultant can help align your nonprofit:
Having someone to work with you and your team on your strategic plan will allow for:
Everyone to participate in the meeting. (If you're leading, you can't participate)

More focus, because there is a structured agenda, and a person who's main job is to keep you on time, and keep the conversations on track.

Better execution, because you've built the strategy on a framework that is proven to be effective.

NOTE: Whether you work with us or someone else, a strategic planning facilitator has a process, and it's their only job: to lead strategic planning.

You COULD do it, but if it's not something you're used to doing, then you have to spend a bunch of time learning how to do it, and practice doing it well.

The facilitator will provide notes and an implementation plan. If you do this, then you have to take time out from your normal day to day activities.

Accountability to do something instead of having a plan that doesn't move forward
The costs of using a facilitator
We've already covered the costs of a strategic planning session in a past blog, but if you're just looking at the cost versus the benefit of using a facilitator, let's look.
A good facilitator can range anywhere from a few thousand dollars a day, to upwards of ten thousand per day.
First let's look at pure labor your costs for your session.
1) How much is the average daily salary of all the attendees of the meeting? (You can use this handy calculator)
Multiply the cost of one day salary for each of those people:
If your team makes an average of $150,000 per year, multiply the number of attendees by $576.00
If your team makes an average of $200,000 per year, multiply the number of attendees by $769.00
What's your total cost? ______________
Does it make sense for you to invest in a facilitator to make sure you don't waste their time with an ineffective meeting?
Now lets look at the revenue and costs of your whole organization on a yearly basis.
How much revenue does your organization generate now?
What are the costs for all your labor organization wide?
How much money do you think is being wasted because your organization is not aligned and is moving in different directions?

How much money would you create (Additional revenue, or decreased costs) if your team was 10-20% more effective?
What about the long term cumulative benefits of getting better strategy and execution now, and then next year, and the year after?
What about the costs of lower turnover, hiring and training because you've been able to create a more aligned culture?
What about the happiness that you can't even measure because everyone on your team is happy and engaged while at work?
What would that look like for you and your team?
At SME Strategy, we make the process of strategic planning pain free and exceptionally valuable.
What would your organization and what would your job be like if everyone was on the same page, communicating effectively, and working together towards a common goal?
*Are you imagining?*
Now, look to see if you're on that path now with your current process?
If no, then maybe it's worth a conversation.
Still unsure if having a facilitator would be valuable for you? You can contact us to discuss your specific needs.
You don't need us to do strategic planning. You can do it yourself. The question is, do you want to?

For a limited time, we're working with select nonprofits at a heavily subsidized rate.
Learn how a strategic planning consultant can help align your nonprofit:
Our readers' favourite posts