How to Turn Your Strategy Into Action & Make it Real w/Tara Rethore Ep#93
By Anthony Taylor - March 10, 2021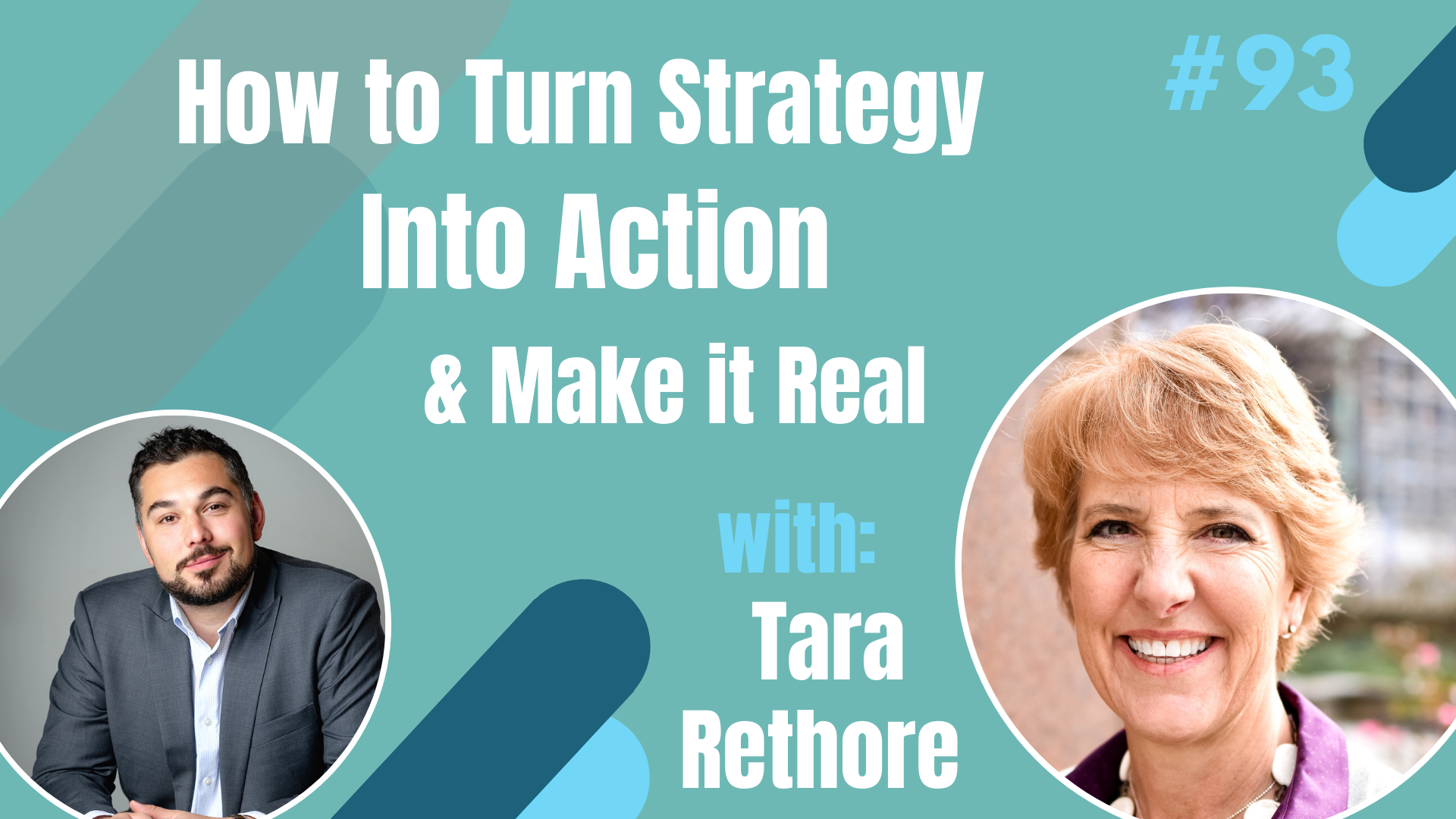 Tara Rethore is the CEO of Strategy for Real, and a strategic advisor who works with CEOs, executives, and nonprofits to help them take their strategy off the page and put it into action. Previously, Tara came up in the corporate world, gaining experience from all over the world in the natural gas sector. Read Tara's blog.
On this episode of the Strategy & Leadership Podcast, Tara joins us to discuss making strategy real and actionable, how to create change in an organization, where strategy goes wrong, and much more.
Having a strategy session soon? Make sure you're asking the right questions first:
Here's a breakdown of the episode:
What she's seeing in the strategy execution ecosystem
The main thing Tara has recognized in the world of strategy execution recently is that uncertainty is off the charts. Uncertainty has always been a factor, but the pandemic has created systemic uncertainty. If you're feeling burdened by uncertainty, Tara recommends identifying what kind of supports you and your team needs, and then focusing in on that. When it comes to setting your strategy, it may mean you have to develop a 1-year plan instead of a 5-year plan.
Making strategy real and actionable
Tara explains that the faster change you're creating or is happening around you, the more often you need to stop and look at the strategy again. She also shares a few examples of her work with companies making their strategies real and actionable. One example involved a medium sized company that sent their entire staff home and bought them all laptops once the pandemic started. Not only did it require an upfront cost, but the ability to move very quickly to prepare network security and more on the new computers.
How to create change within an organization
Tara's number one piece advice for people trying to make a change within an organization is to be more human. That means talking to people like they're smart and respected people. If you're virtual, you'll have to go even further to be more human. Being more human also involves asking more questions like "what else is going on?", "what are you thinking about?", and "what do you think is missing?". And when you inevitably get a 'no', you have to work to break down barriers. Very often, people have very valid concerns that need to be addressed.
Where she's seen strategy go really poorly
Tara explains that strategy often goes wrong when there's a blind adherence to a set of steps and action items. This might look like leaders having an attitude of "if there's a problem, we'll plow through it if necessary". It's important to remember that being focused and travelling with blinders on are very different. Tara also shares a classic example of working with a company that had the completely wrong idea about strategy, presenting a thick binder to her as the 'strategy that everyone does'.
Is your organization looking for a neutral facilitator to lead your strategy meeting & ask the right questions?
To learn more about Tara and her work, visit her website: Strategy for Real, or check out her blog: Real Strategy.
Our readers' favourite posts