How to Build a Strong Brand Community w/Kerry Michaels
By Anthony Taylor - March 24, 2023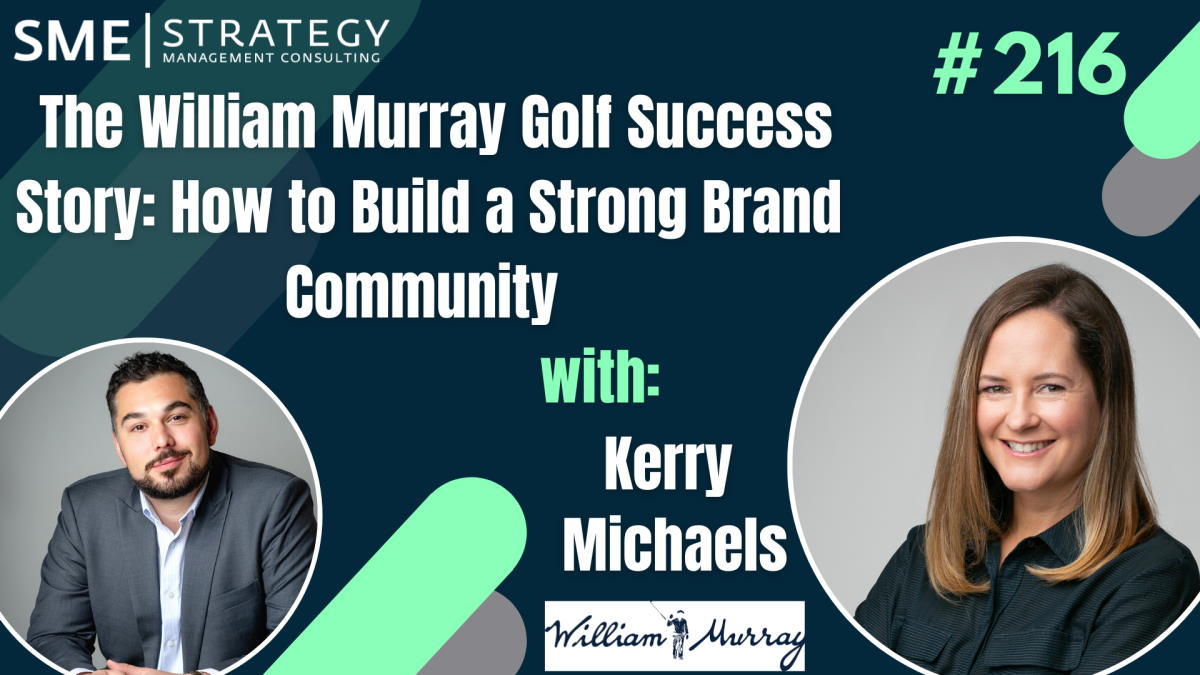 Do you want to know how a community-driven business can build brand loyalty and drive demand?

Look no further than Kerry Michaels, the co-founder, and CEO of William Murray Golf.

In this episode, we sit down with Kerry to discuss the incredible story of William Murray Golf and the valuable lessons she's learned along the way. Kerry shares how William Murray Golf grew into an authentic community of diverse individuals who share a love for golf and the brand's spirit.

One of the things that made William Murray Golf stand out was its scarcity model, which built demand for the brand. Kerry shares how they started with limited inventory, buying only a couple of hundred polos, and sold out very quickly. This scarcity model led to demand for the brand, with customers eagerly awaiting new releases and sometimes waiting up to 12 or 18 months to see a popular polo again.
How William Murray Golf grew its Business Using the Scarcity Model
Kerry also offers some practical advice for business leaders growing their companies. She emphasizes the importance of clear guardrails and priorities for yourself and your team, as well as saying yes to the right things and ignoring distractions to set your business on the right path.

Startup Strategic Planning: The middle ground between flexibility and structure
Through Kerry's experiences in building a community-driven business, she demonstrates that building a brand around a strong community can drive demand, build loyalty, and create authentic connections between people. Join us as we dive deep into the fascinating story of William Murray Golf and learn from Kerry's journey in growing this unique and inspiring brand.

Full Video


FULL TRANSCRIPT

Anthony Taylor
Welcome to the strategy and leadership Podcast, the podcast that brings you practical advice, lessons and stories from senior leaders and thought leaders from around the world. The strategy and leadership podcast is brought to you by SME strategy working with organizations around the world to create and implement their strategic plans. To learn more, visit sme strategy.net. And now, your host, Anthony Taylor.
Anthony Taylor
Hey there, folks, welcome to today's episode of the strategy and leadership podcast. My guest today is Carrie Michaels, who is the founder and CEO at William Murray golf. How's it going today, Carrie? Hi, Anthony. Thanks so much for having me today. I'm super excited. I am excited because it's a cool topic. I'm excited because I love your background for those of you watching on YouTube. And I'm excited because you brought up such a cool experience about working with very neat brands in a digital space, and then how you transitioned or position, you know, this next company, so why don't you tell our listeners a little bit about your background? How we got to here and then I'll ask you some questions.
Kerry Michaels
Yeah, wonderful. So my name is Carrie Michaels, I founded William Murray golf back in 2016. I say I was an intrapreneur. Because I started it and incubated it under another business. But really, prior to starting William Murray golf, my career was pretty varied. I had kind of jumped around and done everything from marketing to finance, I was in strategy, sales operations. So I had really touched a lot of different things throughout my career. And all along the way, I knew I wanted to be an entrepreneur, at some point, I just didn't quite know what that looks like. So I think a lot of those roles really led me and gave me that experience to be able to start my own thing.
Anthony Taylor
That's awesome. And I imagine those roles and the companies that you work for, you know, you've got to see a lot of things, you got to learn how it was done well, and I'm sure you took your own lessons of what not to do. Exactly. That is the beauty of being able to, you know, work for other companies and get that experience because you learn what works and what doesn't work. And you've kind of figure out how you would you know how you want to lead when you're given that opportunity. And so, yeah, invaluable to learn that on someone else's dime.And just for those of you who like, obviously can find you on LinkedIn, but some of the brands that drive and Oakley which are amazing brands, and why I'm personally excited about it is when you I believe in having done, you know, 200 on podcast episodes, when you see people who know when it's done so well, with a great story that transcends it makes me really excited for what you're building. So tell me, tell me why. Why did you choose this brand? Why did you choose golf? Well, you know, what inspired you to go this track?
Kerry Michaels
Yeah, so I was working at the chive. And for those of you who are not familiar with the chive, it is a humor blog. And they had an amazing ecommerce business attached to it, where they would sell T shirts, and they were doing really well the t shirt said keep calm and chive on. But they also had T shirts with Bill Murray's face on them. And so they had an incredible booming business at the time when I started in 2015, selling these T shirts with bills face on them. And I was in charge of operations and really helping the team bring products to market. But I saw this one t shirt with Bill's face on it with our now William Murray golf logo. And they did it for charity. And they they sold like 2000 units in 24 hours. And I was like, wow, this is really cool. And I was just always so amazed at how fast these Bill Murray T shirts were selling out. So having come from Oakley because prior to the chive, I was at Oakley and I was in sport performance. And I loved I loved being in sport performance. And so I was exposed to golf when I was at Oakley and I, I started kind of thinking about like, gosh, you know, I feel like this t shirt with this photo of Bill throwing his golf club could be a brand like it could be something bigger than just what's on a t shirt. And so I you know, I was chatting with John Resig. And, and Leo rising from the chive. And, you know, I was like, gosh, what if we could build this into something else? And they were very excited about it. They're like, right, you know, see what the opportunity is go do some research and come back to us. And so the more I really looked at it, the more I was like, gosh, no one is doing anything fun and golf. I mean, they really just weren't it was all the brands looked exactly the same. And this is back in 2015 2016. And so I called it the sea of blue striped polos. And it was like there was this unwritten uniform for guys on the golf course. And I was like, that's part of part of the problem with golf. Right? You know, people want to have a good time. And I think the apparel options out there weren't really doing that for them. And so if you think about Bill Murray, and what he brings to the golf course, you know, he is, obviously, you know, an icon and a legend, and everyone knows him for Caddyshack. But he genuinely loves golf, and he's an amazing golfer. And when you would see what he would wear the Pebble Beach Pro Am every year, I was like, gosh, that is so awesome. You know, he doesn't care what the, you know, the written uniform is that you're supposed to wear, he's wearing whatever that he wants. And so that was kind of the genesis of the idea as well, maybe we can use Bill Murray as the face of this brand, and kind of give people permission to have personality and to be who they want to be on the golf course, and not just look like everybody else. So that was the genesis. I like I said, I incubated the concept under the chive, with my co founder, Brandon Barrett. And then, after our first season, which was in the fall of 2016, we sold out of everything, almost immediately, we're like, Well, I mean, I guess we're onto something. And so then we split out from the chive. And we became our own C Corp. And that was that was the start of the business.
Anthony Taylor
But I will admit that at the beginning of your story did not click to me the William Murray. And I was like, oh, yeah, that sounds like a good, good golf game, just boom. But what I think is so cool about that is like, obviously, you know, riding the wave of what's going on in popular culture, and just culture in general, like the building of brands around an individual so cool to see the evolution of golf over the past decade, and you now have like, full swing on Netflix, and you've got like the waste management, that is like allowing people to experience golf and not like from like the origins of St. Andrews. So that's cool to be part of that. Tell me about what's that ride been like for you, as a CEO going from incubated idea under these great founders to going off on your own now, you know, seven, eight years in, how's that journey been for you? Well, I mean, to be honest, it's been pretty bumpy, right?
Kerry Michaels
You know, when you're starting a business, I've always wanted to be an entrepreneur, I just, you know, didn't really understand the beginning of the journey, what it was going to take, and what that road really looked like. I think one thing that's been really fascinating to me along this journey is, you know, in the very early days, you know, I started as what I would call a true entrepreneur, and that is, you know, my co founder and I are huddled down, doing all the things wearing all the hats, and you know, you're just kind of getting stuff done. And then, you know, as the business is growing very slowly, you're like, Okay, I should probably hire someone to help us do this. And we can't handle all of the day to day anymore. So you have to slowly start hiring a few people. And what I started to realize is there was this gradual process going from, where I was the one kind of doing all the things, and being an entrepreneur to all of a sudden leading a team. And, and it was kind of gradual in the background. But I remember, you know, 2018 2019, kind of looking up and being like, Oh, this is different. I'm actually leading a team now. And what that meant is I had to start letting go of things. And I think as a as an entrepreneur, and as a leader, that was kind of scary for me, letting go and trusting other people to get the job done. And then really, you know, my role became less of getting in the weeds and doing the things and really more of setting the vision and the tone for the business and how we wanted to move forward.
Anthony Taylor
That's awesome. And like the company is still relative. I mean, it's relatively small to everything, but about 20 people or so. Yeah, you're right, about 20 people. Cool. I mean, plankton is an amazing tool.What so you talked about your evolution as a CEO, that learning in trusting other people to do the work? What has been the coolest kind of benefit of that, you know, seeing your people grow? What what did you have like an aha moment where you're, I don't know, on the golf course, or sitting at dinner, I'm like, Oh, my gosh, like, this team did this. And it was just a cool, kind of evolution point within your business.
Kerry Michaels
Yeah, you know, I mean, I think it's every day, right? You know, I look up and I'm like, I can't believe we're here. And I can't believe you know, we have a team that is really helping us grow this business. I always say I get really excited, you know, being a product based business. You know, I can walk out in the world and when I see people at the airport, or I see people out on the street wearing William Murray golf, it gives me goosebumps because it's like, wow, you know, we we did that. And I think, you know, from a team perspective, you know, it's just, it's really amazing.hazing, I think, to see people grow into different roles to I mean, we've had some people here that started in one position. And then I've just continuously said yes to other opportunities along the way, and seeing them grow and stretch in those ways. I am, you know, so excited by that, because that's what I really want to do is, you know, help help my team grow in new ways. And I think that's how I got to a place where I could be CEO, because I was saying yes to a lot of different opportunities too. And even though I had never done something before, it didn't want that to hold me back. And so it's something I try to emphasize, I think, with our team as well.
Hey, Anthony here. One of the things I don't talk too much about on the podcast is what we do at SME strategy. So I wanted to let you know that if you and your team are thinking about getting together this winter, or even in the new year for strategic planning, that we'd be happy to have a conversation to see how we might be able to help your team walk through the strategic planning process. And make sure that your people your strategy, your culture, are on the same page. One of the most exciting parts about the work that we do is being able to lead people through a proven process to help them get to where they want to go. If you're interested about that process, our video about it on YouTube just hit over a million views. So be sure to check that out, let us know what you think. But most importantly, I want to let you know that if you are looking for somebody to partner with your team, to support everybody in getting aligned, moving forward towards a clear set of goals and objectives, and really making sure that you have the foundations for that next stage of growth, that we can partner with you to do that, whether that's through an off site strategic planning session, or, you know, follow up support services to keep you accountable, to help your team grow and develop, or really to lead a full transformation. So if you're interested, check out SME strategy dotnet, you can check out our about page, our services page, they'll tell you more about how we do things. And I'd be happy to have a conversation with you to see if we're a good fit to help. Thanks so much. I appreciate you listen to the podcast. And now let's get back into the
Anthony Taylor
Awesome. So let me I'll take you back to your product days a little bit. Because what I find interesting, over the past couple of years, as I mentioned, there's been that shift from like influencer, led brands who then have to sell a product on the back of a face. In this case, you're doing that I also assert that the product is really good. You know, as we talk to leaders here, whether that's product leaders, or CEOs, or salespeople, and they have to think about what are the ingredients to a good product? What are the ingredients to create something that people want? And then if you can add in without giving away your secret sauce, you know, what are you seeing in the marketplace that has impacted or driven the decisions that you've made as a company to go beyond Hey, we're just selling shirts with Bill Murray's face on it to you know, we're really building a brand that is substantial and values based?
Kerry Michaels
Yeah, I think, to kind of start one of the biggest key ingredient for us from day one has been to produce products that have high quality, because you really you get one opportunity where that customer. And what I didn't want was for people just to buy William Murray golf because of Bill and because of his name, because that's not necessarily going to get them to keep coming back. Right you want that might be the introduction. And that might be the reason and the how, like how they find out about us. But you want to build a customer base that is truly loyal, and loves your products. And you can only do that if you really emphasize quality. And so we we've spent a lot of time in product development. We work very closely with our factories. And when we have had challenges along the way, we're we're there to fix those quality issues very, very quickly. I think the second super critical seems so basic, but it is to listen to your customers. And to really put them first, I think when you're starting something from the ground up, I mean, I remember in the early days being like, oh, you know, we got another sale today. And you know, you'd watch the one each sale kind of come in. And you realize every single sale there's a person behind there and they are taking time from their day to come to your website to go search and to put something in their basket and check out and that it is not lost on me. You know, every day even as we've grown and so every customer is critical to our success and what they're going to then go away and say about their experience and shopping. What they're going to say about their experience with customer service. What they're going to say about your product is really important because that's the word of mouththat you want, you want those customers to have this amazing experience so that then they go and they tell their other friends and you know where it starts to spread. You know, I think so many of us spend a lot of our marketing dollars on, you know, paid advertising and whatnot. And while that's important, you cannot replace the organic word of mouth. And that is, you know, it's a lot cheaper in some ways, but it's invaluable. So those have been, have been really critical for us.
Anthony Taylor
I think it's, as I hear you talk about all of that, I think of like community, like there's some people who want to sell something quickly. And they're just like, cool, like transactions. You think of like how the chive grew as an extra community of Chivers. And then really had that, like, the spirit of it. And so it sounds like for you as your methodology or thinking, you're like, hey, I really want to make sure that the community of people that are representing themselves in another sub community of golfer, however, you want to turn that around, it needs to be done with integrity and and living to the value of probably, William Murray himself, I might bet.
Kerry Michaels
Yes, absolutely. And I think like you said, you know, I am coming from a couple of companies that did this an amazing job at building community. And so I had seen that firsthand. And it is, it is really important. And I think what's so cool is that I, you know, we wanted people to be able to see each other from, you know, across the fairway and be like, Oh, that's a William Murray. And then there's this instant connection. And you don't really know what's going to happen when you're starting to build the company. But it's really exciting to see it. I think the other one other thing that I think has been critical too, and it happened organically and naturally for us, but it's building a scarcity model. And so we kind of, we started off because we could only afford to buy so many polos and so you only have so much cash to to invest in inventory, we would buy, you know, a couple 100 of our polo, and we'd sell out very quickly. And so what that did was build demand for the brands. And people were like, gosh, like, as soon as something goes on sale, as soon as they send out an email, we want to be the first to go because we know it's going to sell out quickly. And that that also that word also starts to spread in that community as well. And people will say, Oh, my gosh, you were able to get that old fashioned polo, like I tried, but they sold out before, you know, before I could get it. And so we've kind of built that into some of our strategy as we've grown. So that some of our most popular polos we, once we sell out, we might not bring it back, ever, or we might not but you know, maybe it'll be 12 or 18 months before customers ever see it again.
Anthony Taylor
Interesting. Cool. I think that's really neat. I didn't know about and it's so funny how certain things can happen. By accident, you know, like the story of like the roast, it's like, Well, why do you chop off the roast? Well didn't fit in the oven. It's not that I want to make a bigger rose. But now like it's a core piece of the business model. That is that's your success. I think that's awesome. Carrie, as we finish up here, what is one piece of advice you'd want to give to leaders that are in your position? You know, growing their business for the first time? And? Yeah, I'll give the floor is yours as we finish up?
Kerry Michaels
Yeah. So you know, I think kind of going back to strategy. I think what I have seen is that, you know, when you're in large organizations, larger organizations are used to having, you know, 135 year very formal strategic plans and presentations. And I think, for us as a startup, what I you know, some of my advice is, it's okay to be a little bit messy in the beginning, because, you know, you're still in those early stages of building out your processes and building some of these things out. But what you do need are guardrails. And by that what I mean are clear priorities for yourself and for your team. And so I think one of the benefits of being a startup as you can't, you are nimble, and you can pivot and you can say yes to things. But you got to be really clear as to what is going to set you on the right path for growth and success. And what are some things are probably just distractions, and you should ignore. And so, you know, you might not have a formal, you know, strategy and roadmap, but I think the setting those clear boundaries and priorities up front, even in the early days is really important.
Anthony Taylor
Awesome I couldn't have said it better myself. So I love that and so if you're doing strategic planning, be sure to reach out to SME strategy. And if you are doing golf, or even if you're not doing golf and you want to just look dang good. Go visit William Murray. So at Carey where can people get some apparel? Where can they get swagged out and where can they learn more about you personally?
Kerry Michaels
Yeah, so you can go to our website, William Murray golf, and you can find me on LinkedIn in Kerry CO, Lauren Michaels, and I would love to chat with you all.
Anthony Taylor
That's awesome. Carrie, thank you so much for being on the show today. It's been a pleasure. And I wish you and your team nothing but success as you make the world even more fashionable in the world of golf.


---
Have a strategy session coming up soon? Get in touch with us today to learn more about how our strategic planning facilitation services can assist your team in creating and executing your strategic plan across your entire organization.


---
SME Strategy is a strategy consulting firm that specializes in creating a unified vision, mission, values, goals, and action plans for organizations. We work towards aligning your teams and operations with this shared vision to help you achieve your strategic goals. Our strategic planning services are designed to help organizations construct an effective strategic plan that is communicated and implemented throughout your entire organization. Our expert strategic planning facilitators offer guidance and support to ensure that your strategy is successful.



Our readers' favourite posts