The ASP Virtual Conference Series 2020
By Jason Heckl - May 28, 2020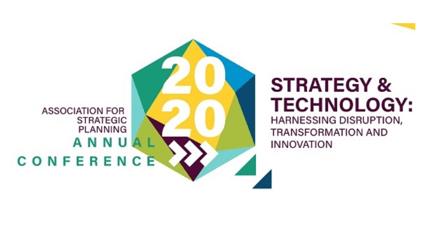 Over the course of the next four months, the Association for Strategic Planning (ASP) will be hosting its annual Conference Series - virtually. Originally planned as an in-person conference in Whistler, British Columbia, ASP has chosen to move online in light of COVID-19. Despite the virus, a tremendous amount of value is being made available from June through September, including a combination of keynotes, masterclasses and virtual exhibitor halls.
Technology is disrupting and shaping industries, communication, and customer relationships right before our eyes. Especially evident today, organizations are being forced to adjust, adapt and pivot in the face of change. We're seeing a spark of innovation push the business world to develop new operational procedures, new communication techniques, and new product or service delivery methods.
The ASP Virtual Conference Series theme for 2020 is coincidentally yet well-fitting for the times we're living in now: Strategy & Technology: Harnessing Disruption, Transformation & Innovation. At this virtual conference series, strategy leaders and business managers can expect new ideas for adapting to the challenges technology brings forward, and therefore make strategic decisions around execution, oversight, and new technology.
The conference will be broken up into eight separate sessions and stretched over four tracks during the months of June to September, totaling two sessions per month. The eight sessions will be made up of four masterclasses and four Strategy Gateways, which include keynotes and interactive breakout sessions. The breakdown and schedule for each monthly track is as follows:
June: Strategy & Technology: Macro Intersections
July: Leveraging Data & Analytics
August: Leadership Dynamics
September: Strategy Tools, Techniques & Methods
For a more in-depth breakdown of the schedule including times, visit the ASP website.
Although this year's conference series has been moved online, there has been no sacrifice of value. Not only will conference attendees get a chance to hear from top strategy leaders in various industries talk about very relevant topics surrounding technological disruption, there is also plenty of time for interaction, connection and questions.
Conference registration can be purchased by track (by month), or in its entirety (June to September). There is also an option for preferred pricing for organizations who register for the conference. To learn more about pricing for the conference and information on how to register:
*SME Strategy is proud be a corporate member of ASP, and excited to be a sponsor of the 2020 Virtual Conference Series.
Hope to see you there!
Our readers' favourite posts