How Strategic Relationships Can Power Your Growth w/David Nour Ep#135
By Anthony Taylor - December 06, 2021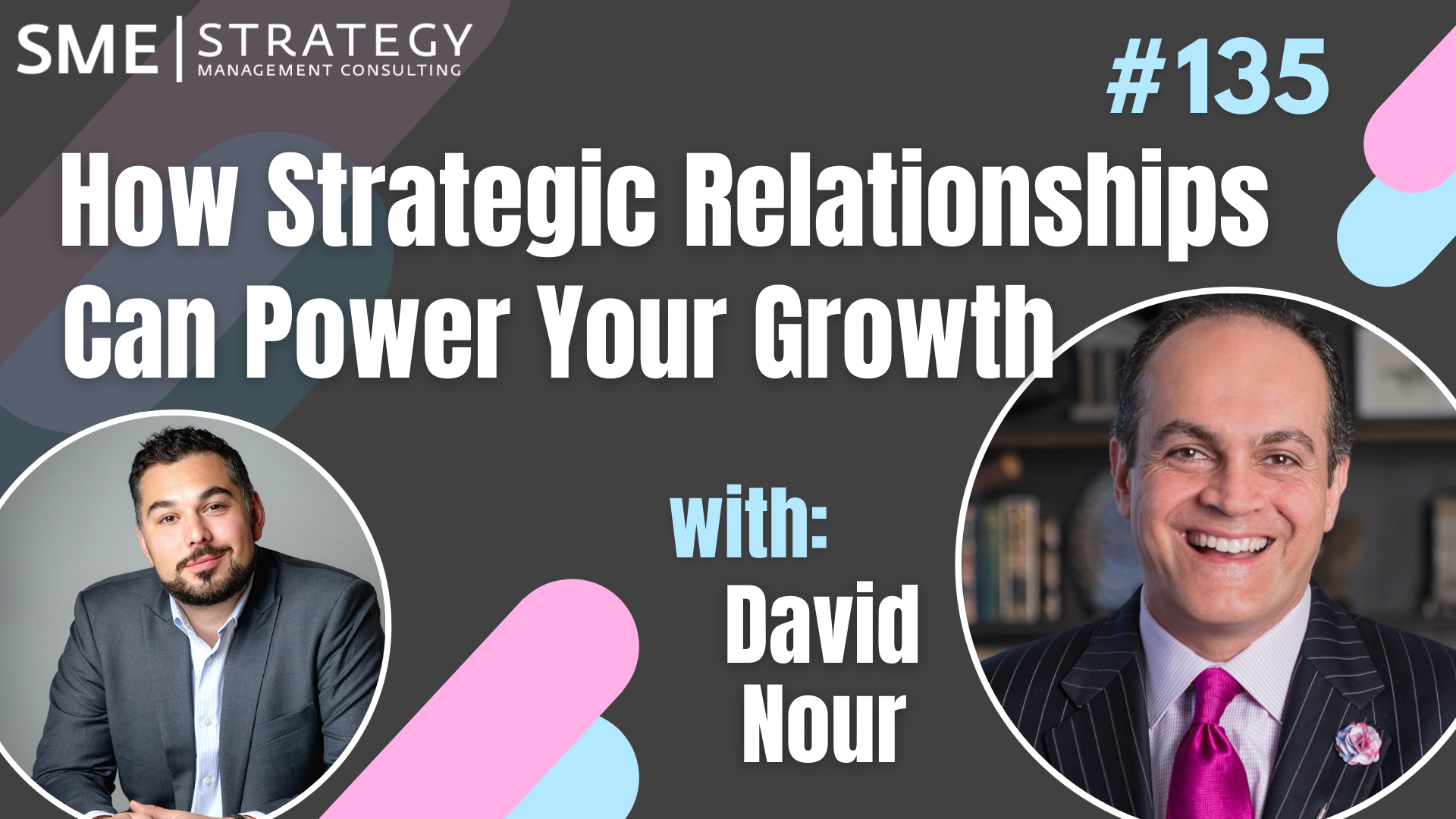 David is an Advisor, Educator, & Executive Coach, helping organizations recognize the many quantifiable ways that business relationships drive everything. An Iranian immigrant who arrived in America with no English, David has been in business for 20 years now, having worked with executives from Cisco, Deloitte, Disney, , Marriott, Microsoft, IBM, & more.
On this episode of the Strategy & Leadership Podcast, David joins us to discuss why relationships are extra important in business, why he's hard on performance and soft on people, his 'aha' learning moments, & more.
Check out David's latest of 12 books, Curve Benders: How Strategic Relationships Can Power Your Non-Linear Growth in the Future of Work.
Listen to the audio version here, or watch the video at the bottom of the page:
---
We can help you align your team around a clear vision, mission, values, goals and action plans, so you can lead your organization more effectively and get better results.
---
Here's a breakdown of the conversation:
Why relationships are extra important in business
David has spent the past 20 years being a student of business relationships. He learned that certain individuals and organizations were able to accelerate their ability to get things done by having a few strategic relationships.
Although nobody can predict the next pandemic or other crisis, we can plan for it. We can build and nurture key relationships in different parts of the value chain, from different industries, that will feed us faint signals. From there, we can leverage those signals to inform business decisions and become stronger.
Hard on performance & soft on people
David believes in being "hard on performance, soft on people". It means there needs to be clear expectations on where we're going and what we have to do to get there. But it also means understanding that not everyone is going to get there at the same pace or at all. Instead, David likes to focus on the willingness, scrappiness, and attitude when he's coaching. Someone who genuinely wants to be there and loves what they do can easily be pushed to the next level you need them to be at.
Your payroll size doesn't matter
David leaves us with two big learning moments from his 20 year career in business. The first is that company size doesn't equal strength. Early on, he was always concerned about adding people and expanding his office space. But eventually he learned from his clients that neither matter. What they actually look for is the value of the ideas, and getting their problem solved. Clients also prefer a single neck to wring when something goes wrong - someone that will be hold themselves accountable.
David's other big learning moment was wishing he made the digital transformation himself years ago. As a service business your value is in your knowledge, people and methodology, which have higher potential in the digital realm. He explains being paper based for a long time before making the three year commitment to digital transformation.
Be sure to check out David's recent book, Curve Benders: How Strategic Relationships Can Power Your Non-Linear Growth in the Future of Work.
Our readers' favourite posts