Are You a Nonprofit in Need of a Strategic Plan? Our New Subsidized Program Can Help.
By Jenna Sedmak - February 01, 2021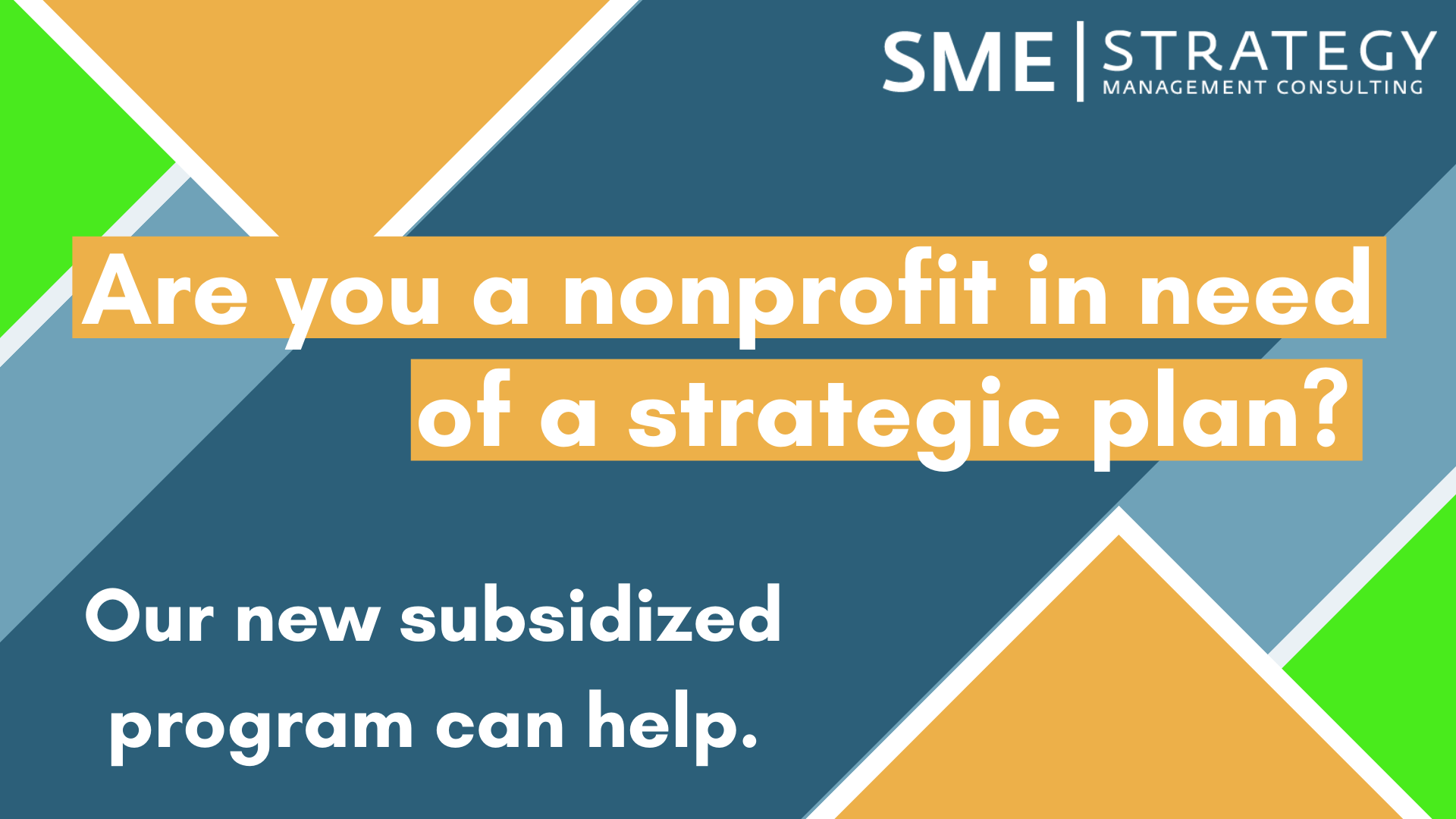 *Our 2021 Strategic Planning for Nonprofits Program is now closed. However, we still continue to offer a discount to select nonprofit organizations. Contact us to learn more.

After a turbulent 2020, filled with extensive change, strategic planning is more important than ever - especially for non-profit and mission-based organizations. While your WHY (your reason for being) will remain steady, your HOW may have to pivot to address macro trends, both globally and locally, as well as shifting workplace dynamics.
While some organizations have a large revenue or funding surplus, others have tighter budgets. As a part of our 2021 Corporate Giving Back Program at SME Strategy, we will be accepting FIVE non-profit organizations into our Non-Profit Facilitated Strategic Plan program.
Program Details
Pricing & Discount Information:
$2,500 USD. The regular price is $12,500 USD


We will be offering this reduction as a charitable donation. This means that the organization must pay the full price of the program upon acceptance, and SME Strategy will donate $10,000 back to the organization.
Note: For Canadian non-profit organizations (this program only), the cost & donation will be in CAD: $2,500 CAD ($12,500 with a $10,000 CAD charitable donation).
This facilitated strategic planning program includes:
Pre-work such as interviews and surveys
5 x 3hr Virtual Facilitated strategic planning sessions *Please note: We can potentially offer in-person sessions for local Vancouver or Victoria organizations, depending on current COVID-19 health & safety concerns & regulations.
Post-work documentation including a written recap & PPT presentation of your completed plan
Two post-session follow up calls to support action planning and strategy implementation
Who can apply?
You may be located anywhere in the world to qualify for our virtual program, as long as you can adapt to EST or PST time zones for your sessions. For in-person sessions, organizations and staff must be based in Vancouver or Victoria, BC
See our full Terms & Conditions
When to apply:
Applications open February 1st, 2021 and close on March 31st, 2021 at 11:59am PST
Applications will be reviewed and accepted on a rolling basis, with final acceptance occurring no later than April 14, 2021 (2-weeks after our application deadline)
Spots are limited, so apply early to avoid disappointment!