Recession Planning for Businesses and their Leaders.
By Anthony Taylor - December 04, 2022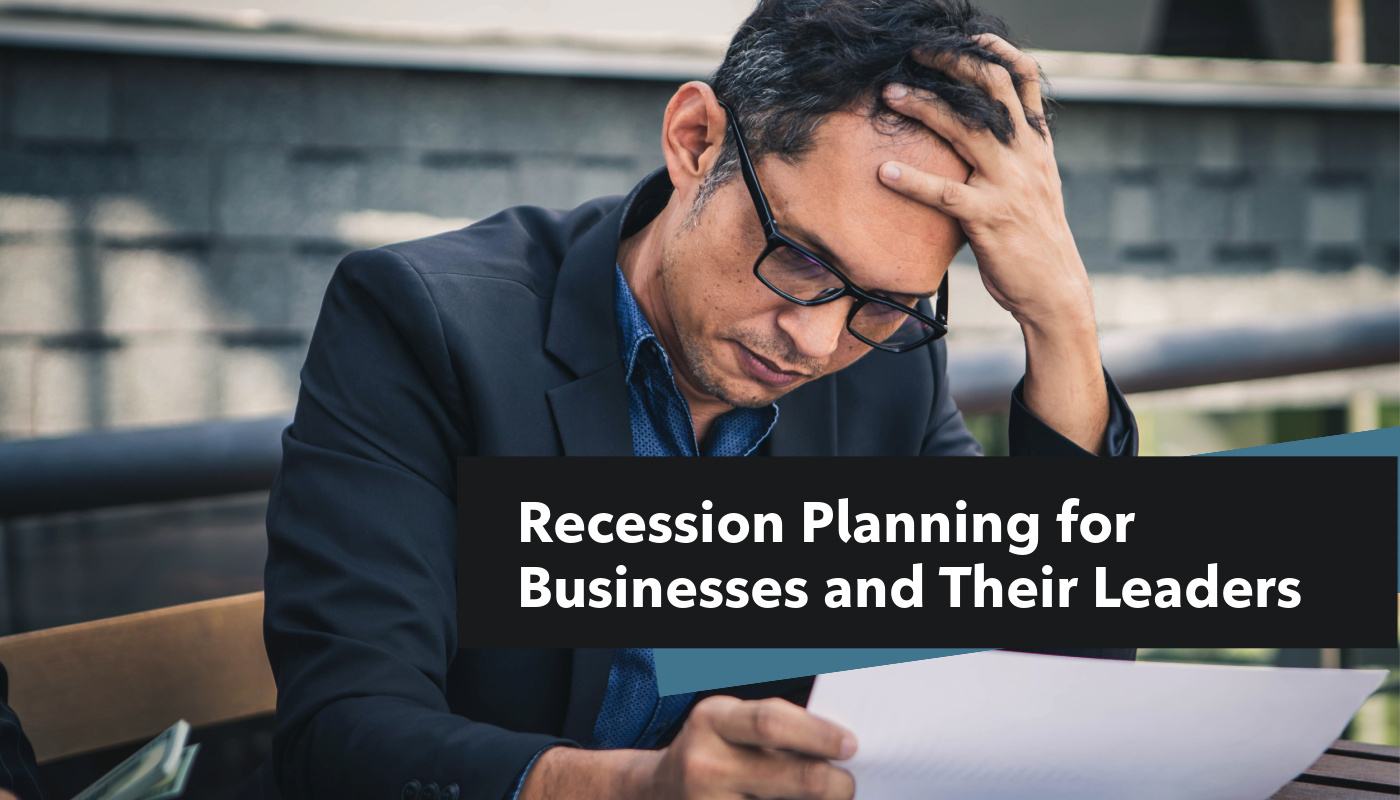 Welcome to Leader's Digest — your one-stop destination for all things leadership and organizational strategy.
This week, we'll be shining a light on recession planning, and what leaders can do to mitigate the effects of a recession. This means looking at what successful CEOs are doing to get ready for this possibility and figuring out how winning organizations handle uncertainty.
ANTHONY'S PERSPECTIVE
Hi, it's Anthony here. I'm the CEO of SME Strategy. In this section of Leader's Digest, I'll give you my perspective on the topic at hand. I encourage you to watch my included video, which will go into more detail.
These days, many analysts believe it's time for businesses to start recession planning. Recent rises in inflation, coupled with employee scarcity, have increased the perception that we are on the cusp of entering a recession.
Determining how to effectively deal with a downturn can be intimidating for many business leaders. However, the fact is that, with the right mindset and strategic approach, recessions can often represent opportunities for many organizations.
IT STARTS WITH THE RIGHT ATTITUDE
A key starting point for recession planning is for leaders to examine their attitudes. If a leader is fearful — then they are likely to flounder when times get tough; whereas, if you are proactive and aggressively smart, then you'll be prepared to act decisively and ultimately perform better. Of course, there are several additional important elements to consider and I encourage you to check out my video above, which identifies specific methods leaders can use to survive, navigate, and even thrive during tough economic times.
FURTHER INSIGHT
To gain a well-rounded perspective on how to best deal with a potential recession, we recommend these pertinent articles.
Why Some Top CEOs Fear a Recession is Coming - Insights from NPR
The central bank is almost certain to continue raising interest rates aggressively in the coming months as inflation continues to soar
What Economists Say about the Chance of a Recession - Insights from The New York Times
The range of forecasts is wide, but economists generally see a rising probability that the U.S. economy will shrink.
How to Survive a Recession and Thrive Afterward - Insights from HBR
How should firms prepare for a recession, and what should they do when one hits?
CONTRARIAN CORNER
In this segment of Leader's Digest, we highlight a new approach to dealing with the topic of discussion. This will identify alternative modern solutions for your consideration. Take a look at the following article, which sheds a different perspective on managing a recession.
The Best Business Strategy for Surviving a Recession? It's Not What You'd Think - Insight from Forbes
The quality of a company's customer experience plays an important role in how effectively it can weather a recession.
LIGHTS, CAMERA, ACTION!
Here are some of our actionable tips that you can put into motion now to begin to resolve the pain points associated with preparing for and navigating an economic downturn.
CEOs Dos and Dont's During a Recession - Insight from Ceoworld
Here's a useful list of what leaders should do and avoid to successfully prepare for a recession.
Scenario Planning for an Uncertain Future - Insight from SME Strategy
How tools like trend analysis, risk analysis, and scenario planning may assist your business in uncertain times.
The New Recession Playbook - Insight from Bain & Company
Check out this guide from Bain & Company, which details how the best businesses are currently planning for a likely downturn.



WEIGH IN
You're invited to become a part of the conversation. Participate in this poll question:
With today's volatile environment, what aspect of your business do you plan to invest in the most to seek stability and foster future growth?
Developing new lines of business.
Upskilling and retaining existing talent.
Strengthening our corporate culture.
Increasing productivity in our hybrid work model.
Click here or the button below to provide your answer and view the collective results.
SME STRATEGY NEWS
There's always a lot going on at SME Strategy. Here's a snapshot of recent and upcoming articles, events, and news.
SME STRATEGY RECOGNIZED AS INDUSTRY THOUGHT LEADER
Exciting news! FeedSpot recently announced that SME Strategy is among the 35 Best Strategy Blogs and Websites. This list includes such well-known blogs as strategy+business and Stratchery.
We're honored to make this list. Learn more about this accolade and what we do by clicking here.

THINKING ABOUT A STRATEGIC FACILITATION? BOOK NOW!
Demand for Strategy Facilitation Sessions are heating up and SME Strategy is now booking into November of this year. If you'd like to find out more about our professional strategic facilitation services and determine if they are for you — don't wait — schedule a complimentary discovery meeting with one of our experts.
Click here to view available times for a consultation.
ABOUT SME STRATEGY
SME Strategy facilitates strategic planning and helps teams implement their plans through regular check-ins, executive coaching, and team development. We've successfully crafted hundreds of strategic plans for organizations active in more than 35 industries.
Our readers' favourite posts