Q3 Update: New Resources, New Offers to help you Avoid the Multiple Destination Trap
By Jason Heckl - July 28, 2020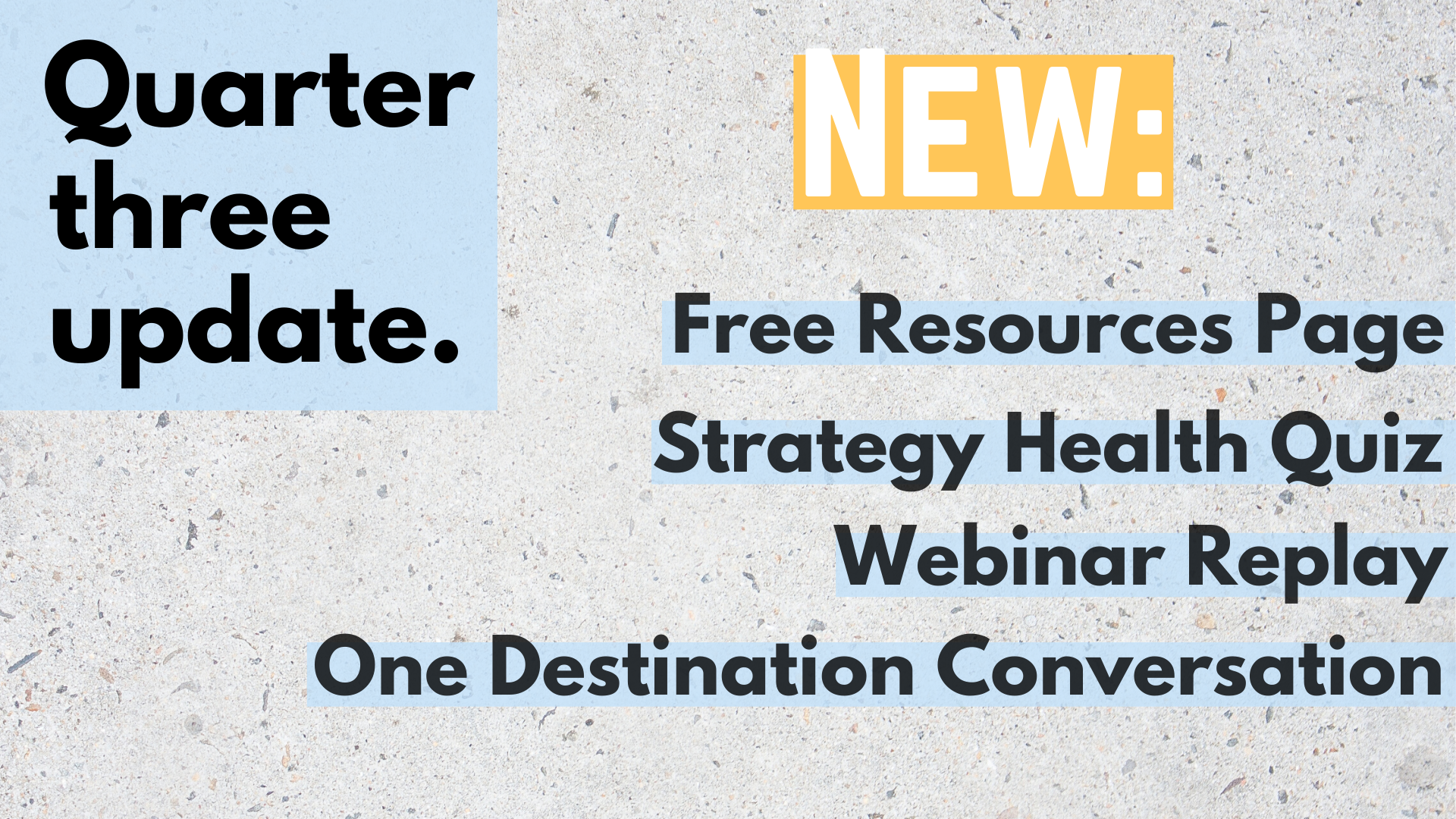 As we move through the 3rd quarter of 2020, we thought it would be a good time to give everyone an update on what we've been up to. Due to the changing business operations and the great deal of uncertainty surrounding COVID-19, we've made some time to sit down together (remotely) to decide how we can better serve our community of people looking to improve their strategic planning & implementation.
Here are some of the things we've been working on, that are now available to you.
We hope you enjoy, and are able to take away lots of value to apply to your own organization!
---
Our brand new Free Resources page is your new hub of information, guides, templates and tools for anyone looking to develop and implement a strategic plan, and everything in between. On this single page, we've stuffed all of our most useful resources - all of which are available to you for free.
Here are some of the free resources included on the Free Resources page:
This workbook is a printable, fill-in-the-blanks tool that is perfect kind of thing to bring to a strategy session. The workbook provides space for each step in the planning process, from 'Where are we now?' to 'Milestones & Deliverables'.
> Directly access our Strategic Planning Workbook
---
The Strategic Plan Template is another printable, fill-in-the-blank tool that is very popular with people who are about to have a strategy session. It includes each aspect of the strategic planning process, including how to go about each section. This template is a great way to visualize and display a strategic plan, making it a great tool for the whole team.
> Download our Strategic Planning Template.
---
Goal Setting Package:
Our free Goal Setting Package is made up both a Goal Setting Guide and a fill-in-the-blanks Worksheet. The Guide will walk you through the process of goal setting including best practices and pro tips, while the Worksheet will be yours to to fill in with your goals, priority areas and action steps.
> Directly access our Goal Setting Guide & Worksheet.
---
Strategic Planning Questionnaire: This Questionnaire is the perfect tool to use before you begin the strategic planning process, and will ensure you're asking your team the right questions. These 15 questions will give you an idea where your team is aligned and where it's not, providing a solid base to begin the strategic planning process.
> Download our Strategic Planning Questionnaire.
---
This quiz is our brand new tool for people like you to use in order to determine your organization's overall strategic health. After answering 15 multiple choice questions relating to various stages of the planning process including current state, communication & tracking, you'll receive customized feedback on where your organization needs to improve. On top of that, we'll direct you to specific places, tools and resources that will allow you to begin improving immediately.
> Access our new Strategy Health Quiz.
---
On top of these free strategy tools, guides and templates, the Free Resources Page also includes a lengthy list of curated content made up of videos, blogs & podcasts organized by these topics:
Strategic Planning
Culture
Change Management
Communication
Leadership
Alignment
Check out the curated content on our
Free Resources
page.
---
The Client Resource Page includes everything on the Free Resources Page with extra content. However, this page is strictly for our clients who hire us for our services, and is password protected. If you are one of our clients, check out your new hub for strategic planning resources.
---
The Strategy Health Quiz is a free new tool for people to use to figure out how well (or poorly) their organization is doing with strategic planning. It surveys the users on every aspect of the organization's strategic planning process in order to provide customized feedback on how to improve. There are a total of 15 multiple choice questions, ranging from how well your organization sets goals and shapes values, to how well it executes on its strategy.
Depending on your results, you will be given a rating, along with a small summary of advice on where your organization needs to improve, and how it can go about doing that. Once your quiz is complete, you can direct yourself to some of the resources suggested, in order to begin improving your strategic planning process right away.
Take the free Strategy Health Quiz.
---
One of the most common problems we see organizations run into when doing strategic planning is the Multiple Destination Trap. It's also one of the main reasons strategic plans fail. Organizations fall into the Multiple Destination Trap when they focus on too many things, which ultimately paralyzes them into doing many things OK, instead of focusing on One Destination - and being very successful at that.
After seeing so many organizations struggle with this exact problem, we've decided to offer something that will provide real value in these situations.
We're now offering a free 1 hour conversation to help you and your organization break out of the Multiple Destination Trap. Together, we'll go over the One Destination Scorecard, which asks questions regarding vision, culture, accountability and more. By the end, we'll help you discover and identify how your organization can begin working towards One Destination.
Book a free One Destination Scorecard Conversation.
---
On July 22, we hosted a webinar titled How to Create the Future You Want with Strategic Planning, and we've decided to make the replay available to you for free!
In this webinar, we explain one of the most common situations we see organizations stuck in: The Multiple Destination Trap. Aside from being one of the most common challenges, it also causes many strategic plans to fail before they even have a chance at success.
In this webinar, we'll break down how to avoid the Multiple Destination Trap, and emerge with One Destination. Tools and guides will be included!
Watch the webinar replay for free.
---
Whether you're about to start the strategic planning process, or have already had a session and need help with implementation & execution, drop us a message to see how we can help you (remotely).
Our readers' favourite posts