Navigating Your Team Through the Fog of Disruption w/David Giersdorf Ep#133
By Anthony Taylor - November 24, 2021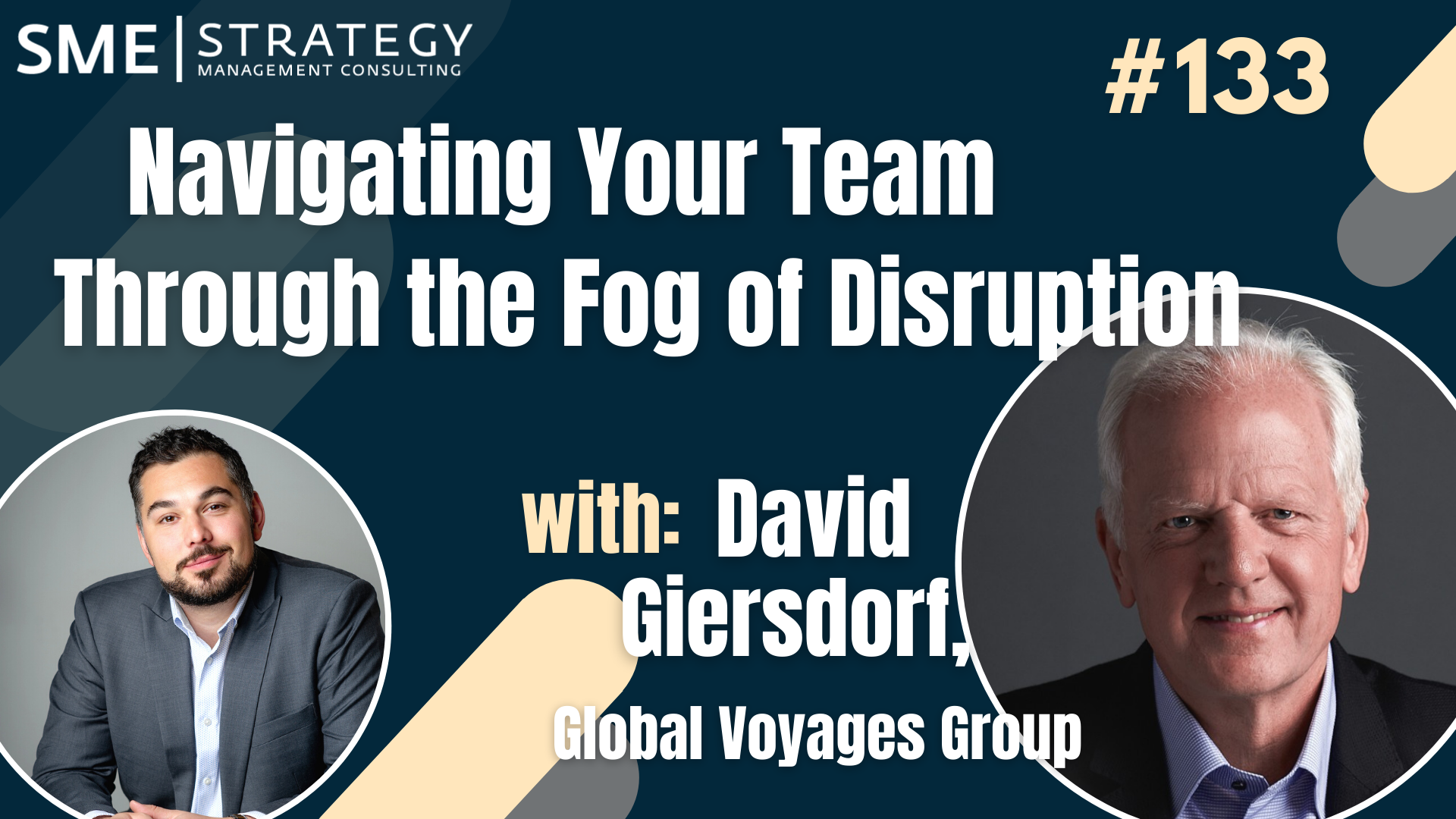 David Giersdorf is a former senior executive in the global cruise & travel industry, including publicly-traded $1B+ brand portfolio and CEO of several iconic cruise, travel and marketing services brands.
Now he help owners, boards, CEOs and leadership teams of diverse organizations on topics ranging from navigating disruption and recovery, growth, innovation, performance, and mergers & acquisitions.
On this episode of the Strategy & Leadership Podcast, David joins us to discuss how he helped solve the big challenges of iconic cruise ship brands, leading through disruption, his book, Hard Ships, and more.
Listen to the audio version here, or watch the video at the bottom of the page:
---
We can help you align your team around a clear vision, mission, values, goals and action plans, so you can lead your organization more effectively and get better results.
---
Here's a breakdown of the conversation:
Leading people in the cruise and travel industry
David details his time leading people in the cruise and travel industry, calling it both thrilling and fulfilling. At the end of the day, it's an industry based on people, and fulfilling their hopes and dreams.
He learned that transparency is critical - and not just with the external stakeholders and leadership team. It's also the leadership team's job to clearly communicate the organization's purpose to the rest of the organization. David believes this is tied closely to transparency, because they need to be able to communicate 'why this purpose?', and make everyone understand the thinking, emotion, internal factors, and market conditions behind that purpose.
Big challenges working at Holland America Line
David shares his experience working at Holland America Line. There were 16,000 employees working on the ship and shoreside. Working for such a legacy brand, there's a lot of pressure felt by those at the leadership team level especially. There were 'sudden jolt' disruptions like 9/11, and other slower-moving disruptions like time. Their customers were aging, and newer, faster competitors were joining the mix.
During these troubling times for the company and the industry, David believes it's essential to be honest about the situation and the circumstances. For Holland America Line, that meant committing to the premium category of the industry, and getting to the truth of that category - the market, customers, change in demand over time, competition, what premium brands in other industries were doing, etc.
Finally, because of COVID, the cruise ship industry was forced to stop sailing for a full 12 months. This presented a whole new set of challenges that would be difficult to address.
In the following minutes, David details how he and the leadership team decided to meet those challenges.
David's parting leadership advice
David's final leadership advice is "eyes on the prize". In other words, keeping your focus on what really matters right now. For David and his business, that means focusing on re-tooling post pandemic. What if you can't find see a prize that's worth harnessing energy, passion and resources? David recommends it's time to "find that exit".
Be sure to check out David's book, Hard Ships: Navigating Your Company, Career, and Life through the Fog of Disruption
Our readers' favourite posts