Why Managers Need to Stop Thinking Small in Order to Thrive
By Anthony Taylor - June 30, 2021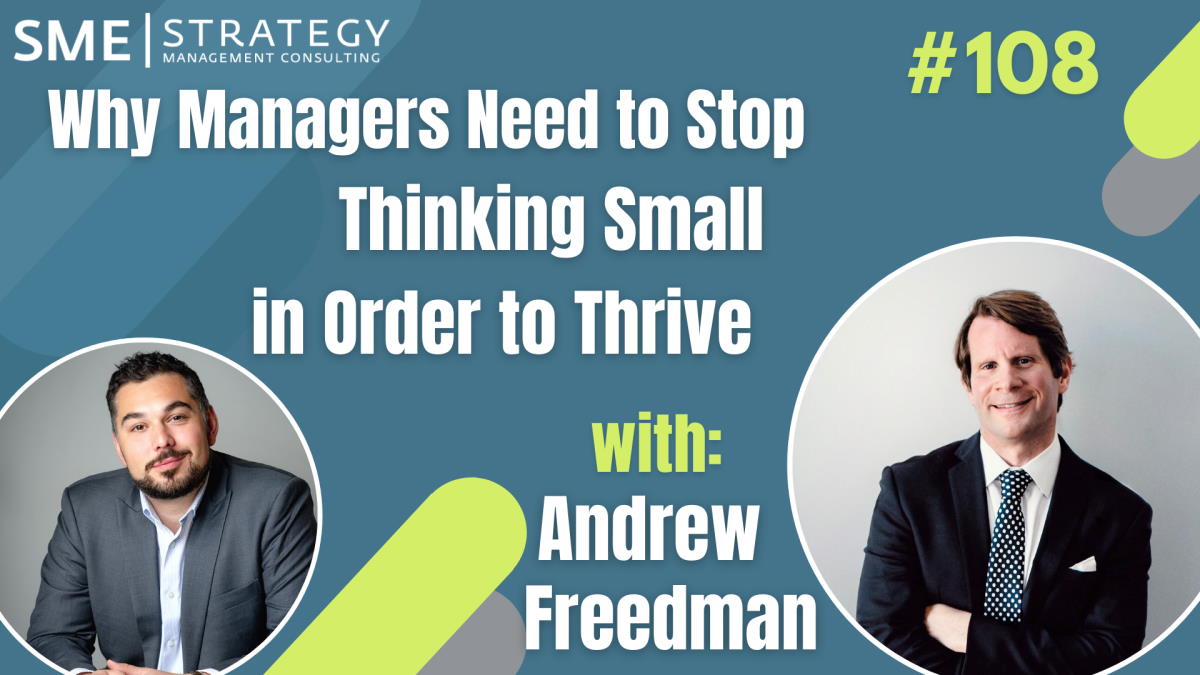 Andrew Freedman is the Managing Partner of SHIFT Consulting, where he helps leaders think differently about employee engagement and performance. Since the dawn of his career, Andrew's aim has been to help and teams get better in one way or another.
He's also an Affiliate Professor of Strategy & Leadership at the University of Baltimore, and he's got a new book out called Thrive: The Leader's Guide to Building a High-Performance Culture.
On this episode of the Strategy & Leadership Podcast, we discuss some of the challenges people and organizations are dealing with right now, how to improve organizational alignment, his advice for leaders, and his new book.
Are you having a strategic planning session soon? Make sure you ask your team these 15 questions first:
Here's a breakdown of our conversation:
Challenges organizations & employees are dealing with right now
Andrew talks about how people and organizations are currently trying to figure out their playbook.
As COVID draws to an end, organizations are grappling with who to bring back to the office, how regularly, and if they should even come back at all - while at the same time trying to make sure people have a voice in the matter.
And at the same time, employees are wondering about hybrid work and how it will impact their careers. If they stay home or work on a hybrid schedule, will they lose the ability to influence decisions, lose a chance to be promoted, or lose an opportunity to be assigned to special initiative?
Tips for improving organizational alignment
Andrew believes that managers need to take more responsibility than before for developing team alignment. Even if you aren't a SVP of C-level and you feel like you don't have power, it's your responsibility to remove yourself from the blindspots of you senior leaders. You have to insert yourself into the conversations and put yourself in the room to figure out what's going on and what needs to be prioritized.
For some more practical advice, Andrew also shares his approach used at Shift: rituals, routines, and rhythms. Strategies, priorities and progress need to be communicated in a highly visible way. There also needs to be a real time communication channel like Slack or weekly standups, where people have the opportunity to share their progress.
Andrew's advice for leaders is aimed especially at those lower level leaders and middle managers. "Why are you not sharing your energy, your knowledge and your gifts?" You owe is to yourself to stop playing small. At the end of the day, you won't regret speaking out more, pushing the envelope and pushing yourself to reach your potential.
Andrew and his co-author realized there are too many leaders working hard, doing great things, and not getting the upside they could and should be earning. The book is a compilation of what he and his co-author know builds high performance culture. It's filled with stories from their consulting work, case examples, exercises, tools and templates. Rather than just an academic exercise, the tools and templates available along with this book will enable you to implement the advice.
To learn more about Thrive and access the accompanying videos, accelerators and more, visit: thrive.shiftthework.com
Also, connect with Andrew on LinkedIn and Twitter (@afreedmanthrive).
Learn how a strategic planning facilitator can help you develop alignment & a common vision of success:
Or learn how to create your own strategic plan from scratch with our video course:
Our readers' favourite posts