Why Leaders Need to Step Back & Observe w/Conrad Edwards
By Anthony Taylor - November 10, 2021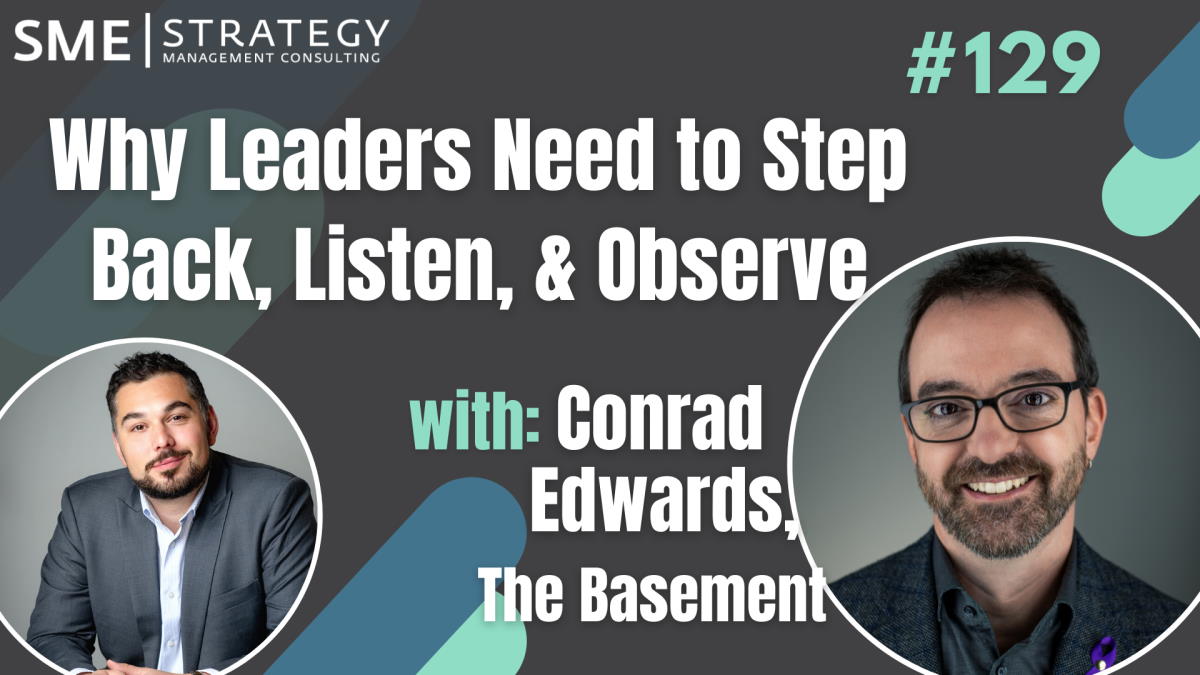 Conrad Edwards is the CEO of The Basement, a 14-year old integrated advertising agency based out of Indianapolis. Previously, Conrad held several CMO and consumer experience leadership positions.
On this episode of the Strategy & Leadership Podcast, Conrad joins us to discuss the leadership principles he's relied on to be successful in various roles, his advice for leaders, balancing strategic and tactical work, and much more.
Listen to the audio version here, or watch the video at the bottom of the page:
---
We can help you align your team around a clear vision, mission, values, goals and action plans, so you can lead your organization more effectively and get better results.
---
Here's a breakdown of the conversation:
Balancing strategic and tactical work
Conrad explains how within an organization, you'll have a mix between people that specialize in tactical and strategic work, and how you'll also have catalysts. These catalysts are excellent situational leaders, and will be able to recognize who is strong at tactical or strategic work, and how to go about day-to-day work while keeping an eye on the future. He says it's important for your team to be able to identify the 2 or 3 things they can contribute to directly that will help unlock the future.
Leadership principles that have helped for various roles
Conrad starts by talking about their importance of being a good learner, staying curious, and inquiring about what you don't know. He mentions that his day-to-day hasn't really changed in 25 years. But what has emerged is his personal leadership style, as a result of constantly learning.
Next he touches on the need to align your team as a leader. Individuals could be crushing their metrics, but if there's no alignment, the business could still suffer overall. But alignment doesn't stop at your team or organization. Conrad mentions it's important to develop alignment with your clients around expectations, processes and deliverables.
Practical tips for leaders
Conrad's first piece of advice for leaders is to "shut up, listen, and observe". By doing that, not only will you uncover more knowledge and give your team a chance to be heard, you'll also notice new ways for your team members to work together.
He also talks about the leader's vision of the future. It's not enough to have a vision for your organization and your team. It's also your job to illuminate the path to get there, because not everybody can see the big picture or is comfortable with it.
You also need to be comfortable with your own ignorance, Conrad explains. Embrace it, use it as a chance to grow, and as a chance to be vulnerable in front of your people. In Conrad's words, "the best leaders just know when to get out of the way".
To learn more about The Basement, their work, and get in touch, visit their website: The Basement.
Our readers' favourite posts