How to Lead from the Jumpseat & Help Your People Thrive w/Peter Docker Ep#130
By Anthony Taylor - November 16, 2021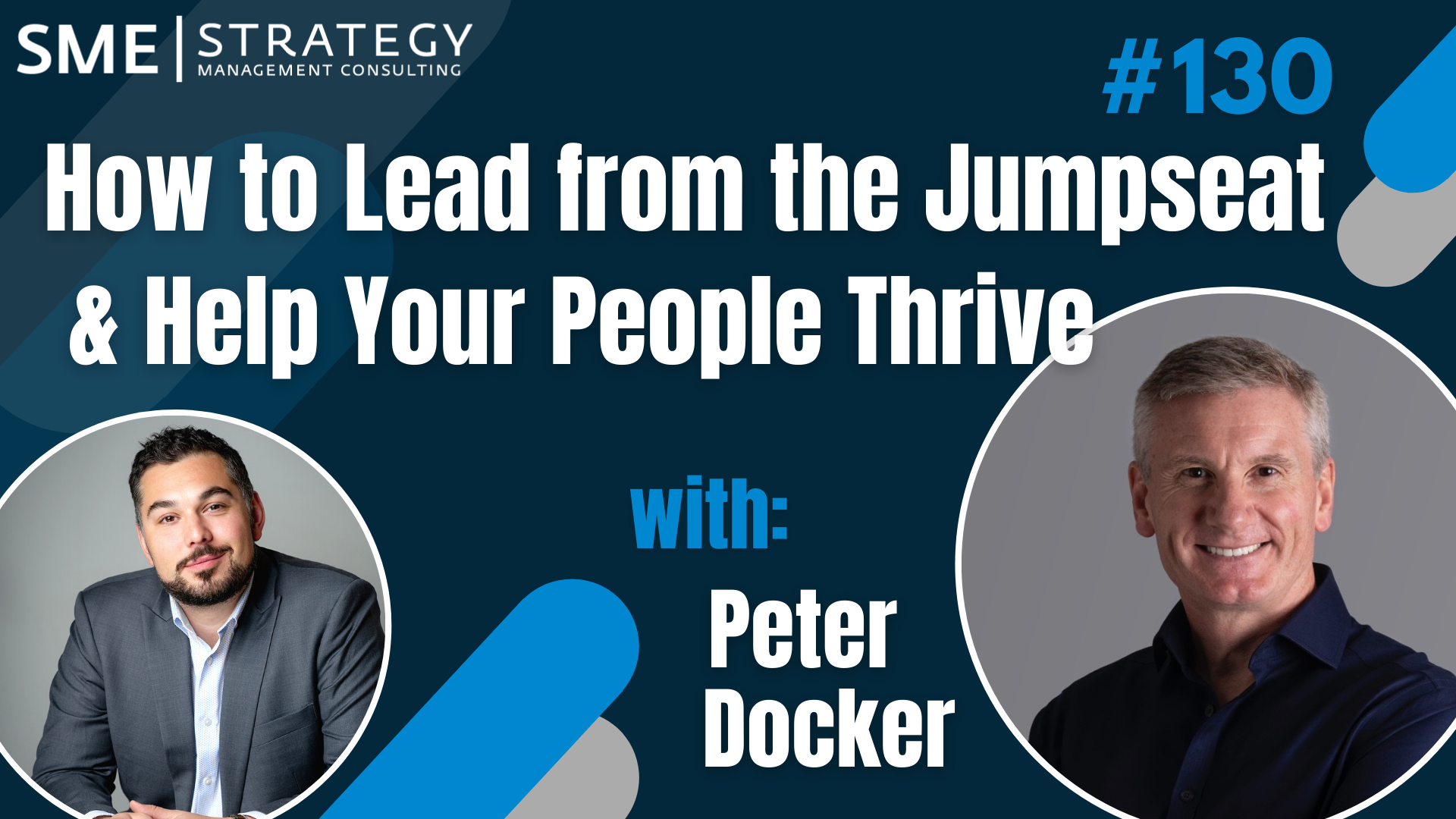 Peter Docker is a former Royal Air Force senior officer and international negotiator for the UK Government. Now he's a keynote speaker and consultant working with the most senior levels in oil & gas, construction, mining, pharmaceuticals, banking, television, film, media, manufacturing and services.
He's also an author of multiple books, including one he co-authored with Simon Sinek. Check out Peter's book, Leading From The Jumpseat: How to Create Extraordinary Opportunities by Handing Over Control.
On this episode of the Strategy & Leadership Podcast, Peter joins us to discuss how to lead from the jumpseat, the problem with having all the answers, nurturing a sense of belonging as a leader, and much more.
Listen to the audio version here, or watch the video at the bottom of the page:
---
We can help you align your team around a clear vision, mission, values, goals and action plans, so you can lead your organization more effectively and get better results.
---
Here's a breakdown of the conversation:
Leading from the jumpseat
Peter shares an incredible story from his time in the Royal Air Force, training a younger pilot. After the training was complete, Peter was asked by his protégé to sit on the jumpseat and observe. Peter explains how he ended up staying silent during a state of emergency in the sky, and instead allowed the younger pilot to take matters into his own hands, like he knew he could.
Peter goes on about the importance of empowering others as a leader, helping them thrive and reach their own potential. By making them feel comfortable and valued, you will create situations like the one Peter described, where the young pilot asked him to sit on the jumpseat.
The problem with having all the answers
Peter talks about a common dynamic in business, when the leader has all the answers and team members look to them at every turn. What happens is that the leader becomes the "constriction in the pipe". Although this may work most of the time, you won't always know the answer. Instead, try to become comfortable leading without all the answers, and empower your people to find the answers. That way, you can harness the collective genius of everyone.
Nurturing a sense of belonging
When reflecting on his career full of highlights, Peter has realized that it's the 'little things' that really matter most. Checking in on people, being there for them in tough times, making sure they have everything they need, and more. These moments will be small and insignificant, but could affect your people for months and years to come.

By nurturing a sense of belonging amongst your people, you'll ultimately get the most out of them. When people feel like they belong, they start to show up, take responsibility, contribute more, and lead.
Check out Peter's book, Leading From The Jumpseat: How to Create Extraordinary Opportunities by Handing Over Control.
Our readers' favourite posts