How to Improve Accessibility & Become an Inclusive Workplace w/Tova Sherman Ep#100
By Anthony Taylor - May 05, 2021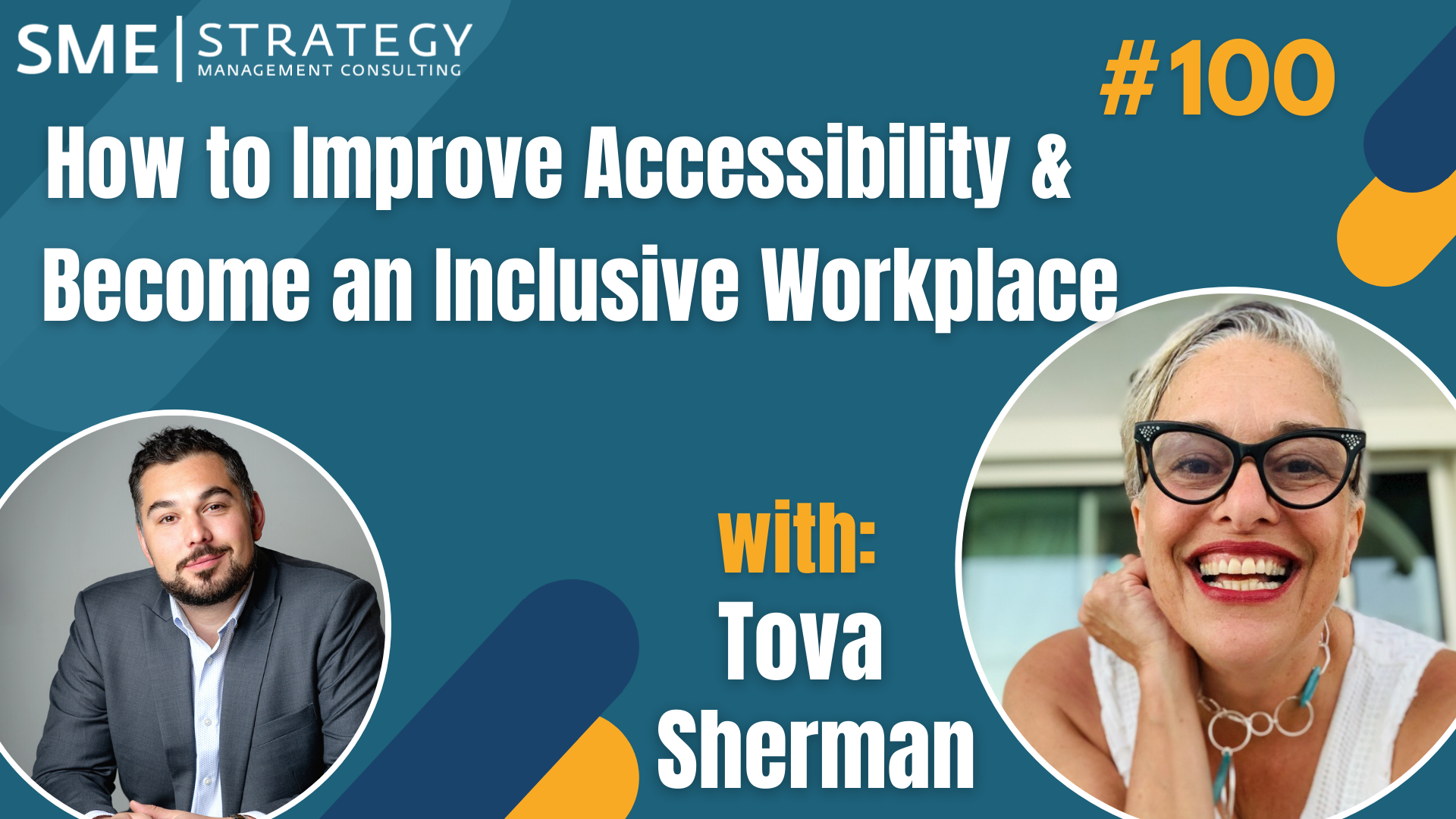 Tova Sherman is the Canadian born, award-winning CEO of reachAbility, an organization that works directly with companies to build their capacity for inclusion through education, training, and consultation. She's also a TED speaker, and author of the brand new book, Win, Win, Win! The 18 Inclusion-isms You Need to Become a Disability Confident Employer.
On this episode of the Strategy & Leadership Podcast, Tova joins us to discuss what people are missing about diversity & inclusion, tips to become more inclusive, accessibility, biases in the hiring process, and much more.
Is your organization having a strategy session soon? Make sure you ask your team these questions first:
Here's a breakdown of our conversation:
What people are missing with diversity and inclusion
The one thing keeping people with disabilities out of the workplace is bias - both conscious and unconscious bias. Tova explains that these biases (often learned on the schoolyard early on or in a movie) have the biggest impact, despite people's desire to be inclusive. Leaders are afraid to do the wrong thing or say the wrong thing, and unconsciously rely on myths to make decisions. Tova says that the most important step for leaders to take is to acknowledge that they hold biases - that is the first step to true inclusion at work.
Tips for being more inclusive
Tova shares that while many people are worried about saying the wrong thing around someone with a disability that could lead to an awkward situation, it is their intention that will ultimately shine through. With that being said, here are a few of Tova's tips for becoming more inclusive:
Remember the brain economy relies on creative, diverse, problem solvers.
Adjust your mindset - just because you can't see it, doesn't mean it isn't there.
In order to avoid people taking sick leave, mental health days and personal days - pay attention to them.
Don't stop at hiring - promote!
Why you have to start with values
Now that the statistics have shown benefits across the board for inclusive workplaces, and the government as started to pass laws (at least in Canada), there are still organization's lagging behind. In order to create real, lasting change, your organization has to stop thinking of diversity and inclusion as a trend or an add-on, and go all the way back to your values. Think about what's important to your organization that's related to inclusion, and put it in your values. Then, from the top-down, weave it into the structure of your organization. From there, if done correctly, inclusion will become one of the guiding lights for your people.
Learn how a strategic planning consultant can help you weave your values into a new strategic plan:
To get ahold of Tova, send her an email: tova@reachability.org.
Buy Tova's book, Win, Win, Win! The 18 Inclusion-isms You Need to Become a Disability Confident Employer.
Our readers' favourite posts