How Women in Charge Claim Their Authority w/Ellen Snee, EdD Ep#134
By Anthony Taylor - December 01, 2021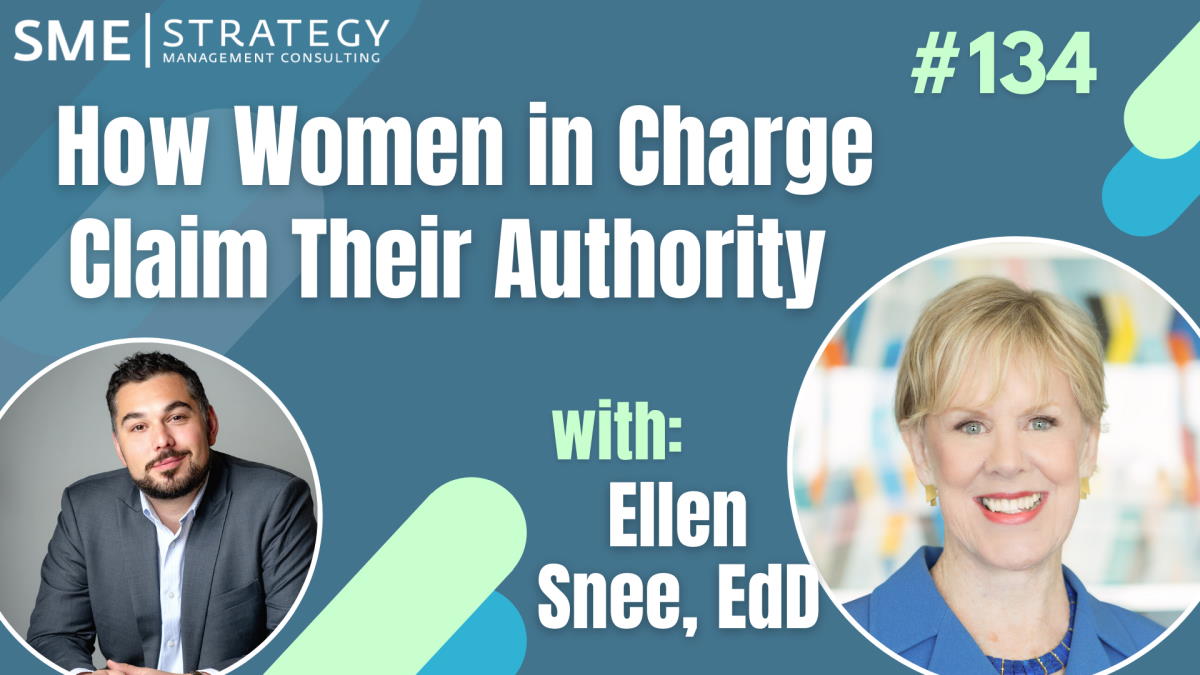 Ellen Snee, EdD, is an Executive Coach to high potential & senior level women, a speaker, consultant, and the author of Lead: How Women in Charge Claim Their Authority. But before that, Ellen was a Catholic nun for 18 years. From there she went to Harvard University to complete grad school before eventually becoming a program director at the university. Then she made her way to Silicon Valley to be VP of a large software company.
On this episode of the Strategy & Leadership Podcast, Ellen joins us to discuss leadership vs. authority, challenges for women in leadership, balancing at home responsibilities with work, how senior leaders can support women, & more.
Listen to the audio version here, or watch the video at the bottom of the page:
---
We can help you align your team around a clear vision, mission, values, goals and action plans, so you can lead your organization more effectively and get better results.
---
Here's a breakdown of the conversation:
Challenges for women in leadership positions
Ellen reflects on her experience to discuss some of the differences and similarities of both men and women in leadership roles. She mentions that both women and men share the same aim of accomplishing the goals of the organization. But women can sometimes have a more difficult time making tough decisions or having hard conversations because of their elevated awareness of relationships and people. Research has also shown that women in leadership roles have invested more of their energy in caring for their employees, which has led to increased burnout during the pandemic and subsequent work-from-home situation.
In her work, Ellen helps women develop three important relationships. The first is with themselves - understanding what she wants to accomplish in her career. Second is their relationship with others - their employees, other management staff, and those above her. Finally, the last and least accounted for relationship - their relationship with the system. That includes understanding how the leadership group functions as a whole, group networking outside the office, and more.
Balancing at home responsibilities with work
For years, women have been carrying a heavier share of the responsibilities at home, while often trying to balance work on top of that. In Ellen's opinion, when it comes to balancing home and work responsibilities, women can do that piece reasonably well. However the systems do not do a great job. Being created over decades by mostly men, these systems do not support a culture that is comfortable and effective for women or minorities. That means when a women or a person of colour comes in, the culture is not always conducive to supporting that person.
How senior leaders can support women
Ellen talks about how senior leaders can support the lower level women in their organization. When promoting a women, there really isn't much difference as when promoting a man. In the case of hiring or promoting women, leaders should make a better effort to ask what she wants. Ellen explains that often, women are less likely to be explicit about what they want up front. If you as the leader ask her and she doesn't have an answer, tell her to come back with an answer - it doesn't hurt to push.
Another way to support women is to tell her what YOU see as her potential. This can have transformative impact in the long term - just like it does for men. Finally, introduce her to people and include her in meetings where she can learn and expand her network.
Be sure to check out Ellen's book, Lead: How Women in Charge Claim Their Authority.
Our readers' favourite posts