In this edition of the Strategy and Leadership Podcast, we chat with Shane Wright of Paladin Security.
Shane is the Director of Operations, Vancouver Island, at Paladin Security Group Ltd., and he has been with the company for 6 years. What we appreciate most about this conversation is learning about some of the tactics Paladin used to develop the people in their organization and how Shane was able to follow a set growth trajectory.
Paladin is one of the fastest growing companies in Canada. Their culture of growth and development is fundamental to their success. Shane shares his story: Coming out of university and working on figuring out where to work next.
With talent at a premium, Paladin has figured out how to create a pipeline of new employees, as well as retain them. Learn more about how Paladin Security operates and how their structure and culture benefits their employees: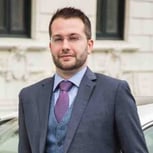 Subscribe to the podcast: