How Digital Transformation Can Help You Win Customers w/Howard Tiersky
By Anthony Taylor - November 04, 2021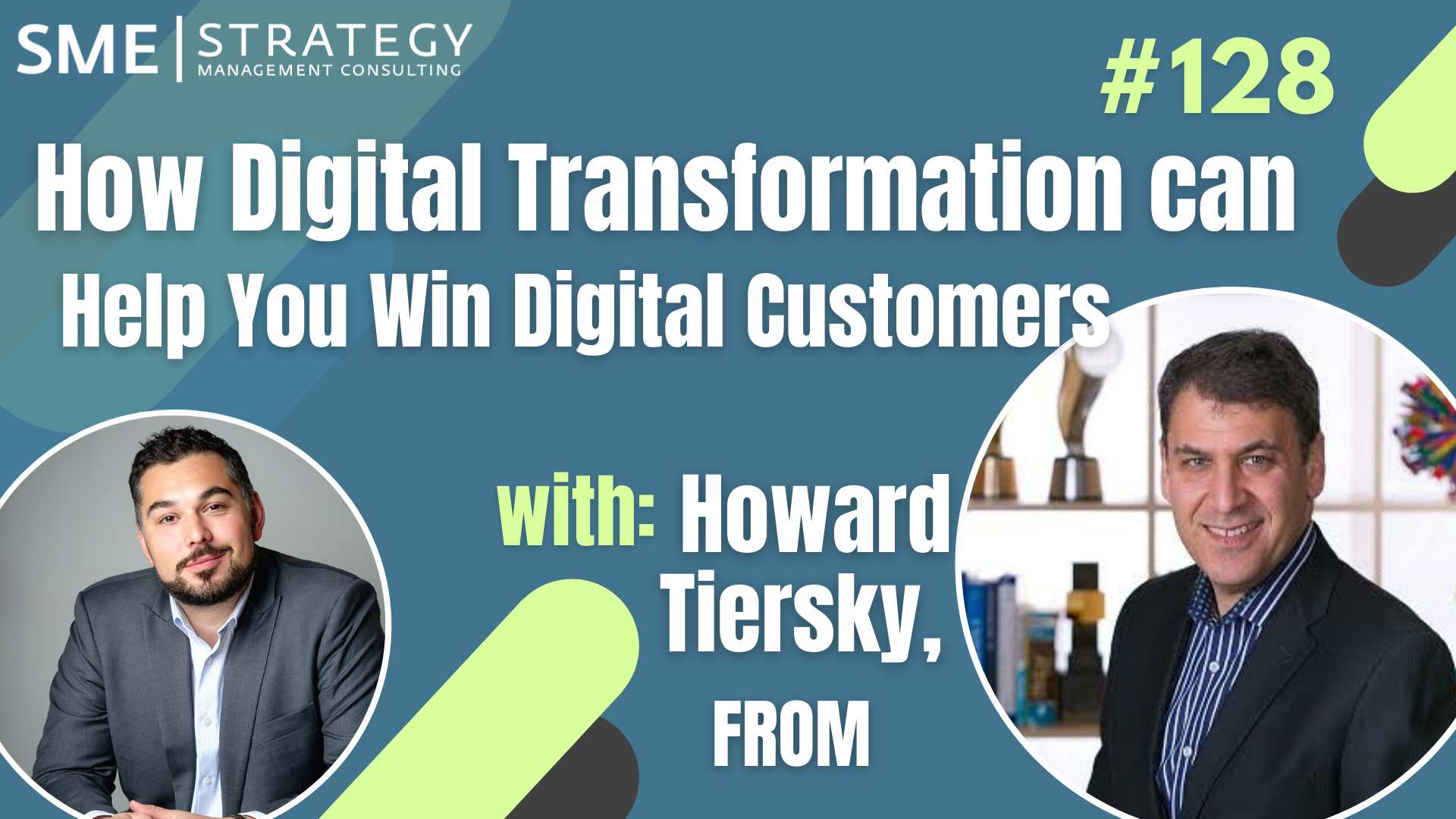 Howard Tiersky is the CEO of FROM - the digital transformation agency. FROM helps companies win with today's customers who reserve their loyalty for brands that deliver elegant and convenient digitally-powered experiences. Previously, Howard worked at Capgemini & EY.
On this episode of the Strategy & Leadership Podcast, Howard joins us to discuss everything digital transformation: Different types and scopes of digital transformation, winning digital customers, dealing with resistance to change, and much more.
Check out Howard's Wall Street Journal best selling book, Winning Digital Customers: The Antidote to Irrelevance.
Listen to the audio version here, or watch the video at the bottom of the page:
---
We can help you align your team around a clear vision, mission, values, goals and action plans, so you can lead your organization more effectively and get better results.
---
Here's a breakdown of the conversation:
Different types and scopes of digital transformation
Howard breaks down the different scopes of digital transformation, using an example of a small restaurant and a large restaurant chain. When both businesses set out to digital transformation, the technologies they decide on will probably be similar (after all. they are competitors). The difference is the demand for logistics, training, and policy changes will be more difficult for the large restaurant chain to deal with, given their number of locations and employees.
There are lots of types to consider: digital ordering systems, using AI, QR codes, and many more. Howard explains the importance of choosing the right type of digital transformation to implement. It all starts with understanding your customer and their journey. If you don't you could end up making a change that brings absolutely zero benefit.
Howard starts by mentioning every organization deals with resistance to change on some level, and that it's natural. People psychologically resist change, and businesses are often designed to standardize and resist change. However when your competitors start doing something a little differently, that can be the fire-starter for change in your organization.
Digital transformation mistakes
One of the first and biggest mistakes that company's make is not fully understanding their customer or their journey from the beginning. Just throwing new technology and new gadgets at your customers isn't going to guarantee you success. Some organization may be able to get lucky, but the one that are consistently successful are using a customer-centric approach, testing solutions and using design thinking.
Another mistake is to underestimate the resistance to change. It's easy to look over the resistance when you're part of the digital transformation team leading the way. The active resistance are the minority - maybe 10%. But many more people would just prefer the way things are now.
Howard starts by describing some of the causes of the 'Great Resignation'. People are stuck in the ways brought along by Covid, and rather than returning to work and going backwards, people got used to what they have now. Some companies aren't demonstrating to their employees that they're moving into the new world of how people want to work. Other people have realized that the gig economy can provide enough income for them, and also a different work dynamic.
Howard also mentions that for many companies, the 'Great Resignation' might be just fine. Many companies have a fixed idea of employment. Looking at Uber and other companies, they don't employ everyone, and instead create different types of relationships that may be beneficial to both parties.
Be sure to check out Howard's book and access a free chapter, Winning Digital Customers: The Antidote to Irrelevance. And to learn more about Howard's digital transformation agency, FROM, head over to their website: FROM - The Digital Transformation Agency.
Our readers' favourite posts