How to Grow Your Remote Team Without Killing the Culture
By Anthony Taylor - December 13, 2021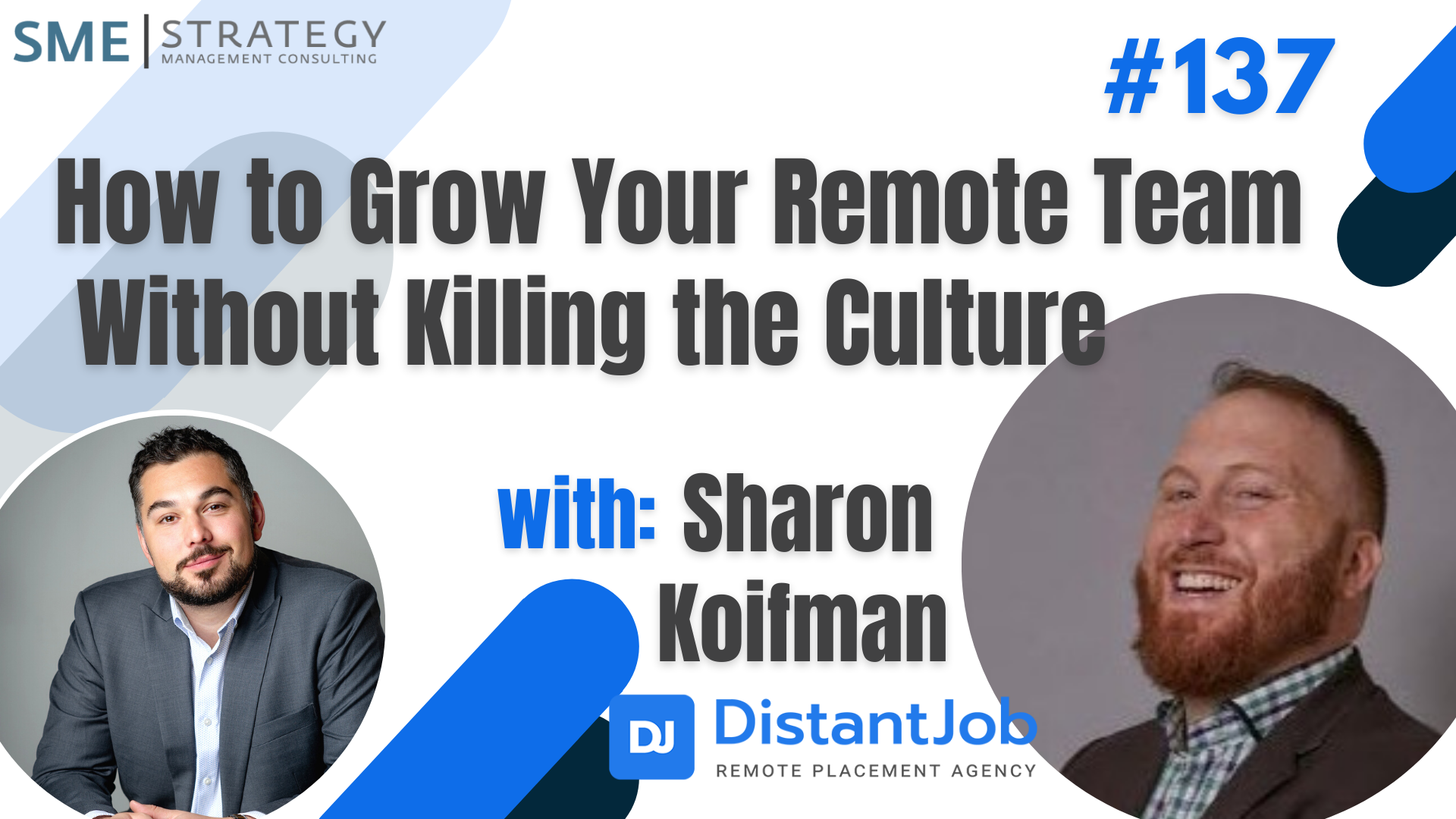 Sharon Koifman is the President of DistantJob, a staffing and recruitment agency that specializes in highly skilled remote workers. The company solves three challenges: 1. Finding global talent, 2) Vetting talent, and 3) Taking care of remote employees (contracts, payment, and HR needs).
Sharon is also the author of Surviving Remote Work: How to Thrive as a Leader and Entrepreneur in the Remote Age.
On this episode of the Strategy & Leadership Podcast, Sharon joins us to discuss advice for leaders hiring remote teams, reducing burnout from online meetings, what to take/leave from an office environment, and more.
Listen to the audio version here, or watch the video at the bottom of the page:
---
We can help you align your team around a clear vision, mission, values, goals and action plans, so you can lead your organization more effectively and get better results.
---
Here's a breakdown of the conversation:
Advice for leaders hiring remote workers
Sharon share some of his big learning moments from growing his own remote businesses. He mentions that the relationships you build with employees should be your main focus - even more important for remote workers. Being involved with your employees and really working on the relationship can go a long way. It's the best way to generate the most productivity, Sharon says. Just because offshore remote workers are cheaper, doesn't mean you should hire more of them or treat them differently than any other employee.
Office environment: The good and the bad
If you're building a remote team, now is your chance to start fresh with a clean slate, says Sharon. You don't need to take everything from a typical office environment and apply it to a remote company. Some things can be carried over, while others can be forgotten.
In an office environment, the average worker produces 3 hours of work in an 8 hour shift. This is in large part due to all the distractions and meetings taking place - most of which can be eliminated when going remote. Don't try to mimic the cubicle experience online, Sharon says.
Systems can be set up that reduce distractions. As an example, you can establish a brief check-in or message initiated by the employee when they're done a project or task. Or you can use Basecamp to assign and check off tasks. This reduces distractions on the employee's end.
The positive stuff from the office environment, the culture and team building, needs to be replicated in some way. You'll have to think outside the box, Sharon says. It's trickier to build a culture from the ground up remotely, but it's possible by investing in the right technology that can mimic an in-person office environment.
Reducing burnout from remote work
One of the biggest challenges facing leaders trying to grow a remote team is the burnout. More specifically the lack of engagement and motivation that results from burnout. In order to address this challenge, Sharon explains that leaders need to be more in touch with their soft skills. It means having fun conversations with employees, getting personal with them about their lives and their wellbeing, and really caring about what's going on in their lives.
By forming deeper relationships and really getting to know your people, you'll have clearer insight on whether your people are exhausted or motivated.
Learn more about DistantJob and how they can find you highly skilled remote workers for less: DistantJob.com

Our readers' favourite posts