Grow Like a Pro- Interview with Andy Goldstrom
By Anthony Taylor - October 20, 2020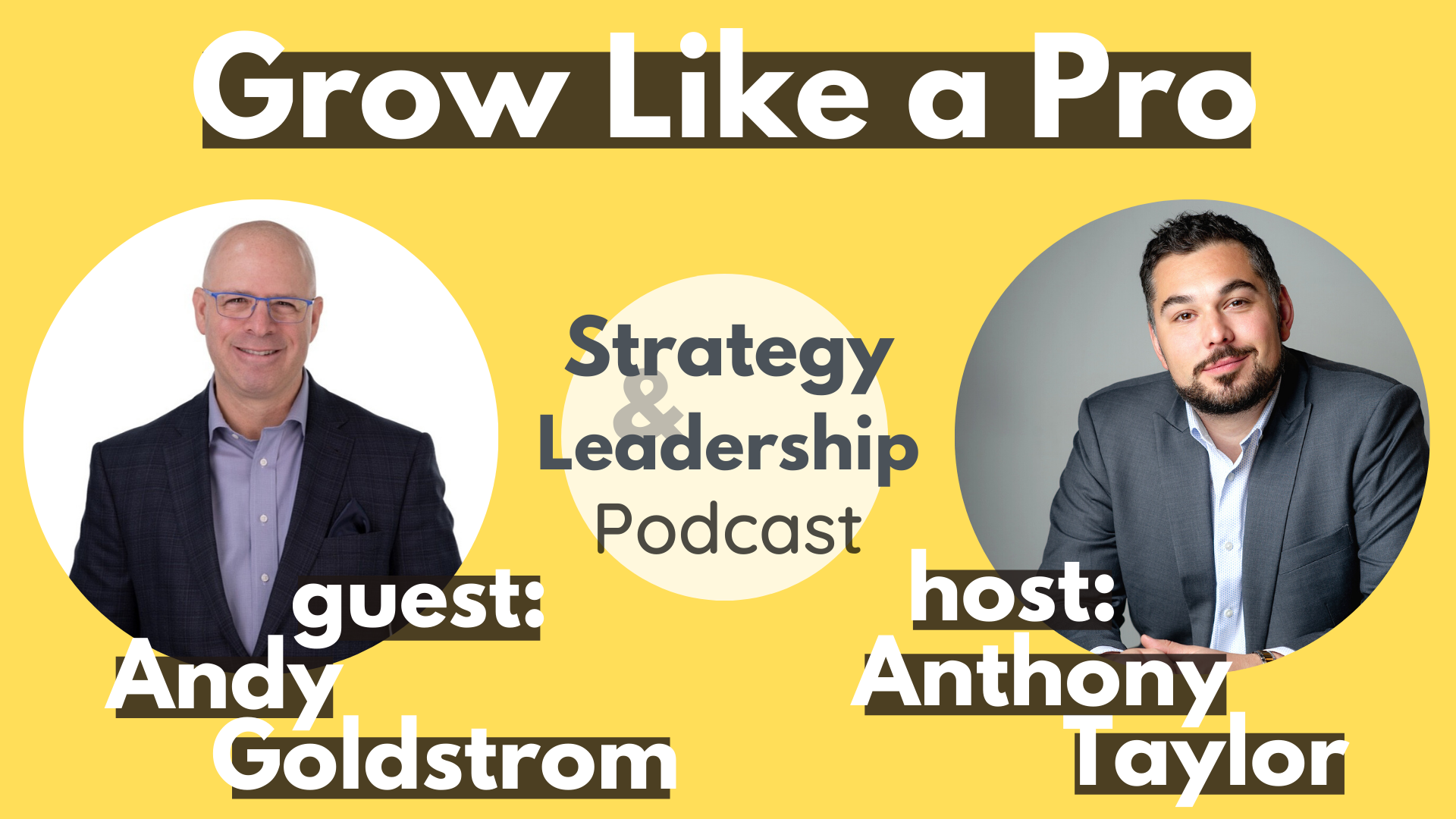 "It's easy to start a business, but not so easy to sustain and grow it"
Andy Goldstrom is a business strategist, growth expert, and two-time Inc. 500 business owner. Andy started his real estate company in the early 90's, where he won the business of Delta, Boeing and others while competing against larger, more experienced firms. After being bought by Johnson Controls in 2005, Andy moved on to become President of a national recycling company, where it would take him only two years to become another Inc. 500 company. Finally, Andy joined Deutsche Bank as a Global Director before starting his own firm, Midcourse Advisors, which helps organizations identify and execute on opportunities for growth.
Andy joins us on this episode of the Strategy & Leadership Podcast to discuss:
Advice for leaders trying to adapt
Andy mentions that some things will be easier to prepare for, while some things you won't be able to prepare for, which is why it's crucial to have a team around that understands the mission, and that you can trust and delegate to. On top of that, you'll need solid communication channels that are able to evolve as the company grows, as well as standard processes and procedures in place that can be automated.
Having a strategic planning session soon? Make sure you're asking the right questions:
Why it's easier to start a business now
20 years ago, the cost of tech, hardware, software and resources to start a SaaS business would have been $1 million to roll it out from start to finish. Now, you can do it for less than one tenth the price thanks to the ability to incorporate online, crowdfunding, outsourcing on Upwork, and rented processing power from Amazon.
Biases that arise during uncertainty
Any breaks down three different biases that arise when organizations find themselves in a period of uncertainty. The first one is the sophistication bias - when people don't see the adaptations that they need to make as an advantage. The other two are the adrenaline bias and the quantification bias.
Andy believes you should view your company as an outside investor from the time you start till the time you finish, in order to become exit ready. This means: making sure you have a unique value proposition, a robust pipeline in place, a diverse client base, a team that doesn't need to rely on its founders, resources like automation and processes, and a solid financial record.
Want to create your own strategic plan from scratch?
Andy's new book, Grow like a Pro, is for managers and leaders as they transition from regional to national to global. You can learn more or buy the book right here: Grow Like a Pro.
Our readers' favourite posts