Elevate Your Board Governance for 2021 - with Terry Clark
By Anthony Taylor - February 04, 2021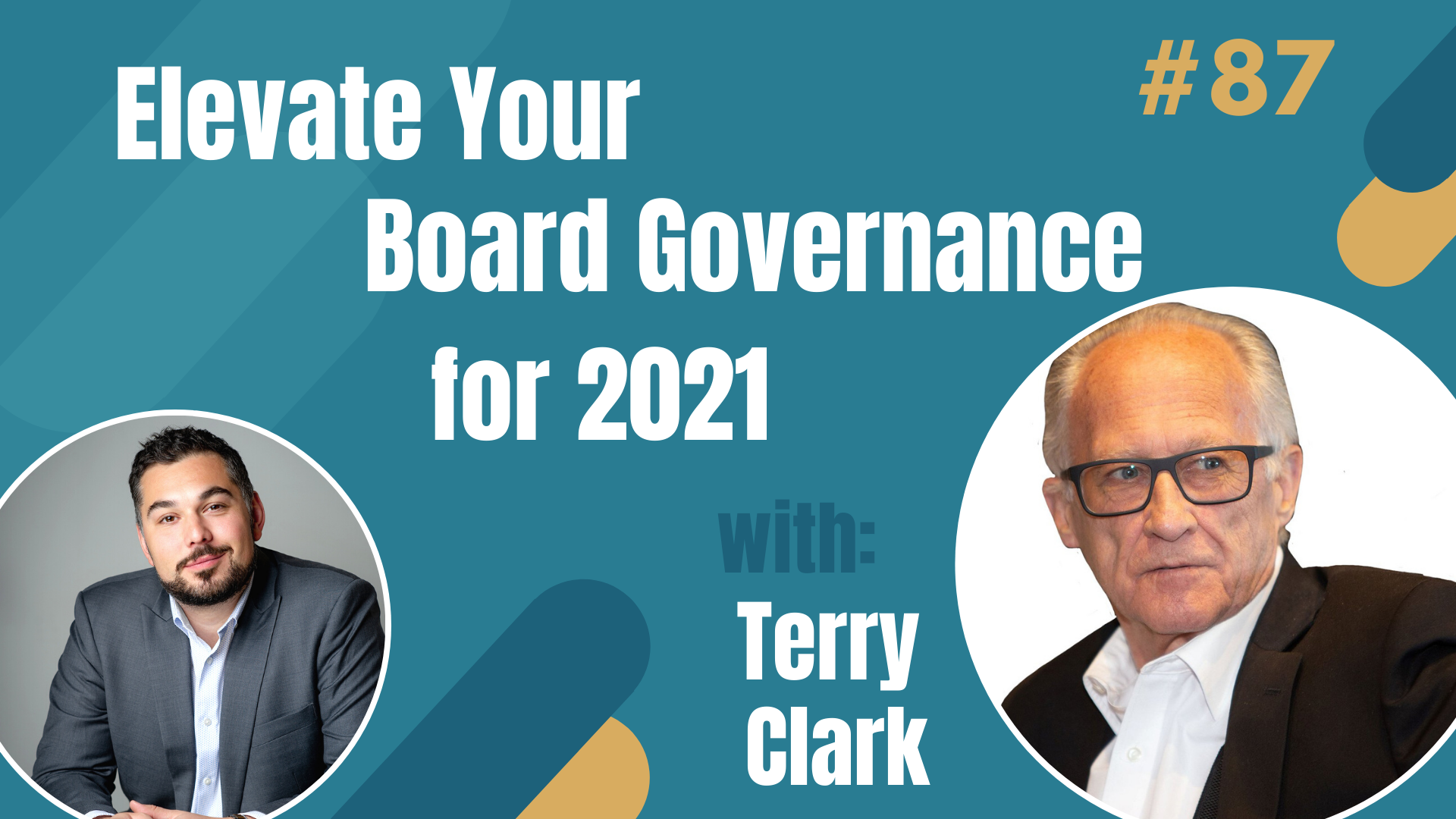 For the past 19 years, Terry Clark has been the President of Real Board Solutions, offering mentoring and coaching services for all non-profits and charity organizations. Before starting Real Board Solutions, Terry was both an accountant and an operations/sales manager. Now, he's considered the go-to guy for board of director development in Western Canada.
On this special long episode of the Strategy & Leadership Podcast, Terry joins us to talk all things related to board governance, Executive Directors and more, including:
What is board governance & the role of the Executive Director?
Board Governance comes from the Latin word for leadership, and seeks to explain the roles, responsibilities and liabilities that board members need to be aware of. Terry explains the the Executive Director (ED) is the key - they're the glue. While board members come and go, the ED is the one with a job on the line. They must identify the board model to be used, and make sure everyone is aware of their roles and responsibilities.
Is your organization having its strategic planning session soon? Make sure you ask them these questions first:
On developing a pipeline of board members
"There has never been a better time to recruit board members".
Terry tells us that he thinks 'red flag' when he encounters a board with members of 10, 12 and 16 years. Many board are introducing a cap of 6 years for board member seats, which opens the door for new ideas and diversity of experience. When Terry surveyed a group of MBA graduates on why they haven't volunteered for any board member positions, the number one response was "I've never been asked". Terry breaks down both the correct way and the wrong way to ask someone to be on your board.
Transforming the function of the board
If you want to transition the function of your board, you have to start by addressing the priorities, vision and goals in your strategic plan. Deep questions need to be asked in order to get to the bottom of 'why' people want to do one thing over another. You will also need to identify who will take the lead. In the case of transitioning from advisory to fundraising, the people on the advisory board will not be the right fit. Lastly, you'll need a full job description, terms of reference and buy-in from the whole board. Because this strategic work will take time, it's important to remember there will be other work to do in the meantime - so expect a long-term transformation period.
Advice for someone who wants to join a board
Terry explains that there is a board of directors for basically everything, so the first step would be to identify something that interests you, what you want to do, and why. There are many place to get your foot in the door, you just have to look. As an example, for someone looking to advance in the banking industry, you can join a local business improvement association or chamber by first joining a committee and asking lots of questions. Or if you want to be paid, visit your government website (at the provincial level in Canada), and you'll find many board opening positions that pay.
Full length episode with Terry Clark:
Where boards fail most often
Terry breaks down some of the main reasons boards of directors fail. First, there's having the incorrect board model or no board model at all. Next is the more likely for board failure - board members don't know their roles, responsibilities and liabilities. In other words, board members are not properly prepared. And last, either there is not enough continuity (high turnover) too much (low turnover). It's crucial to have the right ED, but after 7 years it's time to find some else - the same goes for board members.
Have you considered using a neutral, professional meeting facilitator at your next strategy session, who will ask the tough questions and get everything out on the table?
View our facilitation options for your next strategy session.
Our readers' favourite posts