As a management consultant and strategic planning facilitator, I'm used to seeing mission and vision statements as well as core values as part of strategic plans and on corporate "About us" pages. It's a great way to let prospective clients understand who they might begin to work with and helps to share part of the company future with prospective and current employees.
However, I have never seen it posted outside a small business, let alone a small restaurant in Mexico, and so far I've seen it three times!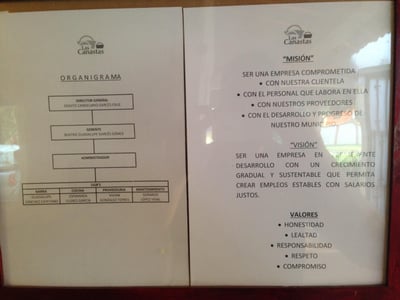 I've been to several restaurants while on my working vacation in Mexico, and I've seen a few organization charts in addition to missions, visions, and values posted at entrances. While these are not posted at every restaurant, there have been enough instances to catch my attention.
I haven't had the chance to ask anyone about why they put this out for the public to see (my Spanish is OK, but not great), but I think having this information, especially the org chart, displayed a great way for customers to know more about the organization, and who to direct their questions to. Essentially, it's an opportunity for the business to share their brand promises as part of therestaurant experience.
I'm happy to see that strategic planning is alive and well in small businesses in a country that is supported by businesses of all sizes - from micro-organizations to large corporations.
Want to learn the strategic planning process?
Check out our complete Strategic Planning Starter Kit!