Create Real Change in a Rapidly Changing World - Interview with Victoria Pelletier
By Anthony Taylor - October 26, 2020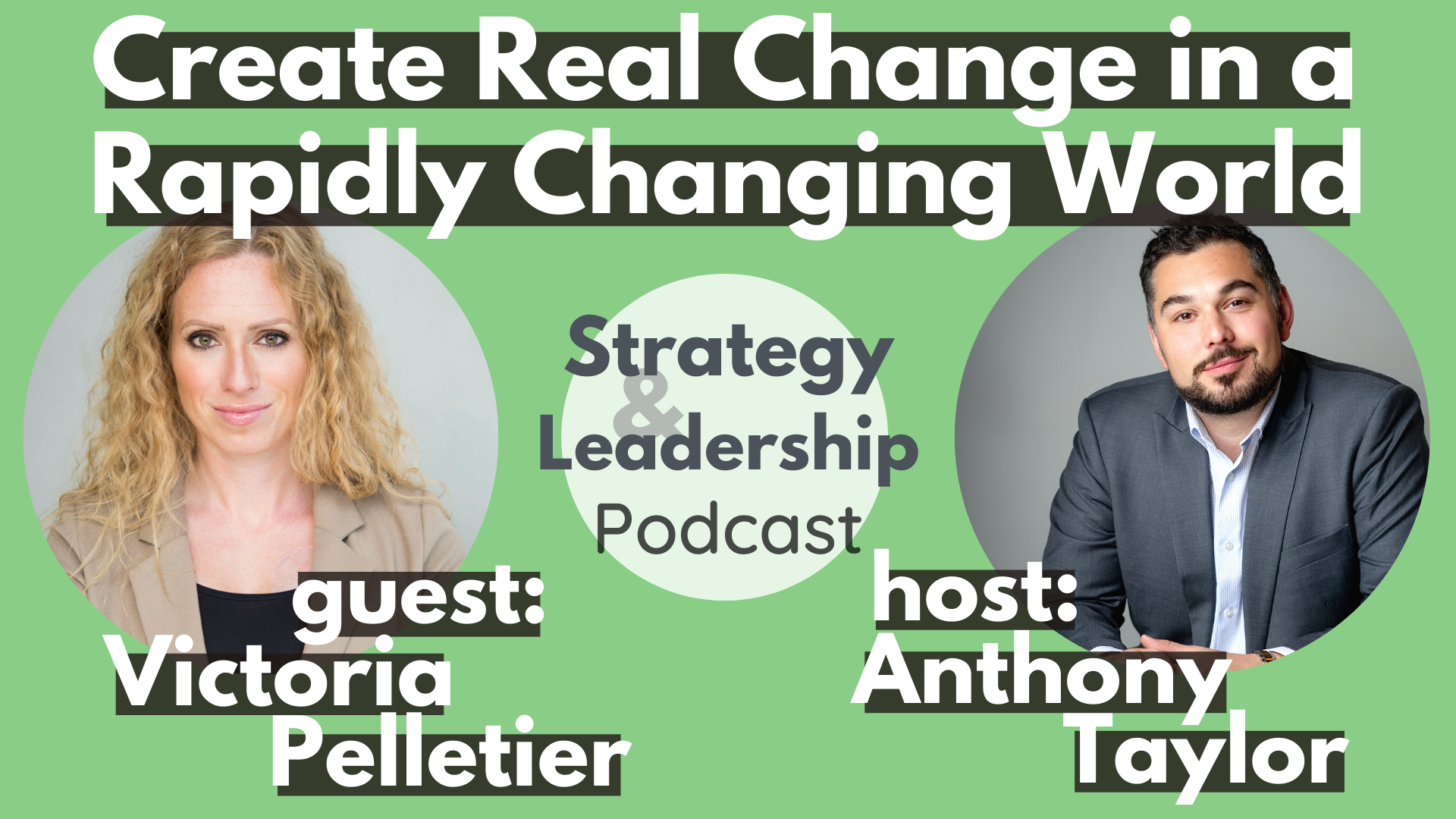 Victoria Pelletier is a VP and Senior Partner of North American Talent and Transformation at IBM. Having started her journey very young as a 24-year old executive, she's spent her entire career working in business-to-business services at various consulting and technology companies. Along the way, she's built, bought, and invested in companies, became a published author, and started a speaking career.
On this episode of the Strategy & Leadership Podcast, we're excited to have Victoria join us to discuss her Talent and Transformation role at IBM, how to create change and urgency, how to develop a diversity and inclusion strategy, and the future of HR.
Are you gathering your team for a strategy session soon? Make sure you're asking the right questions:
Here's a breakdown of the episode:
Victoria goes in-depth about her role at IBM, which is not as an internal HR practitioner, but rather someone who leads the business that supports clients with everything related to workforce, talent and culture. As you might've guessed, her role has become much more interesting this year, with COVID-19, social unrest and political uncertainty all having a major influence.
Rapid change happening right now
Victoria explains some of the major changes taking place in organizations this year, which include structural cost transformation and workforce optimization. She's noticing that there is a common theme - an 'edict' coming down from the C-suite, which aims to create urgency for rapid transformation, standardized processes and outsourcing. Her message is this: there does not have to be a tradeoff of employee experience when outsourcing or automating.
How to create real change
"Let's get everyone on the bus and determine what the end state looks like, or someone's going to do it for us".
Over the course of her career, Victoria has been apart of a staggering 18 mergers and related transactions. She's leveraged this experience into an understanding of how to create real change. This understanding is centered around openness and transparency. After starting her career as an executive very young, she knows now that building relationships, connecting with people on a personal level, and radical candor is the key to leadership and creating change.
Developing a diversity & inclusion strategy
"Don't give someone accountability with no authority".
Victoria knows that aside from being the right thing to do, "there is significant business value in having not only a diverse but an inclusive culture". As many organizations set off to develop their diversity and inclusion strategy, she says the most crucial thing for them to know is their starting baseline (data). She also discusses the modern 'Diversity Officer', and how in order to be effective, they must have real influence and the ability to report to the C-suite.
"The workforce talent strategy isn't an HR one but a business challenge".
Victoria explains how the future of work looks very different, with 30-50% of roles set to change or disappear within the next decade. With things changing so rapidly today, it's more important than ever to continue upgrading your skills and continue to learn. This change will be a lot more real as time goes on and we learn who is returning to the physical office, who isn't, and how we can continue to innovate and grow without meeting face-to-face.
Want to create your own strategic plan from scratch?
Learn more about Victoria's book, Unstoppable: Stories of Change Makers who Dare to Make a Difference.
Our readers' favourite posts