How Courage Solves Business Problems for the Biggest Brands
By Anthony Taylor - August 04, 2020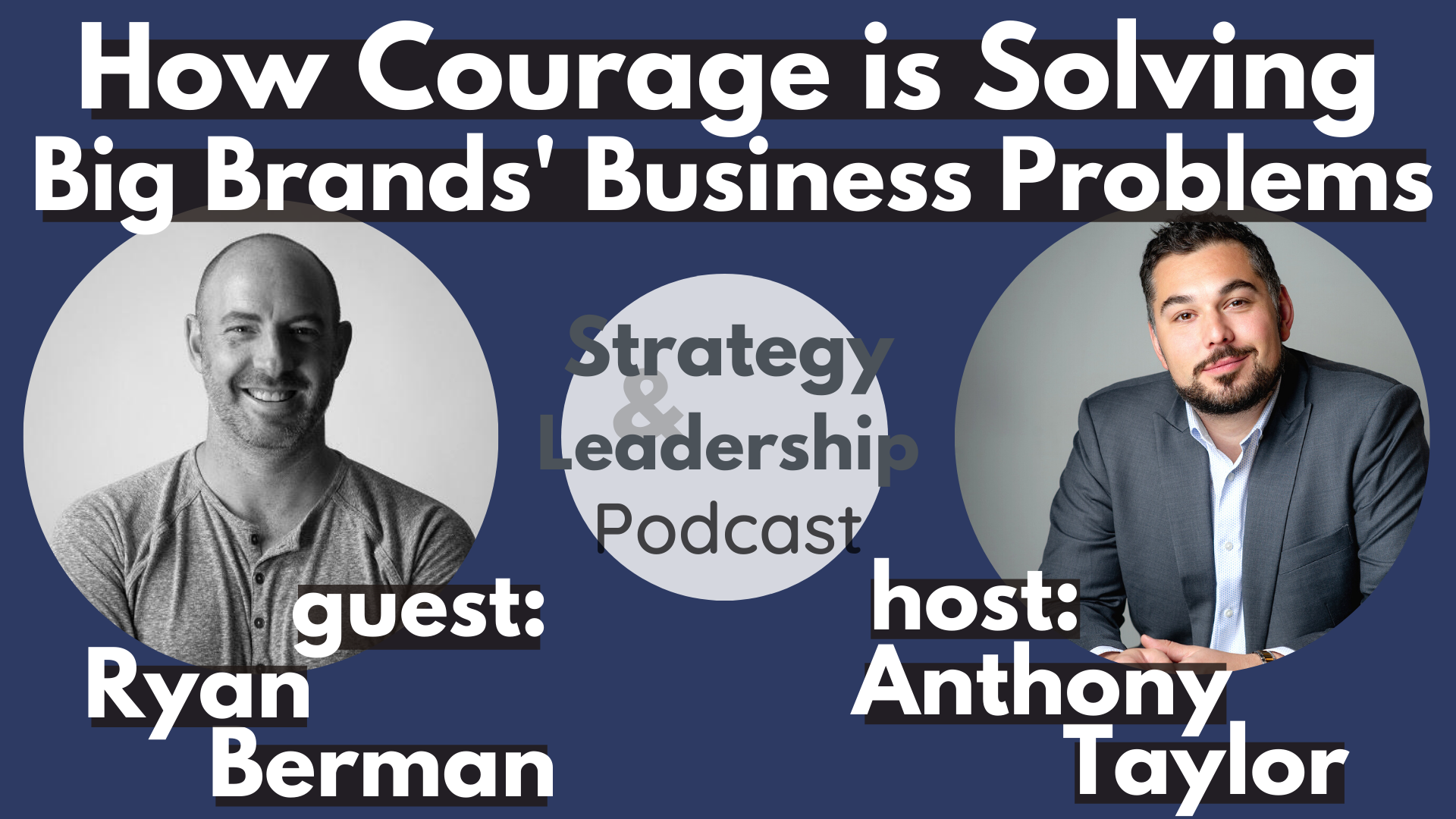 Ryan Berman an author and the founder of Courageous, a consultancy that uses a 'special forces' approach to problem solving, storytelling and leadership. Today, Courageous works with well known brands like the National Football League, Caesars Entertainment and Johnson & Johnson.
Before starting Courageous, Ryan built his career in the NYC agency world before moving to California to write screenplays and then start a couple agencies of his own. Eventually, Ryan noticed many big companies building effective in-house agencies, and decided to create Courageous, which use a 'special forces' approach to solve business problems.

Before Courageous, Ryan wrote a book called Return on Courage after following after shadowing a list of highly effective leaders for 3 years. Using courage as a framework for leadership, reinvention and storytelling, Ryan created his consultancy, Courageous, to turn some of the world's biggest brands into Courage Brands.
Are you asking your team the right questions? Here are 15 questions to ask your team before your next strategy meeting (for free):
On this video episode of the Strategy & Leadership, Ryan joins us to share his experiences writing the book, working in the agency world, and starting his own successful consultancy. Some of the topics covered include:
The Courageous approach to solving business problems
Ryan focuses on three aspects: process, point of view and openness, when talking about Courageous and how they've been able to solve problems for some of the most well-known brands. After starting an agency with zero clients and building it up over a decade, Ryan has learned to trust the process. By telling it like it is and providing a real point of view, he's been able to earn trust and build his business into what it is today.
The 'epidemic of clarity'
Ryan discusses the 'epidemic of clarity' we're living in now, with so many different points of information, so much data, so many key stakeholders to listen to. Ultimately, it is slowing us down. He says many brands are confronted with ten different doors to walk through, and while trying to decide which would be best, their competitors are experimenting, learning and pivoting.
The 'special forces' strategy Ryan has used
Ryan breaks down what it means to use a 'special forces' approach to solving business problems. It starts at the end by having a mission based approach. By clearly identifying the problem at the beginning, it will be easier to pinpoint the mission before embarking on a project. Another aspect of the 'special forces' strategy that Ryan has used is using custom-built teams, specifically people from big companies that bring experience and shared values.
The question Ryan asks when beginning a new relationship with a brand is "Are you a coward brand or a courage brand?" He believes that starting with the hard questions and showing people you're willing to go there is the best way to build trust from the beginning. He also delves into the lengthy and definite impact of not having trust.
If you're looking to create a strategic plan from scratch without having to hire a facilitator or consultant, we've built a course just for you, complete with videos, templates & tools:
To learn more about Ryan: ryanberman.com
To learn more about his special forces team: couragebrands.com
To check out his book: returnoncourage.com
Our readers' favourite posts