Change management process: Kotter or Prosci which is better?
By Jenna Sedmak - October 19, 2021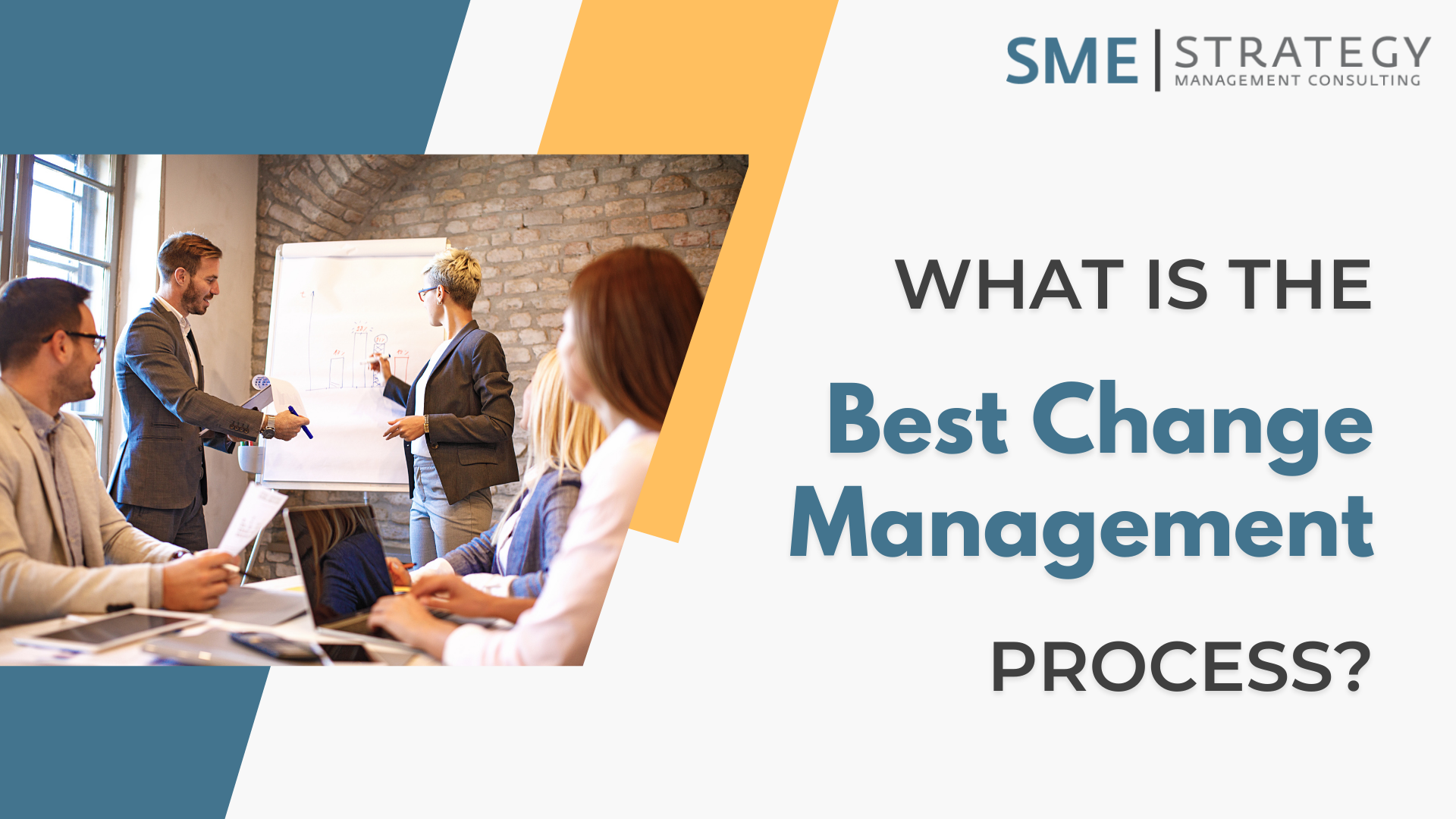 SME Strategy is a strategy consulting company that specializes in aligning teams around their vision, mission, values, goals and action plans. Learn more about how we can help you and your team create and manage organizational change with our strategic planning and implementation services.
---
Change happens in all organizations, regardless of size or sector. Change is inevitable and can result from a variety of circumstances including strategic plan implementation, mergers and acquisitions, company growth, large projects, and leadership turnover.
Without consciously managing organizational change, businesses risk project delays, lost opportunities, critical oversights, increased apathy, reduced accountability, large scale staff turnover, and general resistance to change. These risks may strain your organization's most critical resources such as money, time, and people.
>> Watch: Leading Organization Change
Instead, when managed well, organizational leaders can highlight and champion the need for change. An effective change management process will help leaders to proactively work through cycles of change, balancing people and processes to mitigate and reduce some of the key risks and costs.
There are several models and methodologies centered around managing change, each with their own benefits and shortcomings. Our two preferred models are Kotter's 8-Step Model for Leading Change and the Prosci ADKAR model.
Kotter Model
John Kotter's 8-Step Model for Leading change offers a clear step-by-step methodology to foster successful organizational change. The 8-steps include:
"Create a sense of urgency" - This step focuses on having leaders articulate why change is necessary and beneficial so that others can understand and get onboard with the reasons for change.
"Build a guiding coalition" - This step focuses on identifying champions or agents of change early so that they can help cascade buy-in for the change initiative(s) throughout your organization.
"Form a strategic vision and initiatives" - This step guides leaders to clearly explain what a successful future looks like once the change is made, which will help others to align with this vision.
"Enlist a volunteer army" - This step prepares leaders and champions to bring on additional people in your organization who are ready and willing to begin working through the change, which will begin to move the process forward.
"Enable action by removing barriers" - This step helps leaders to understand the importance of serving their people by addressing and resolving barriers and roadblocks to reduce frustration and change resistance.
"Generate short term wins" - This step guides leaders to share and communicate what is going well throughout the process and on a regular basis so that morale and motivation can remain high throughout cycles of change.
"Sustain acceleration" - This step focuses on change as a process. Once one cycle is completed, change will certainly arise again. When leaders follow change management processes on an ongoing basis, it helps to maintain momentum towards the organization's vision.
"Institute change" - This step helps leaders to consider the necessary systems, processes, and structures that may need to be in place in order to effectively operationalize and sustain the changes that have been made.
---
We can help you align your team around a clear vision, mission, values, goals and action plans,
so you can lead your organization more effectively and get better results.
---
Strengths of the Kotter model:

Focuses on systemic and consistent organizational change
Offers leaders a clear step-by-step process
Compatible with small, medium, and large organizations
Potential weaknesses of the Kotter model when used in isolation:

Focuses on the wider organization or groups of people, not individuals
Focuses on a top-down flow of information, with limited opportunities for bottom-up or two-way communication
Does not include internal stakeholder engagement or a pre-assessment of change readiness
Prosci ADKAR Model
The Prosci ADKAR Model offers a phased approach to change management that puts people at the forefront of successful change. The three phases focus on preparing, managing and sustaining change by focusing on the following five "ADKAR" elements:
"Awareness" - This step focuses on ensuring that the individuals involved in change are made aware of and prepared for the upcoming change, while allowing for a two-way communication structure.
"Desire" - This step guides leaders towards assessing individual readiness for change which fosters the opportunity to identify champions or to work with those who may be apprehensive or resistant.
"Knowledge" - This step focuses on ensuring that the individuals involved in the change initiative have the knowledge, skills, and tools they need to be successful. Leaders can work with teams or individuals throughout this process to address any gaps that may arise.
"Ability" - This step helps leaders to continue to support individuals hone their ability to implement change by offering opportunities to train, practice, and make adjustments as needed in order to support individual and team performance and goals.
"Reinforcement" - This step guides leaders to monitor change initiatives to determine if key outcomes have been met. Leaders can reinforce initiatives through communication, assessment, recognition and feedback.
Strengths of Prosci ADKAR Model:
Supports individuals involved throughout three phases of the change cycle
Fosters opportunities for two-way communication between leaders and individuals
Balances both individual and organizational needs
Potential weaknesses of Prosci ADKAR Model when used in isolation:
Because it's individualized, it may be difficult to institute for every employee within a large organization and may be better fit as applied to specific groups of individuals (ex: middle managers, team leaders, or project teams).
Prioritizes people, leaving opportunities to strengthen processes, especially for larger scale change
Conclusion
At SME Strategy, we like to utilize both of these processes in different situations, and in many instances we implement a hybrid approach that considers both methodologies and allows for a balance between the people and process sides of change. While there is not a single best way to manage change, consider your organization's size, scope of change, and complexity when choosing a methodology.
If your organization has an upcoming strategic plan review or is undertaking strategic planning for the first time, remember that your people are at the center of your organization. This means that in order for sustained change, especially with strategy implementation, it is critical to foster clarity alignment towards your organization's One Destination or vision for the future.
Our readers' favourite posts