How This CEO Uses Documentation to Delegate & Promote a Culture of Openness - w/ Chris Ronzio
By Anthony Taylor - January 20, 2021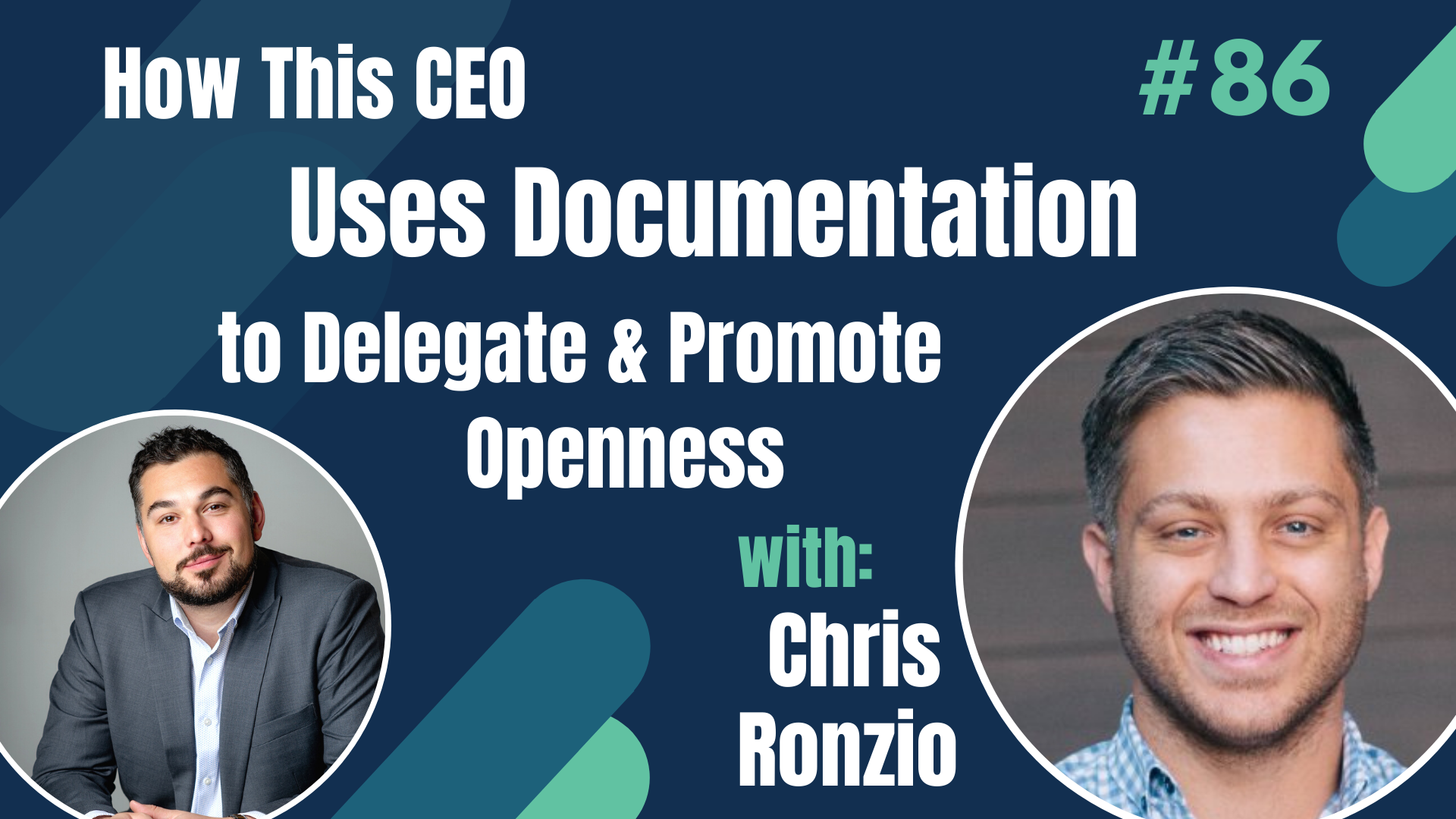 Chris Ronzio is the founder and CEO of Trainual, an onboarding, training and knowledge management platform for small and growing businesses. His company replaces the traditional training manual, and gives companies the ability to tell their story and share their policies, history, culture, and vision.
Chris has also founded several other businesses, and currently sits on the board of Design Pickle.
On this episode of the Strategy & Leadership Podcast, Chris joins us to discuss the benefits of documentation, having a culture of openness, how he uses repeatability to support his people, and more.
Is your organization having a strategy session soon? Make sure you ask these questions first:
Here's a breakdown of the episode:
The benefit of having your company well documented
As you grow you businesses, you'll eventually be faced with the dilemma of how to record and document your policies, procedures, and the way you do things. Chris breaks down three main benefits of having you company well documented. The first one is consistency - especially as your company grows, it will help to have everyone on the same page. Next is clarity - make sure your people have good instructions and correct expectations. Finally, the ability to delegate - the main reason to document.. "you aspire to have someone else do something the way you know how to do it".
His 'ah hah' moments as a leader
Chris explains the challenge business owners face when they are no longer producing the majority of the work, and must start managing the business. Ideally, you'll be able to scale your company without scaling your time. He also details his struggles from his past business, when he realized that simplifying the product could allow him to capture repeatable clients and scale. Finally, learning that as a company grows, it becomes more and more about people and communication.
How he uses repeatability to support his people
Chris tells us how a very intentional approach to communication has been successful with his team. That includes scheduled manager check-ins, engagement surveys, 1-on-1s, performance reviews, quarterly updates, and all-hands meetings. Once he was able to deliverer a consistent experience for the customer, the focus turned to providing a consistent experience for his employees.
Having a culture of openness
In his past work, Chris would conduct lengthy surveys with members of an organization. What he learned was that time and time again, people felt like their feedback, suggestions and complaints were not being heard or acted on. Now, he is dedicated to fostering a culture of openness. He believes that people need to feel heard at the very least. He explains that when it comes time to collecting feedback, pick out the easy wins first - the ones you can complete in a couple weeks.
To learn more about Trainual, visit their website, or connect with Chris on LinkedIn.
Learn the benefits of using a facilitator at your next strategy session: