Why a Beginner's Mindset is Key for an Inclusive Workplace w/Jorge Quezada
By Anthony Taylor - December 08, 2021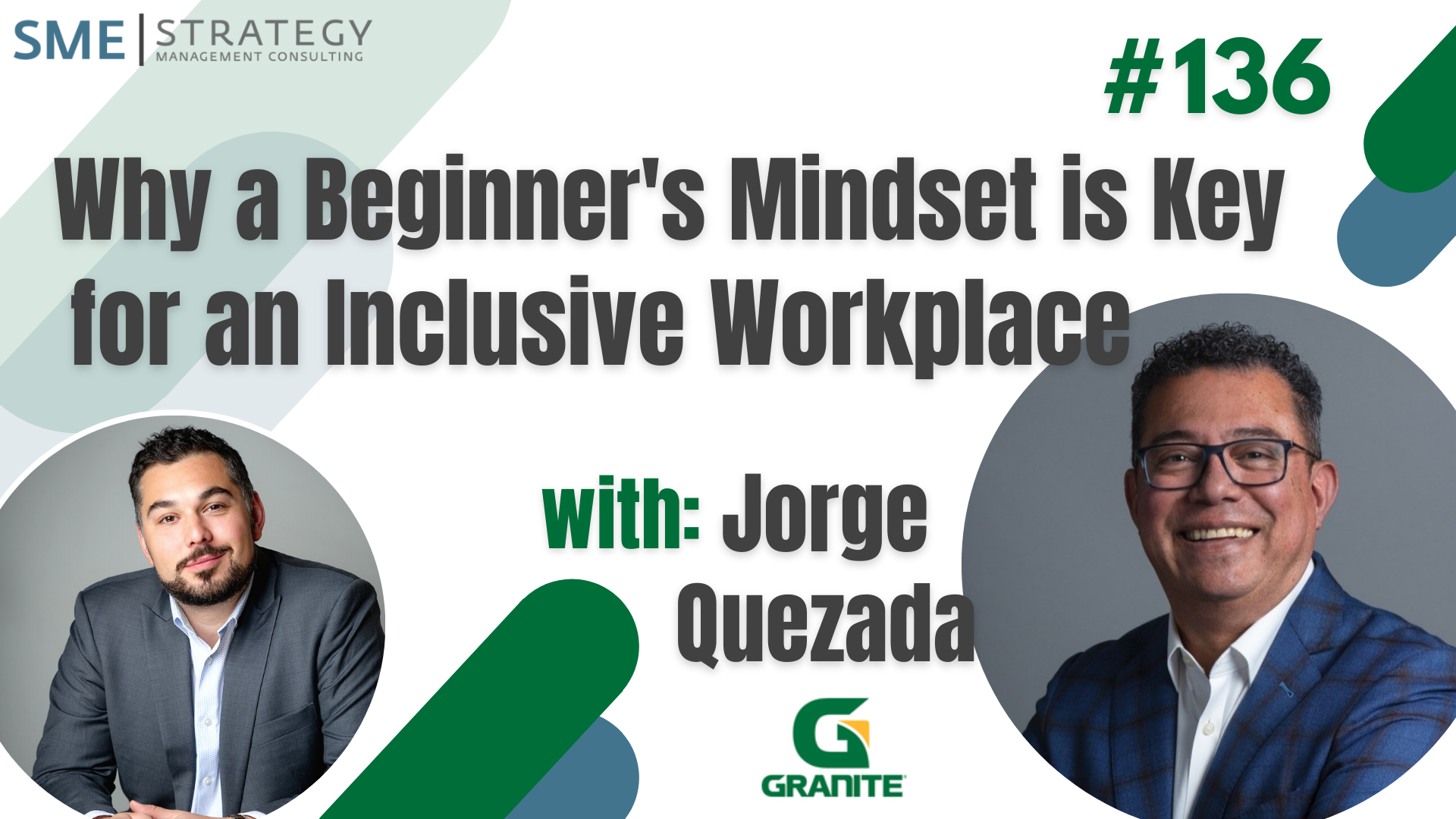 Jorge Quezada is the Vice President of Inclusive Diversity at Granite Construction, one of the largest full-service general contractors, construction management firms, and construction materials producers in the U.S.
Previously, Jorge held similar DEI roles at Allstate Insurance, Kraft Foods Group, and Northwestern Mutual before joining Granite Construction.
On this episode of the Strategy & Leadership Podcast, Jorge joins us to discuss developing a beginner's mindset, the paradoxes of DEI, how to avoid defensiveness, his big learning moment at Kraft, & more.
Jorge is also host of the podcast Construction DEI Talks.
Listen to the audio version here, or watch the video at the bottom of the page:
---
We can help you align your team around a clear vision, mission, values, goals and action plans, so you can lead your organization more effectively and get better results.
---
Here's a breakdown of the conversation:
Using a beginner's mindset
Jorge explains how in order to create a more inclusive workplace, it's necessary for leaders to slow down, forget about what they know, and start fresh with a beginner's mindset. Instead of using what you've learned in the past, put that aside and focus on what's important to learn for this moment now.
He uses an example from the construction industry.. Everyone thinks they're safe. But not every job site is the same. So those on the job site are required to look at this particular job site with a beginner's mindset and learn the safety protocol from scratch.
Similarly in the case of DEI, everyone thinks they're a good person. But being a good person is relative. Instead of treating people how you want to be treated (the Golden Rule), Jorge challenges us to treat people how they want to be treated (the Platinum Rule). It requires an extra step - figuring out how people want to be treated and engaged with.
Really 'noticing' people at work
Jorge talks about the importance of truly noticing people at work. He uses the example of 'men' as a group of people. In the workplace, male leaders could find themselves among other male leaders, and fail to notice their conversation. When a women enters the room, is your conversation including her or not?
But it's also necessary to notice other people, not just our own actions. That means noticing queues in conversations and picking up on things. Did an individual mention their husband or their partner? Etc.
Learning moments from working at Kraft
After 20 years at Allstate, Jorge was asked to transition to a DEI role. His passion for the subject was there, but he needed to learn more still. He eventually went on to Kraft, where an 'aha' learning moment occurred.
Jorge interviewed some leaders at Kraft, and learned that white men weren't as connected to the DEI work going on at the time. His realization was that he had failed to bring white men into the DEI conversation, and made them feel excluded. From that moment on, Jorge knew that DEI is for everyone.
Be sure to check out Jorge's podcast, Construction DEI Talks
Our readers' favourite posts